Hanoi – Heaven of street foods ranging from the snacks to main dishes that get you full up all night or sweet deserts for desert lovers. Everyone can find their favorite when strolling around Hanoi's Old quarter. All the best street food are being sold here and you can't try it all in one day I'm sure of this since there are too many good things to choose from. Let's see some of our picks  and taste it for yourself when in Hanoi.
Pho Bo + Pho Ga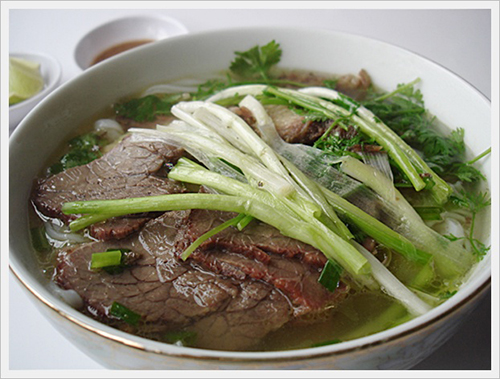 Pho Bo is arguably the most well-known of all Vietnamese soups. It was inspired by French settlers who commonly ate beef, where Vietnamese traditionally preferred pork, chicken, and fish (whilst using cattle as work animals). Since the beginning of the twentieth century, the number of soup kitchens has risen significantly and Pho Bo has become the favorite dish for breakfast and dinner in Hanoi, and throughout Vietnam.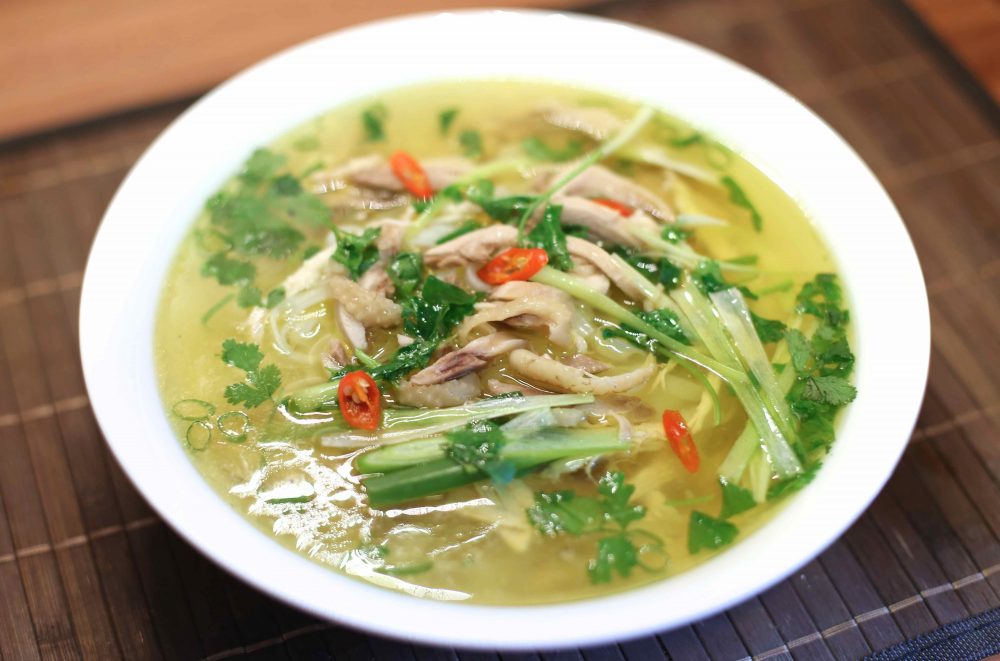 Phở gà (chicken pho) is lighter than beef pho, and it is a natural remedy for a common cold. Similar to beef pho, it is usually served with chopped spring onions, coriander, onion slices and also quẩy, deep-fried flour-based snacks that are crunchy on the outside and chewy on the inside. Locals tend to dip them into their soup to let them absorb the tasty broth. The Vietnamese prefer chicken thighs to breasts, so chicken thigh pho is a little more expensive.
You can find it at: Pho Bo – 49 Bat Dan street or 34 Au Trieu (VND 40,000 – 55,000)  ; Pho Ga – 15 Hang Hom street (VND 30,000 – 40,000)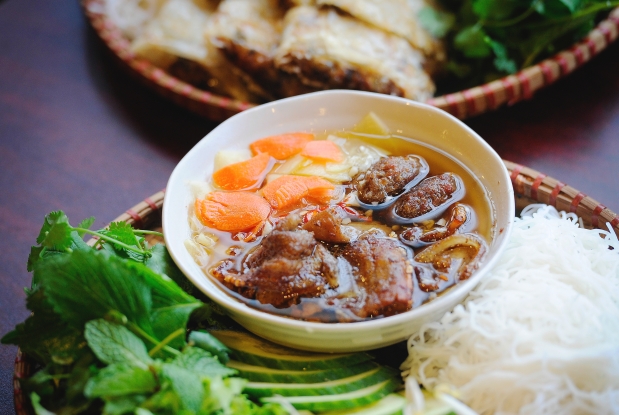 Bun Cha has long been in a list of most favorite food by Vietnamese people. You can see them eating Bun Cha at any time of the day whether it's morning or late at night. The grilled meat eating together with vermicelli rice noodles originates in Hanoi for more than 60 years ago and still standing strong. The combination of meats, rice noodles, fresh herbs and sweet broth can easily satisfy anyone likes
You can find it at: Obama shop – 24 Le Van Huu or 34 Hang Than (VND 35,000 – 50,000)
Cha Ca La Vong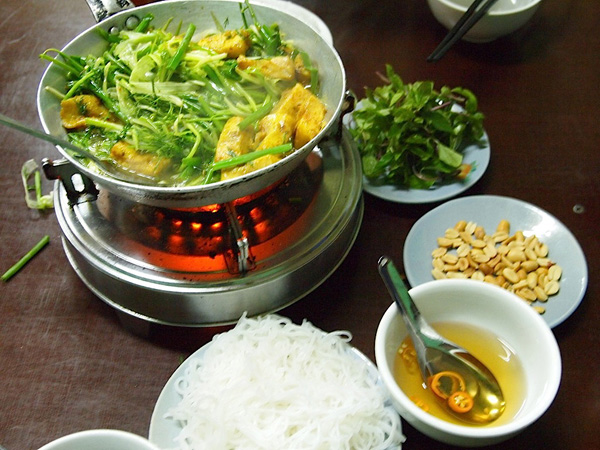 Cha Ca La Vong gives its best taste when it is still boiling in vegetable oil pan. Eating this special dish requires some techniques for the best enjoyment: grasp a piece of fish and then use spoon to draw some boiling oil in the pan to pour onto it and eat with rice vermicelli, peanuts, coriander, dill, spiced fresh onion and an indispensable ingredient – mắm tôm (fish sauce).
You can find it at: 14 Cha Ca street or 25 Duong Thanh street (depends on the portion)
Coffee (Ca Phe)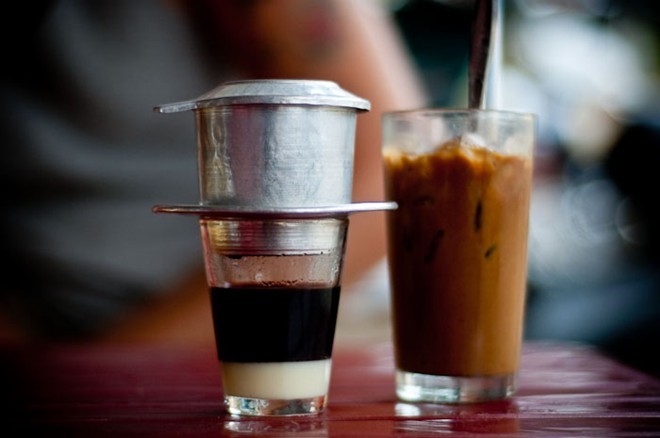 Strong and flavorful Vietnamese coffee makes converts as quickly as it raises pulses. French colonists might have introduced coffee to Vietnam, but the morning cup of ca phe soon became a local habit. With variations that make use of yoghurt, eggs and even fruit, Vietnamese coffee has developed a style of its own
Egg coffee: Egg yolk whipped with condensed milk into an airy froth meets dark coffee in this rich concoction: think of it as a Vietnamese take on tiramisu. Egg coffee first made the scene in the 1940s, when milk was scarce and egg yolks provided a convenient replacement. Must – try drink when in Hanoi for sure
Yogurt coffee (sua chua ca phe): Like coffee, yoghurt was originally brought to Vietnam by the French and has been adopted into local culinary tradition. Rich and creamy, it's served with various toppings, from fresh mango to fermented rice – and even coffee. This might sound like an odd combination, but the rich yoghurt pairs amazingly well with a drizzle of black coffee – just stir and sip.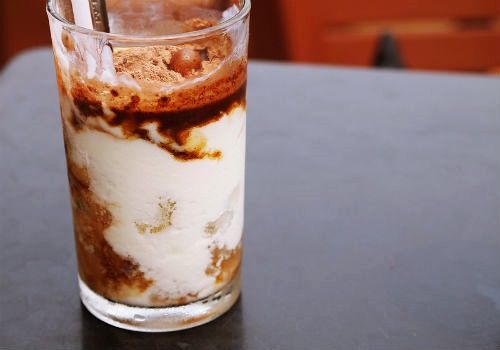 You can find it at:
Normal coffee at 39D Hang Hanh street, 60 Nguyen Huu Huan street, 96 Nguyen Huu Huan or 117 Trieu Viet Vuong street, 27 Trieu Viet Vuong street  ( VND 15,000 – 35,000). Or you can go to the chain coffee shops called Cong Cafe (VND 40,000 and up)
Egg coffee: 39 Alley Nguyen Huu Huan street ( VND 15,000 – 35,000)
Banh my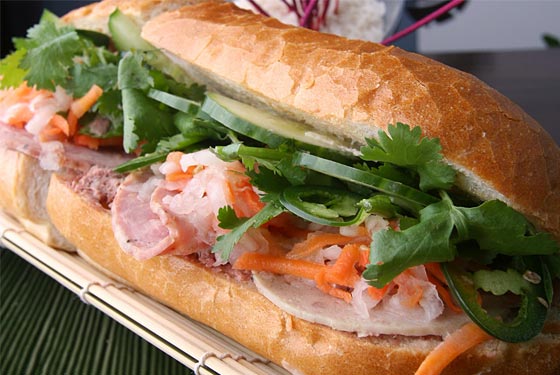 Vietnamese sandwich is one of the most ingenious France-meets-Asia creations ever! A fluffy baguette is stuffed with pate, cold cuts, cucumber, and pickled carrots & daikon. In Hanoi, this sandwich will be finished off with hot sauce and mayo drizzled on top.
You can find it at: 19 Ly Quoc Su street (VND 30,000 and up)
Bun bo Nam Bo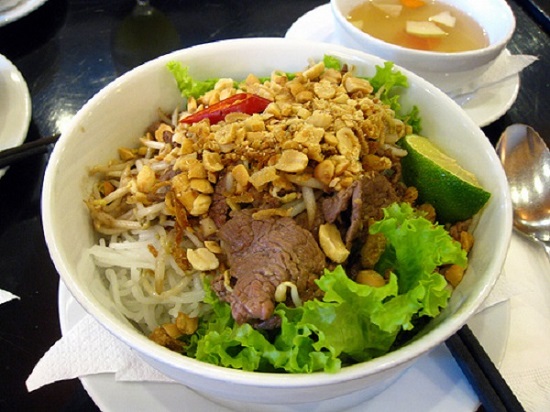 Bun Bo Nam Bo (beef noodles in the south) is also known as stirred beef vermicelli. The simplicity and  elegance is what people describe about this dish. Instead of using sophisticated broth as Pho, sauce is used for Bun bo Nam Bo. Besides, fresh raw accompanying vegetables, fried onion, roasted peanuts and bean sprouts are indispensable elements. Beef used for the dish is well soaked in sugar, fish sauce and pepper and other seasonings.
You can find it at: 89 Hang Dieu street (VND 65,000)
Fried soya cheese with sauce of maserated shrimp noodle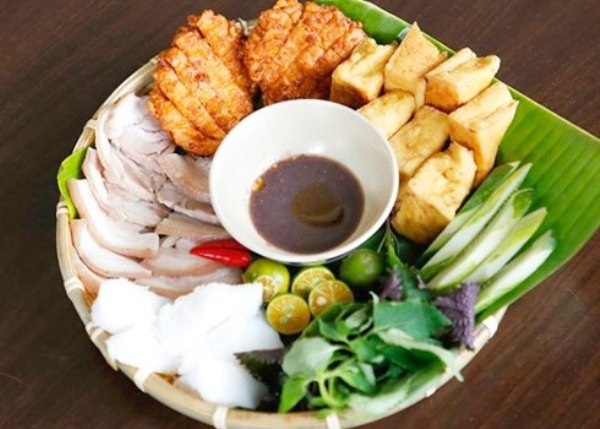 The famous noodle that not every foreigner would have a bravery to try because the smell of the shrimp sauce. But we Vietnamese love it since behind the smell (which is unavoidable) the taste is pretty sweet and the combination of rice noodle, soya cheese and shrimp sauce brings joy to your mouth. Hanoians also add sliced boiled pork and its black pudding for more flavor while chewing.
You can find it at: Phat Loc alley or 31 Alley Hang Khay street (VND 40,000++/person)
Fried fermented pork roll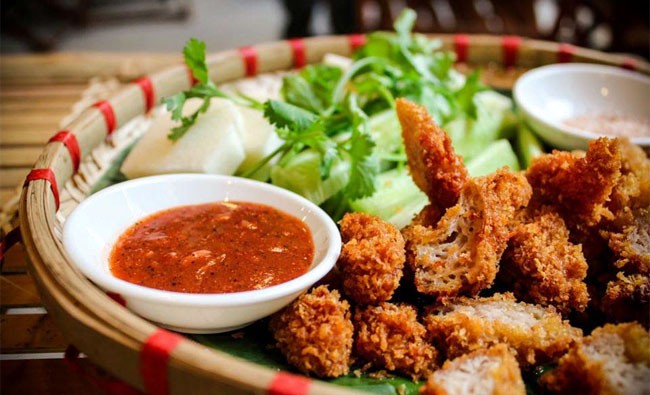 If you ask every Hanoian what their favorite snack is, most of them will say Fried pork roll. For easy understanding, it's like Vietnamese pork sausage eating together with a dip into chili sauce. The fried pork roll usually is a snack for afternoon with people sit in small plastic chairs in the street with their friends. The side dishes of fried pork roll are fresh cucumber or yum bean with a cup of iced tea.
You can find it at: Tam Thuong Alley, Hang Bong street (VND 45,000 ++/person)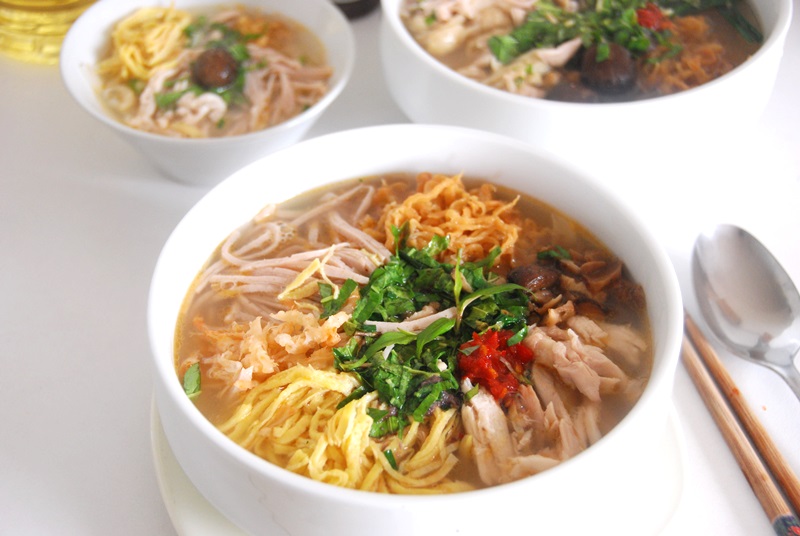 Yes, Hanoi is a paradise of noodles. You can't count how many kinds of noodle that Hanoi proudly has. However, to my opinion, the special, signature noodle that you can only find the best in Hanoi is Bun Thang. The "Thang" in its name origins from the way the dish is prepared. Because it takes so many ingredients to perfect the dish that people link the process  to the process of old Vietnamese pharmacists prepare herbal medicine for their clients/patient .
You can find it at: 22 Hang Trong street (VND 35,000 – 45,000)
Lemon iced tea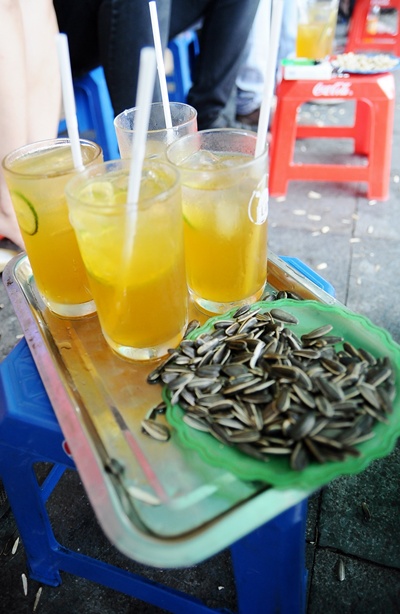 A drink in hot summer that you can find easily around the area of Big Church of Hanoi. The mixture of Vietnamese tea with lime juice, sugar and ice cube will make your summer hot day fresh and cool immediately.
You can find it at: 2B Nha Chung and Ly Quoc Su street near St. Joseph's Cathedral has lot of stores (VND 15,000 – 25,000)
Dried squid and small fishes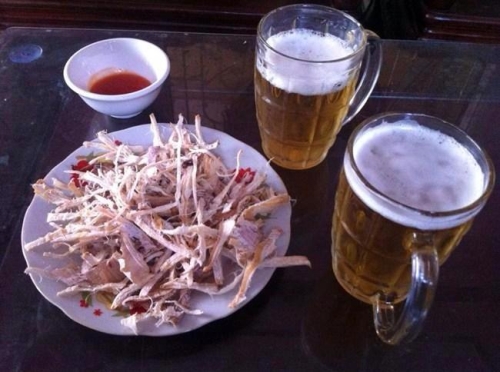 Best side dishes when having a beer. The squid or fishes are already been dried under the sun for more than 24 hours. When serving, the cook will grill them again and tore it to small thin slices for one to peck with their drinks easily.
You can find it at: at Bia Hoi store in every streets
Banh Cuon (Steamed pork wraps)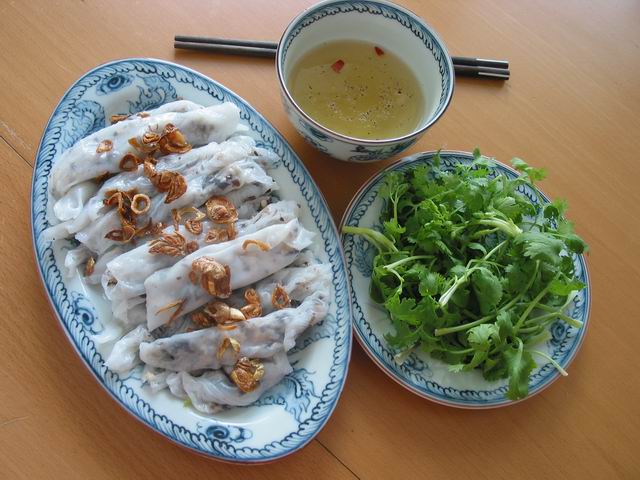 Banh cuon is made with a pork and mushroom filling wrapped in freshly steamed rice paper, then topped with crunchy fried shallots. Fish sauce, chilis, and fresh herbs are served alongside. Eat it all in one bite for maximum deliciousness! Often, cinnamon pork will be offered as an accompaniment too.
You can find it at: 12 Hang Ga street (~ VND 40,000)
Pho xao (Stir fried noodles)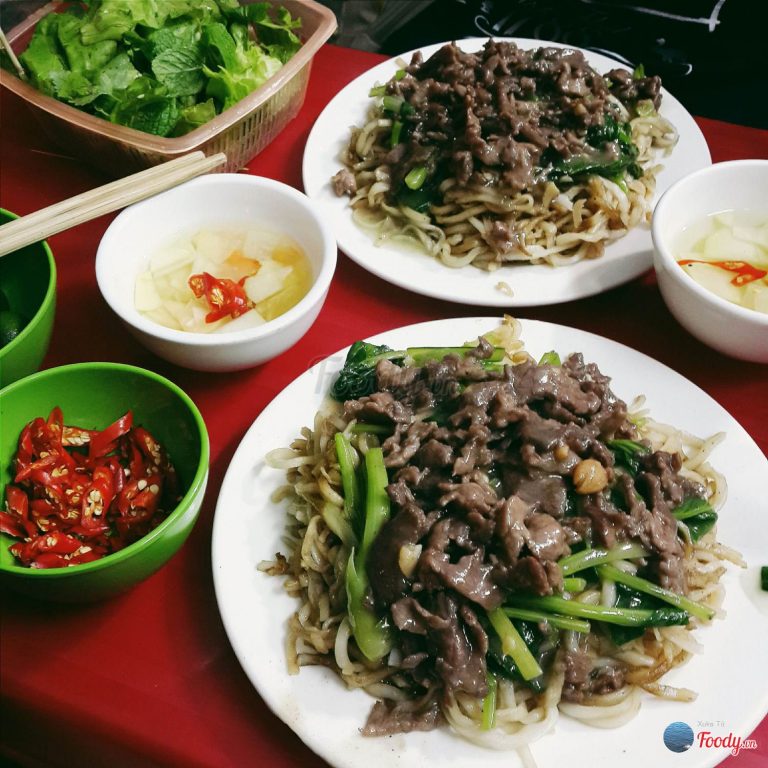 This is like Vietnam's version of chow mien, using pho noodles! The rice noodles are wok fried with greens and meat (most likely, beef).
You can find it at: 66 Cua Bac street or 11 Hang Buom street (VND ~70,000)
Xoi (sticky rice)
Xôi is a sweet (ngọt) or savory (mặn) Vietnamese dish made from glutinous rice and other ingredients. It will be a big miss if you come to Hanoi without trying "xoi". Made from sticky rice, xoi has as many variants as you can imagine. "Xoi" is a very common food in Vietnam, and one can find it anywhere from the roadside vendors to luxuriously traditional restaurants. Xôi is a common on-the-go breakfast item, and a popular snack nationwide.
Xoi xeo: sticky rice colored yellow, topped with fried onion and ground mung beans (~VND 15,000)
Xoi ngo: Sticky rice mixed with corn (choclo) and have a non-heavy texture (~VND 15,000)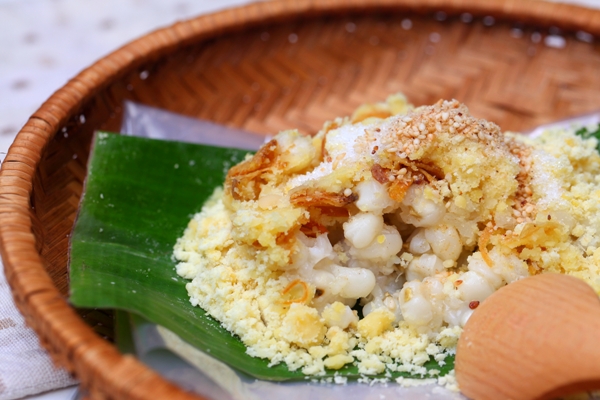 Xoi lac: Sticky rice steamed with peanut (~VND 10,000)
Xoi do den: Sticky rice with black beans
You can find it at: Xoi Yen – 35B Nguyen Huu Huan street
Sweet treats (chè)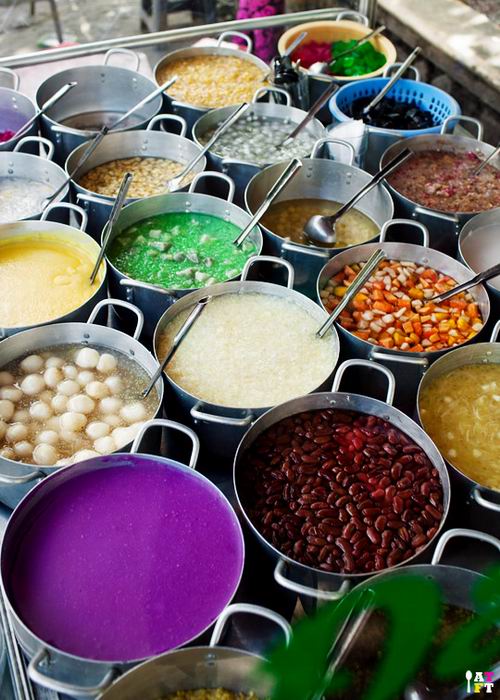 The sweet desert of Vietnamese people are often made of many type of nuts, peas,beans,  coconut milk, flour, etc. The treats can be serve in both hot and cold as depending on each season of Hanoi. The most famous ones can be told are
Che Buoi (Pamelo sweet treat – cold serve only) – made from the cover of the fruit(~VND 20,000)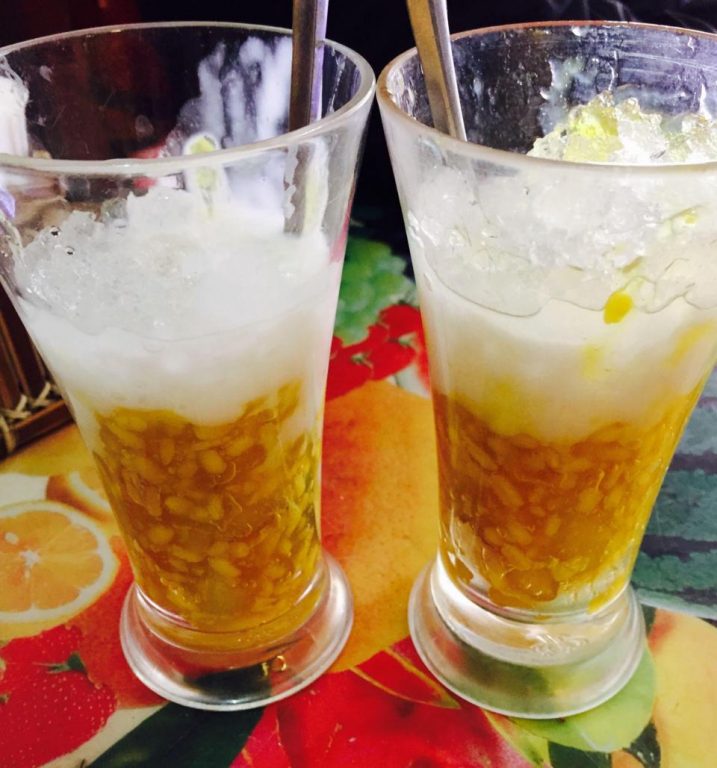 Che Do Den (Black Bean sweet treat – hot/cold serve)  – popular choice in every place in Vietnam t(~VND 20,000)
Suong Sa Hat Luu (Jelly sweet treat – cold serve) – colorful and nice flavor  – loved by the younger generation (~VND 20,000).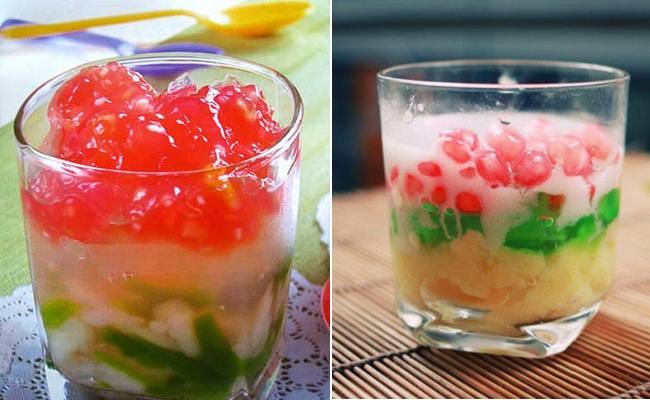 You can find it at: 4-6-8 Hang Can street or 10 Ta Hien street.
Caramel pudding and coconut ice cream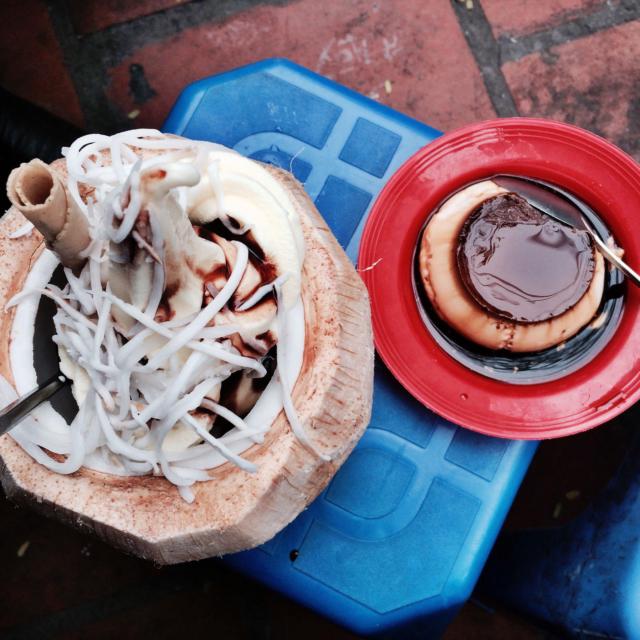 There are about three or four shops selling homemade caramel pudding and yogurt close to the corner of Hang Than and Hoe Nhai. It's easier for takeout but if you don't mind a bit squeezing, of course you are welcome to sit down. They are master at mixing yogurt and caramel pudding with fruits, nep cam (violet glutinous rice) and all kinds of yummy jelly. In the same store, you can find a huge portion of ice cream served in a fresh coconut.
You can find it at: the oldest shop – 29 Hang Than street (Caramel pudding: VND 7,000/dish, Coconut ice-cream: VND 60,000)
Bun Oc (Snail noodles)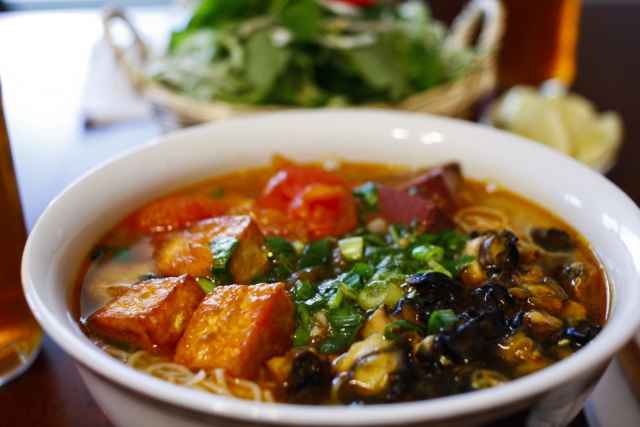 Like the French, the Vietnamese eat snails too, but not the same kind of snails. They eat ốc (Vietnamese freshwater snails), which are smaller and chewier than their land-based cousins. Cooked snails are arranged neatly in a bowl of bún (rice vermicelli) with fried tofu and fresh herbs, and the dish is finished with a hot, sweet and sour broth that is poured over all of the cold ingredients. Finally, a few slices of cooked tomatoes are placed on top.
You can find it at: 6 Hang Chai street t(~VND 35,000).
Bun Rieu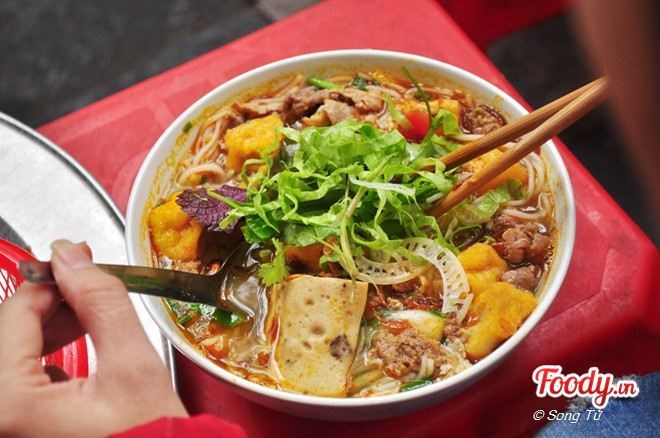 Bún (rice vermicelli) complements shellfish wonderfully, and it is eaten with both ốc (freshwater snails), and riêu (minced freshwater mini crabs). Similar to bún ốc, bún riêu is served with fried tofu and, sometimes, thinly sliced beef fillet.
You can find it at: 15 Hoe Nhai street t(~VND 40,000).
Mien Luon (Eel noodles)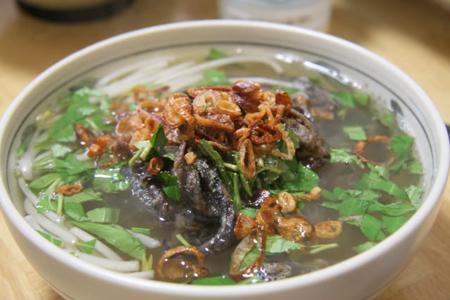 The main ingredients of miến lươn are miến (cellophane noodles), lươn (eels), fried shallots, bean sprouts and cilantro. The eels are usually deep fried to eliminate their fishy smell and to add a tasty, crunchy touch to the dish. In Chân Cầm street, Minh Lan restaurant specializes in eel dishes, and apart from eel noodle soup, you can also try eel soup and stir-fried eel noodle.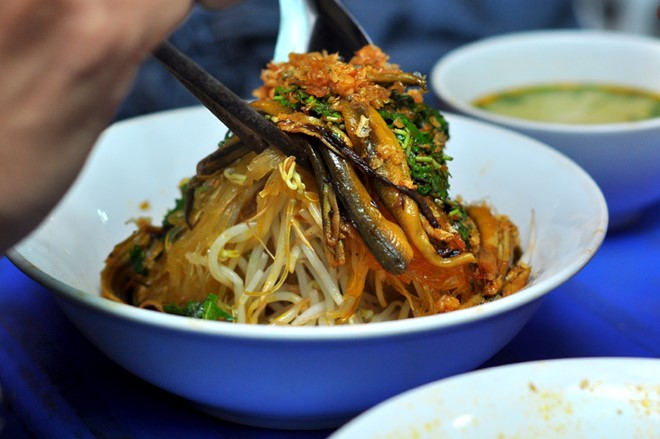 You can find it at: 1 Chan Cam street t(~VND 35,000).
Bun Ngan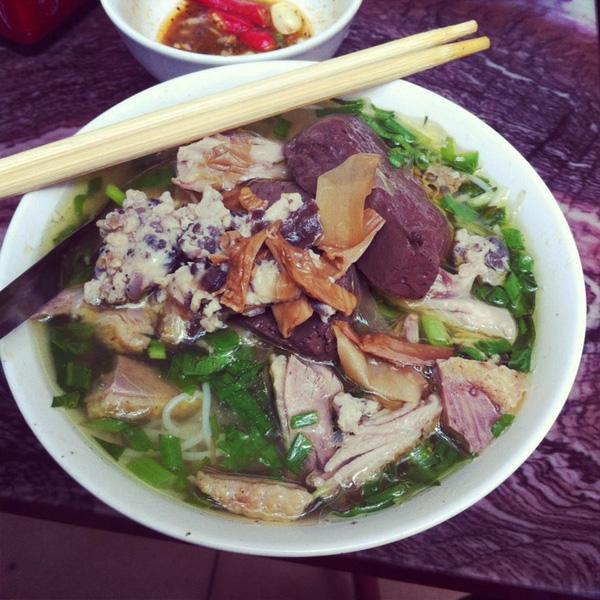 Bún ngan (Musk Duck noodles) is made from Musk Duck meat, white rice vermicelli noodles, bamboo shoots and green onion, served in broth made from stewed pig bones with tomatoes. You may have to line up in the long queue before getting a bowl of Bun Ngan in "Bun Ngan Nhan" place. It's always crowded and require your patience to taste the dish.
You can find it at: 10 Trung Yen alley, Hang Bac street t(~VND 40,000).
Boiled snail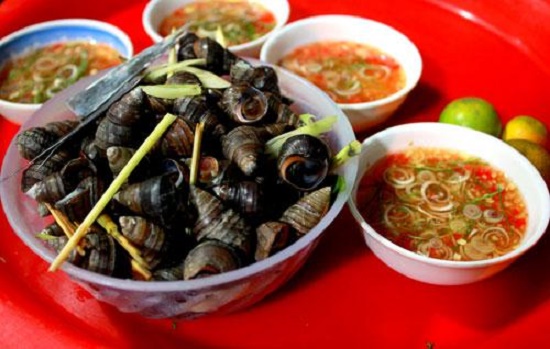 In the list of Hanoi street foods, perhaps boiled snail is a delicious dish that many people mentioned most. Unlike fried or roasted with tamarind types of snail in Saigon, genuine snail in Hanoi is one kind of swirl, rock or jackfruit snail, which is commonly known by the familiar names as "big snails, small snails", boiled with lemongrass and lime leaves, served with chili sauce with fresh ginger, taken by real grapefruit linen or 1 sharp tinplate pieces.
You can find it at: 1A Dinh Liet street t(~VND 40,000)
Tao Pho (Sweet Tofu)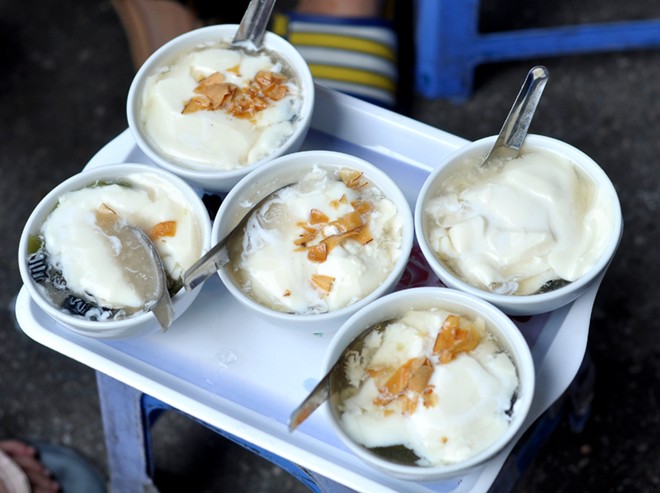 Tao Pho, a white, condensed pudding that is serve as a dessert with sweet syrup. Very popular with women, this is a good snack on a hot summer day. In northern Vietnam, Tao Pho sellers often ride bicycles with a barrel of Tao Pho behind them.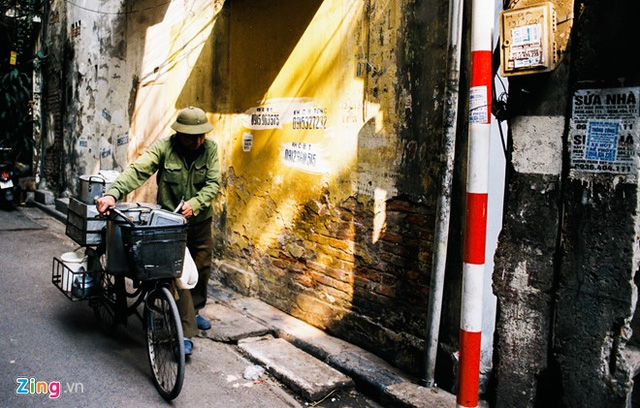 The vendor uses a flat spoon to ladle thin layers of Tao pho into a bowl before adding syrup.
The sweet syrup with real flower fragrance
You can find it at: On the Old quarter street t(~VND 10,000) or 41 Dao Duy Tu street (will be just a bit more expensive only)
Banh duc (Hot rice cake)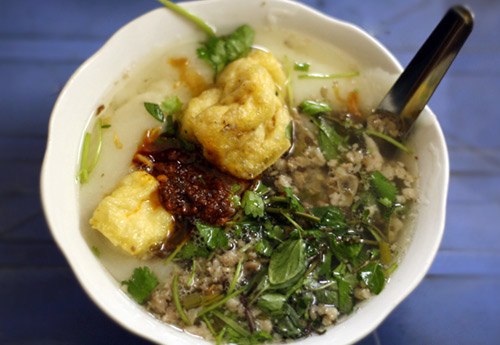 Banh duc (rice cake) is a cake made from non-glutinous rice flour. In the north it is typically garnished with savory ingredients such as ground pork, grilled ground shrimp, fried onions, sesame seeds, salt, peanuts, lime juice, and soy sauce or fish sauce.
You can find it at: 19 Hoe Nhai street t(~VND 20,000).
Bo Sot Vang ( Brewed beef with red wine)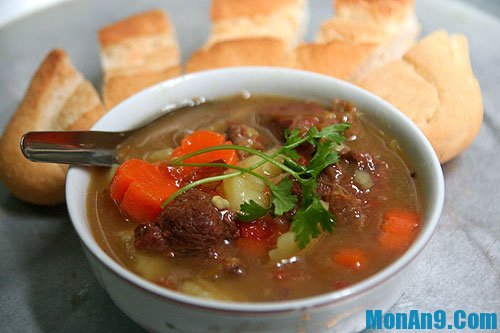 The influence of the French on this dish is clearly in evidence in the use of wine and beef, though it still has characteristic Vietnamese notes, the strongest being the inclusion of fish sauce. The marriage of red wine and fish sauce doesn't inspire confidence but in typically ingenious vina-style, and with the addition of spices including cinnamon and star anise, the union is a harmonious one. Variations sometimes include tomatoes and carrots. Thickened with tapioca flour and garnished with spring onions and herbs before the bowl comes to table, sốt vang is normally served in two distinct ways; a ladle full, as an alternative to other cuts of meat on top of phở, or in a bowl accompanied with a plain bánh mì.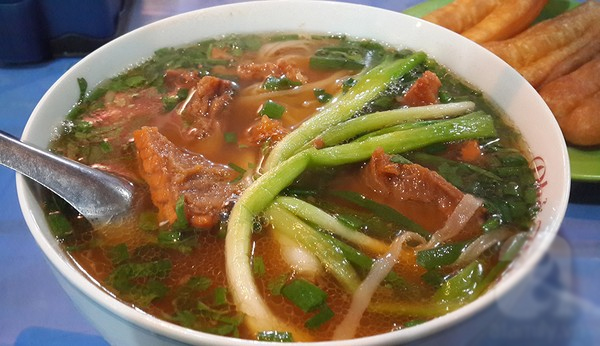 You can find it at: 30 Dinh Ngang street – Tram's  "Banh mi" store,  1 Hang Non street – " Bo Sot Vang" pho store t(~VND 40,000)
Mixture Yogurt with Jack Fruit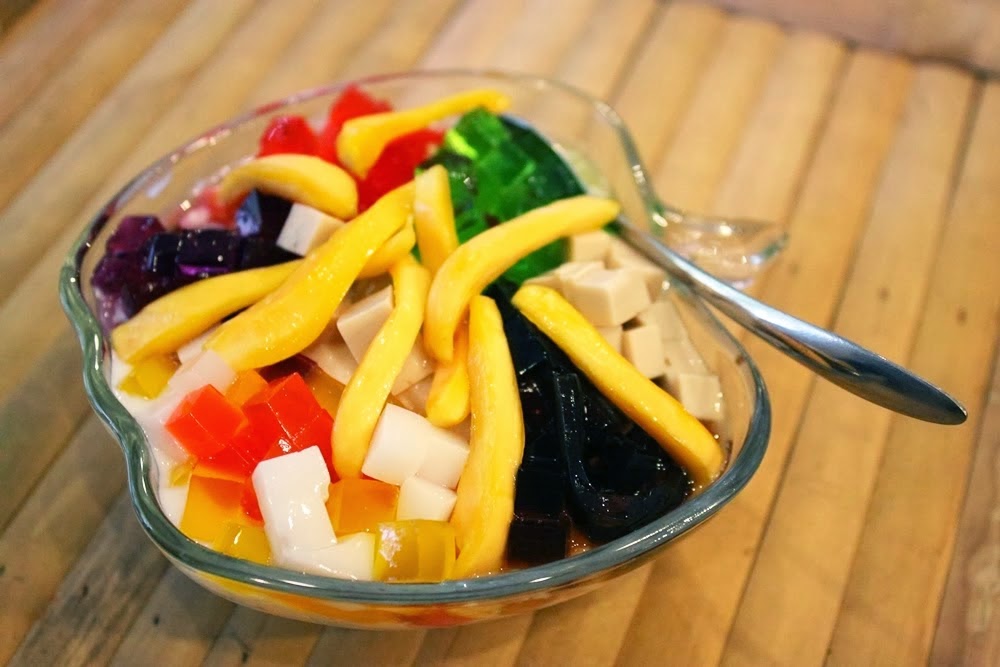 The dessert is quite famous youngster of Hanoi. This dessert is not only delicious, but also really good for your skin. The combination between these ingredients will create a fantastic song when chewing.
You can find it at: 22 Ba Trieu street is the first shop since 2014. Now, next to them, a lot of same shops open with the same quality t(~VND 25,000).