Phrae which is another tourism town, is a charming province and the gate to the north of Thailand, worthy of visiting and contains a lot of stories.
Phrae was once an independent city-state. It's also known as many names, for example, Phol Nakhon, Wiang Kosai, etc. There isn't certain history that can exactly tell how the province was established but was recognized as the city of golden teak wood in Thailand. However, there are many pieces of evidence from other towns that mention Phrae in the past. For example, the legend of Wat Luang says, Phayapol, the grandson of Nan Chao king, evacuated some Thai people from Chiangsaen, Chaiburi, and Wiangkham to Yom River, which is the main river of Phrae.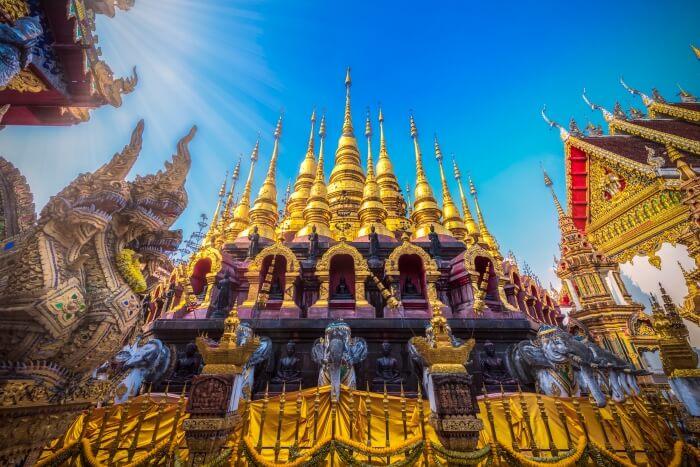 Nowadays, Phrae consists of 8 counties and 78 districts. There are interesting tourist attractions in them all. Even in the heart of the province, there are still many. It can be a good holiday for your family. There are many types of tourist attractions for you to go, starting from temples to museums, and these don't include many lovely local markets that you can buy some groceries and food to eat.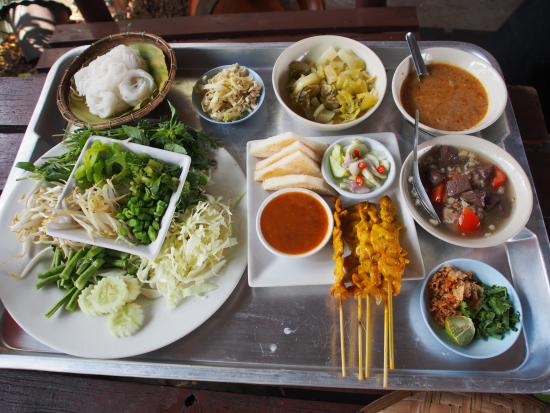 Mostly, tourist attractions in Phrae are natural. Even temples are still surrounded by mountains and trees. If you wish to take your family and escape busy days for a while, this province should make you guys feel better. You can relax in the middle of the greenery. It's just perfect for people who wish for a leisure holiday or any family that want to take their children to learn about the past.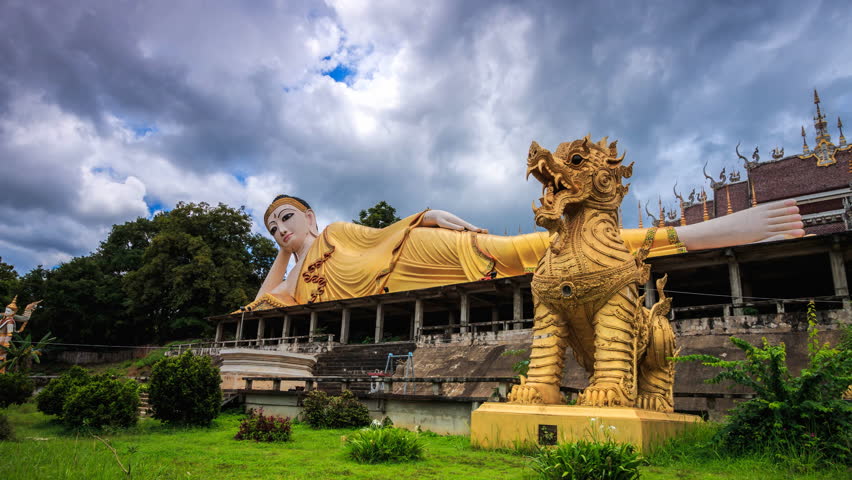 Phrae is approximately 200 kilometers far from Chiang Mai and 240 kilometers far from Chiang Rai. So the best way is adding Phrae to the Overland tour in between Sukhothai – Chiang Mai, Sukhothai – Chiang Rai or Lampang – Chiang Rai. There're 02 flights a day from Bangkok to Phrae, you can fly to Phrae, stay 1-2 days and then by private vehicle to Chiang Mai or Chiang Rai.
Back in 1902, the logging business in Phrae, which used to be overseen by local elites, was handed over to Western concessionaires such as the Bombay Burma Trading Corporation and the East Asiatic Company. The booming lumber industry after that year spurred economic growth, giving rise to banks and other businesses that catered to the demand of the people in the logging business. Many beautiful teak houses were built during this period, which comes in a variety of styles, from the gingerbread mansions of the elites to the traditional northern design of the common people. Many of which are still well-preserved at the present day.
One of the highlights is the Pink Mansion or Baan Vongburi. It was the house of noblemen and rulers of Phrae, established in 1897 according to the idea of Chao Mae Bua Tha, the first wife of Chao Luang Piriyathepwong, the last ruler of Phrae. Nowadays the house has become a private museum displaying in the way of life of noblemen and rulers of Phrae in the past including the beauty of architecture. The side of the house show making silverware by local technicians of Phrae Province and also selling of silverware and handicraft products.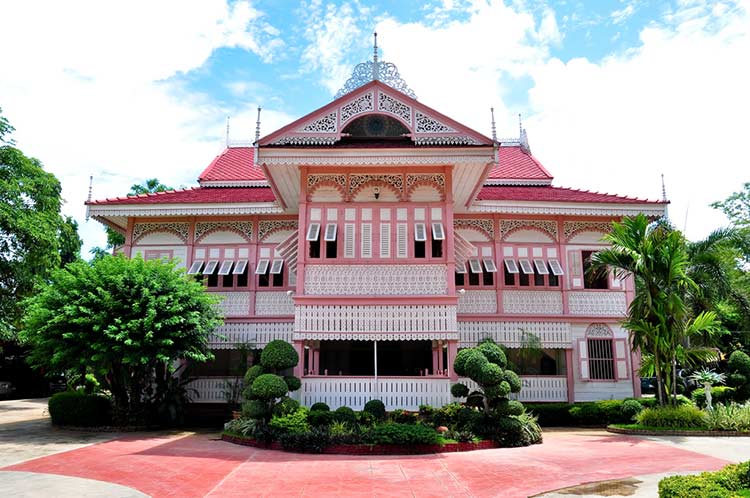 Pink Mansion or Ban Vongburi – Open hours: 8.30-17.00 every day
Another recommended house is Baan Pratubjai (Impressive House), a large northern Thai-style teak house that was built using more than 130 teak logs, each over 300 years old. Opened in 1985, the house took four years to build, using timber taken from nine old rural houses. The interior pillars are ornately carved. The house is also filled with souvenir vendors and is rather tackily decorated.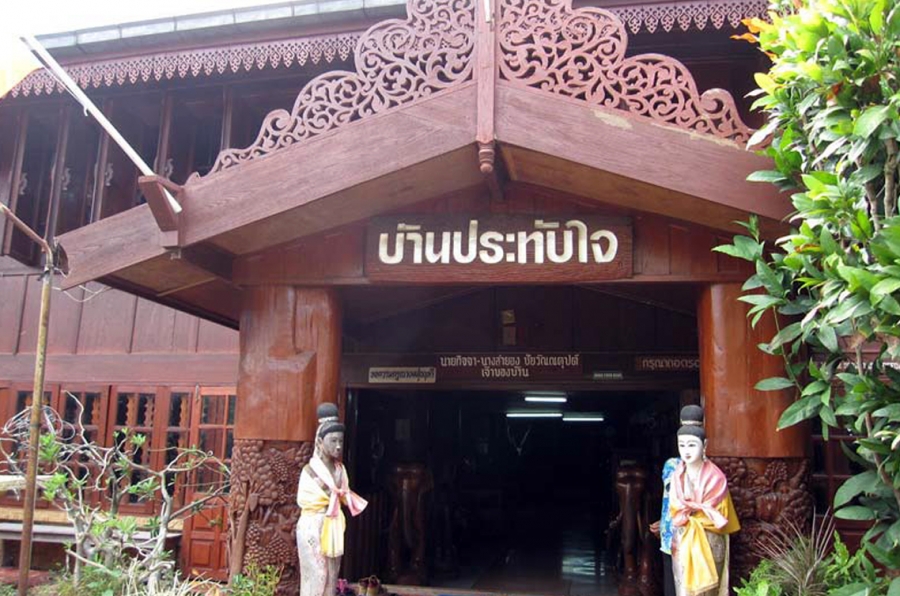 Baan Pratubjai – Open hours: 8.00-17.00 every day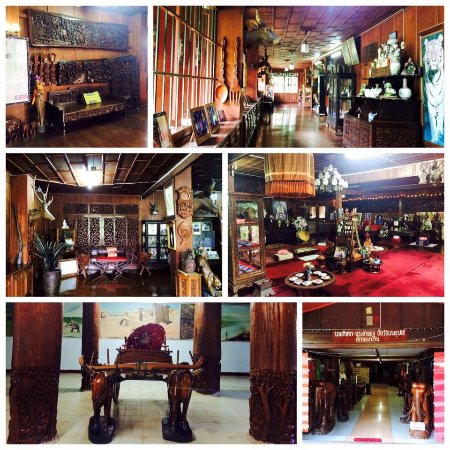 Baan Pratubjai – Open hours: 8.00-17.00 every day
Apart from these 2 houses, there are many more to see. Each house has its own story, some also played an important part in the history of the town and even that of the Kingdom. Visiting Phrae town to take a closed look at each house would be a great experience for you.
Or you may request for a few days package to visit Phrae from Chiang Mai.
**Other Attractions in Phrae: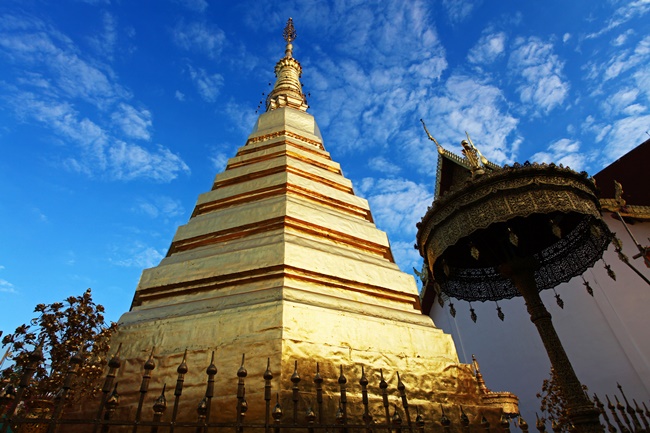 Wat Phra That Cho Hae is a major religious and perhaps the most sacred Buddhist site of Phrae. The highlight is the 33-meter-tall Chiang Saen-style Phra That (pagoda), wrapped with bright brass sheets, which enshrines holy relics of Lord Buddha.
Pae Muang Pee Forest Park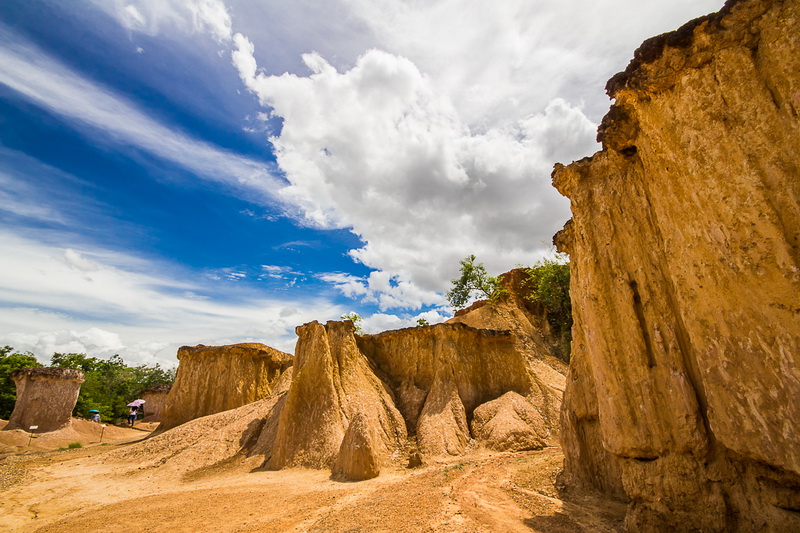 Pae Muang Pee Forest Park is a forest park of 500 rais and was gazetted by Royal Forest Department in 1981. Topography Forests occur on the wavy plain in Pae Muang Pee. Outer area is slightly sloped. Altitudes in the area range from 200-210 meters.
Ban Thung Hong is a village famed for the making of products made from Mo Ham, a local cotton fabric dyed in blue used for making native and modern clothing. Just go, and you will see a lot of shops selling Mo-Hom costumes, which you and your family should buy some and dress in those costumes together.
Ban Sao Roi Ton or Ban Pratap Jai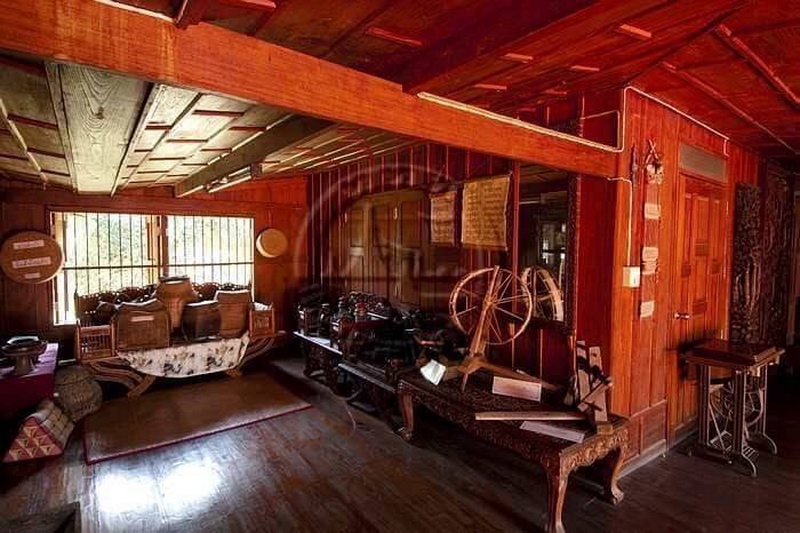 Ban Sao Roi Ton is a major attraction in Phrae located outside of the town. House  Ban Sao Roi Ton (a Hundred Pillars House) also called Ban Pratap Jai has a meaning like Impressive. The house is a pillar-filled this large house was built in Northern Thai-style made of teak wood using more than 130 teak logs, each over 300 years old, the interior pillars are ornately carved. This house is like a museum that has many things show inside, the admittion fee is required.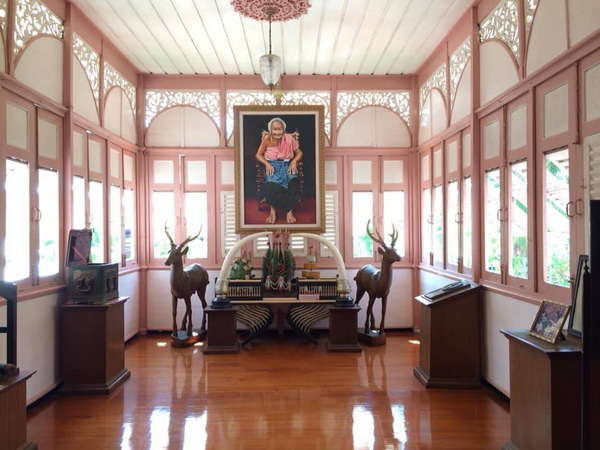 Khum Vongburi is a beautiful two-story teak mansion built during the late 19th and early 20th centuries and now open to the public as a museum. The spectacular and beautifully preserved residence, set in manicured gardens, is a classic example of turn-of-the-century Northern Thai style. The architecture isn't classically Thai but shows European influences, as the French, British, Dutch and others were heavily involved in the teak business in northern Thailand during this period.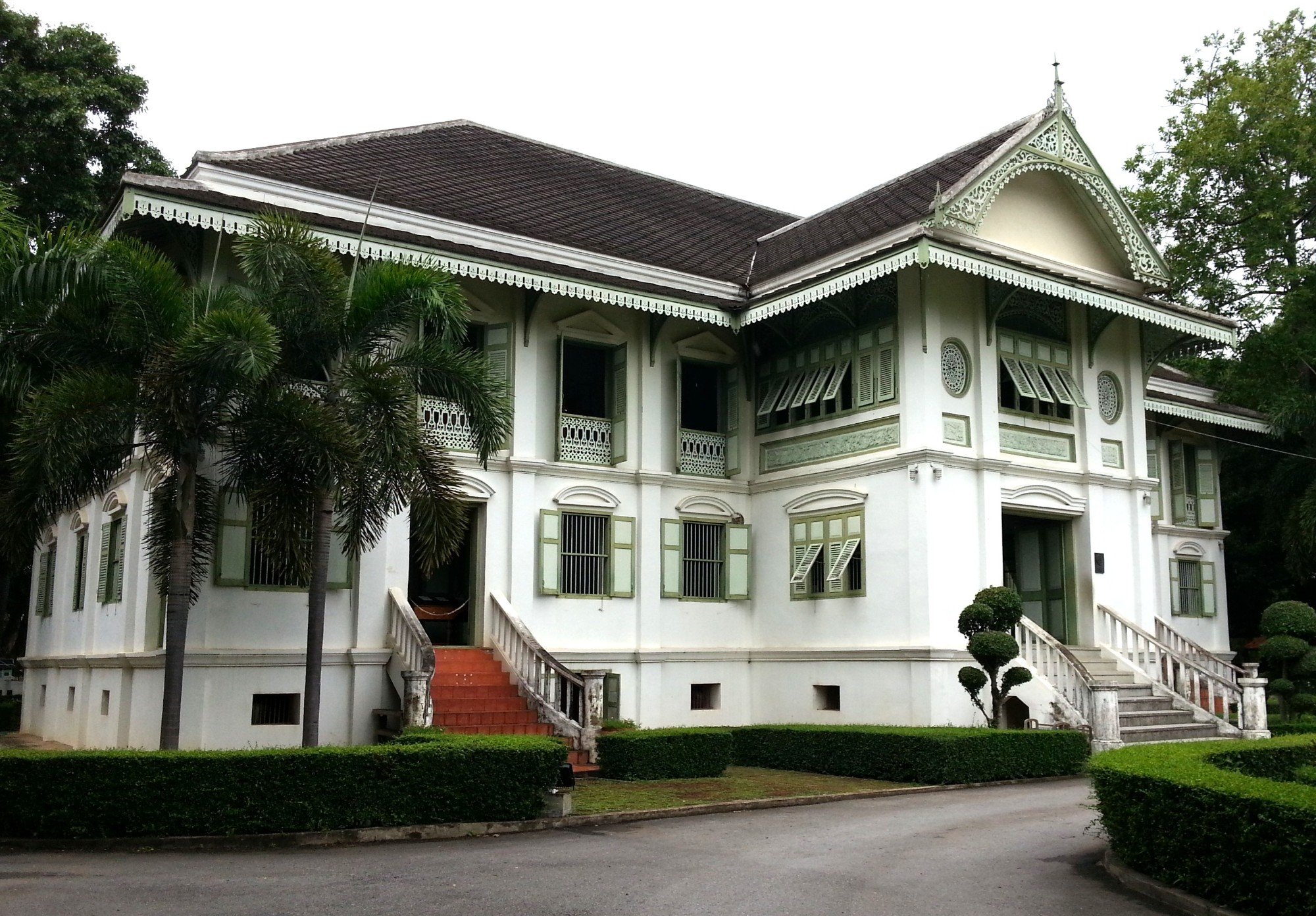 Khum Chao Luang is an exquisite two-story colonial building painted a striking green and decorated with beautiful fretwork. It showcases a blend of East and West that will be familiar to anyone who has visited Bangkok's Vimanmek Mansion, a residence of King Rama V. Today, Khum Chao Luang Muang Phrae has been converted into a museum. The upper floor exhibits everyday items; such as household goods, furniture, and photos of the governor and his family.
**Remark: There's no English speaking available in Phrae, we need to send the guide from Chiang Mai or Bangkok.
For more information, pls contact us – ALO Travel Asia, here