This article features our genuine reviews about Mekong Delta 2 day tour and what exactly you will get when you book the trip with ALO travel Asia
We (our company) took a tour from Saigon moving to Cai Be then Vinh Long and finally Can Tho and then back to Saigon on October 2017. During that time, the weather was very nice in the South of Vietnam. There are 12 members on the groups included children and an elder .

DAY 1: SAI GON – CAI BE – VINH LONG – CAN THO
We departed from Saigon around 6:00 AM. There are some traffic jams on the way, so it took around 3.5 hours for to the distance of 120 km.
Fact: in Vietnam, traffic jam happens everywhere. The allowed speed on the highways is only from 55  to 70 km/hour, for some special Highways, it's allowed to drive at 120 km/hour – but that's quite rare. In the center of big cities, most of the time drivers can't pass 35km/h during rush hours. So keep that in mind, please  take thing easy when driving. A cup of coffee & milk or herbal tea plus some cookies would be a good idea to kill sometimes on road. It will get better when you get out of the cities.
Arrived at Cai Be at around 10:00 AM, picked up at the pier by local tour guide and we got on a very nice and clean wooden boat. The boat was big and it can comfortably accommodate 12 people. Life-jackets were redundant and toilet was clean. There were also some bicycles at the back, and a small coffee table full of fresh fruits and coconut. Cai Be welcomed us with fresh air and cool wind!!!!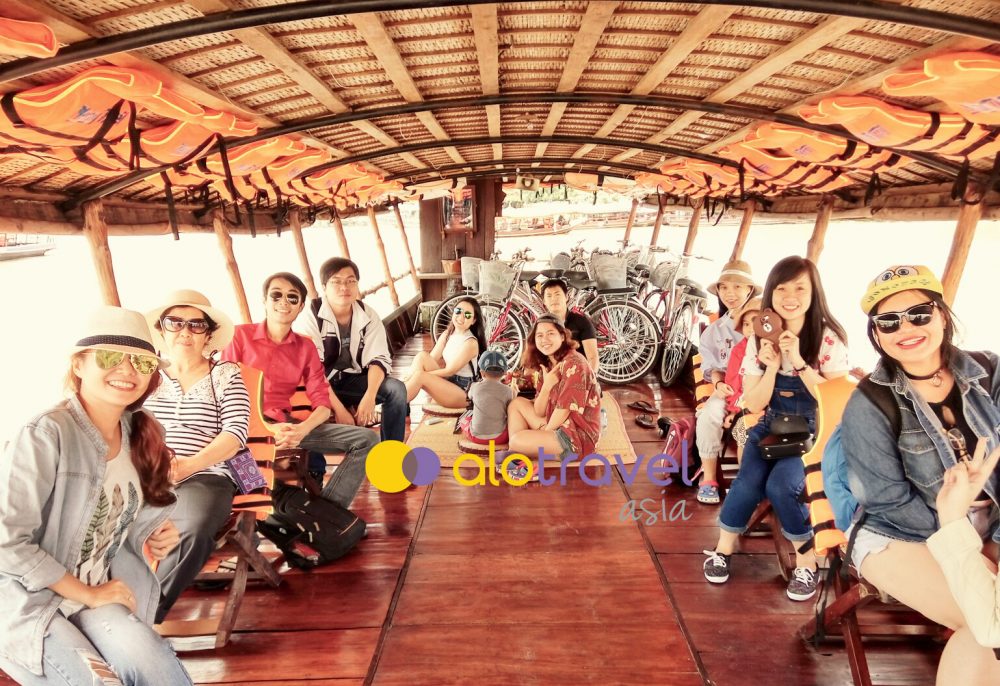 After 15 minutes boating, we arrived at Tan Phong Island. We walked around the village and saw how local people make coconut oil and candy,  popcorn from noodle and sticky rice. We tasted candies made with indgredient from durian, chocolate, pandanus to coconut milk, drilled paper rice cakes, drank a cup of coconut wine. Then we bought delicious local food & souvenir gifts at a small shop.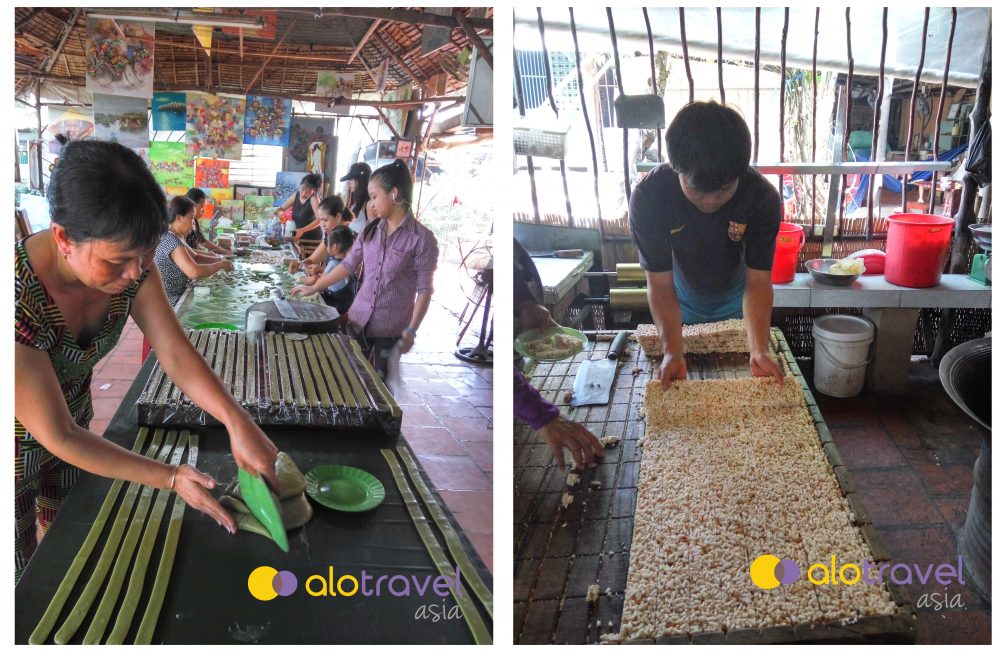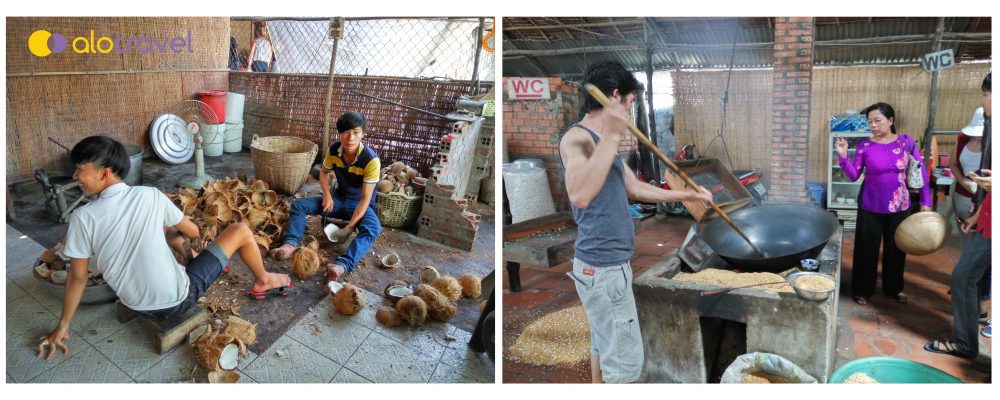 One of our staff played with a big python, brave girl!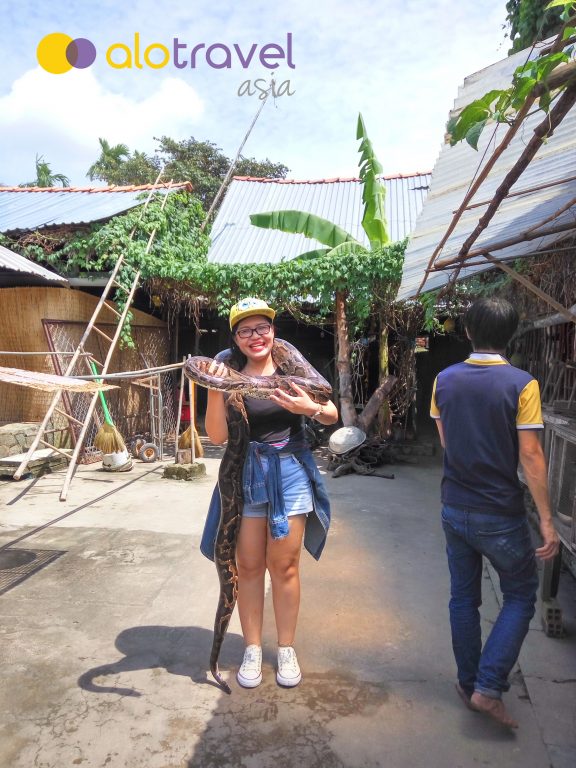 After some honey tea and dried jam, we were fully energized and did some biking. The elder couldn't ride but the tour guide was flexible enough to call a xe-om (motorbike taxi) for her. She enjoyed her back-of-the-bike tour very much.
We did not ride fast. It was a very pleasant ride, windy and relaxing. The track was full of fruit, palm and bamboo trees. Some narrow bridges might posed a small and fun challenge for a novice rider.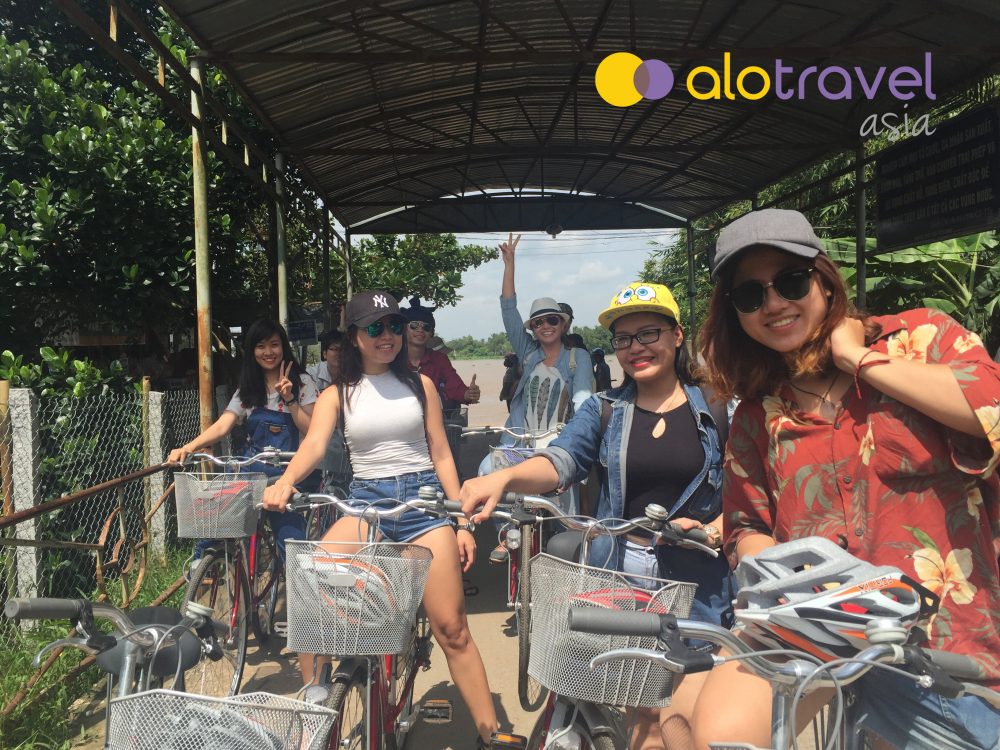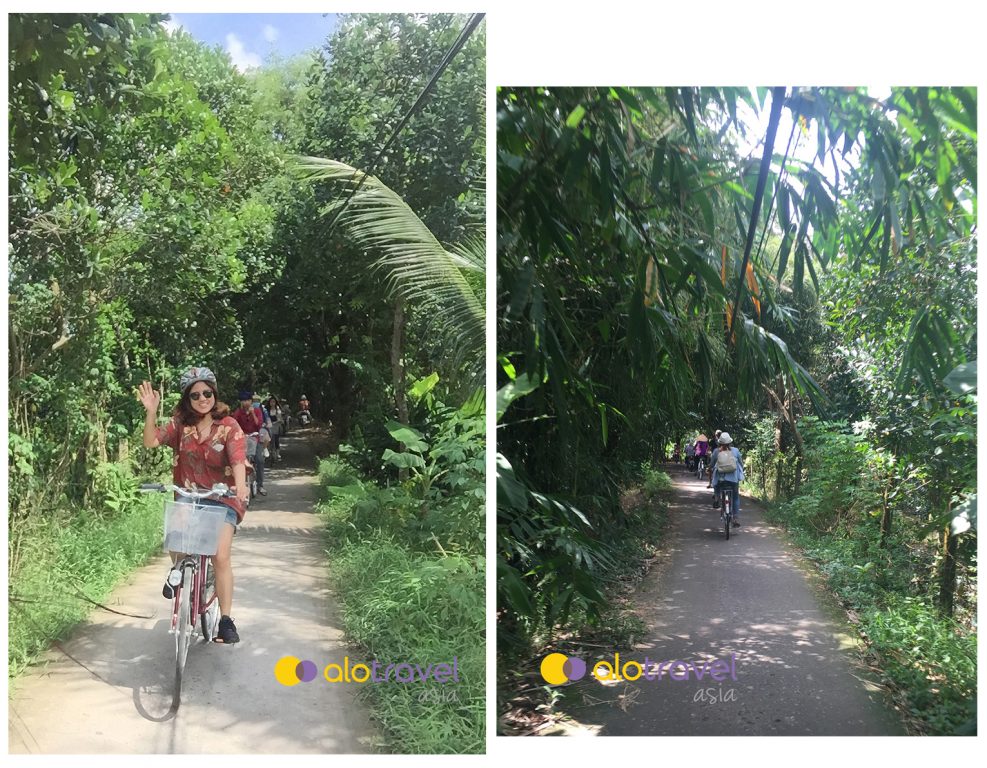 We stopped for some local work-shops / activities such as: making paper-rice, making hat – bag – wallet  from dried water-hyacynth. We were allowed to  tried some steps of or the whole operation sometimes. It's was amazing to see how difficult this is for the untrained hands, thus made us appreciate the local's craftsmanship more.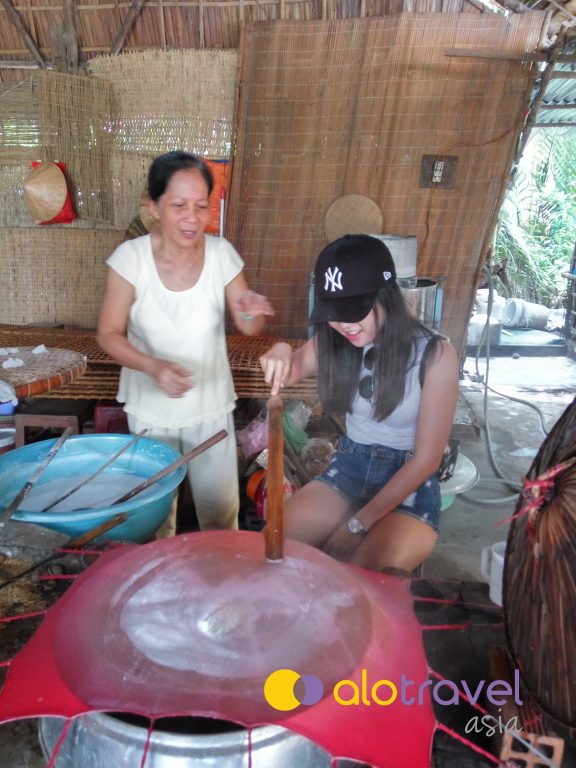 After 45 minute biking, we went back to the boat. The next activity was rowing boat. We were taken deeper into the village on narrow canals. We enjoyed the views of traditional houses made of wood and palm leave, local farmers working: catching fish, picking up fruits in ancestral ways in Mekong Delta…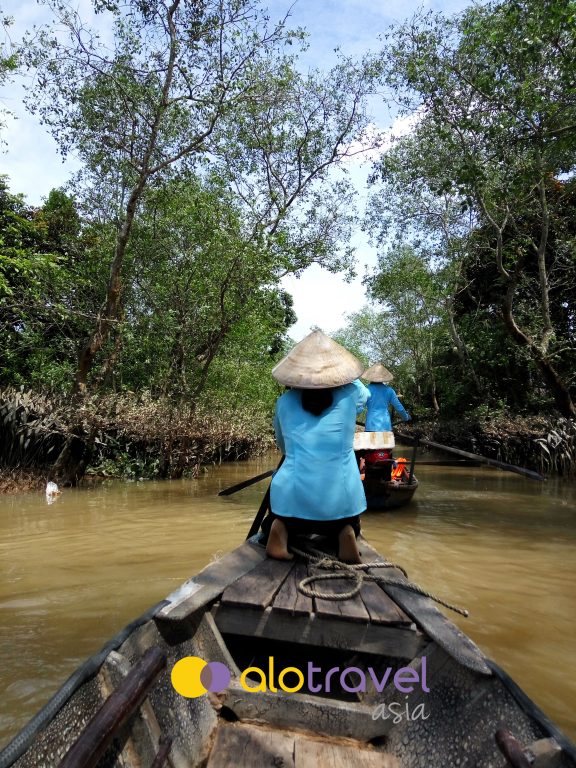 One staff managed to convince the boat woman that he could row the boat. After 10 minutes of messing around, he finally got a hang of rowing the boat 😀
We met an old woman whom local people called "grandma". She followed us and tried to sell some fruits harvested from her garden.
After that, we continued our tour to Vinh Long province. A delicious lunch was served for the hungry team after all the exciting activities. There is one local traditional dish that you can't miss, which is the "crispy deep fried cat fish". You can eat with rice or make a roll with rice paper, fresh vegetable, pine-apple and forest banana.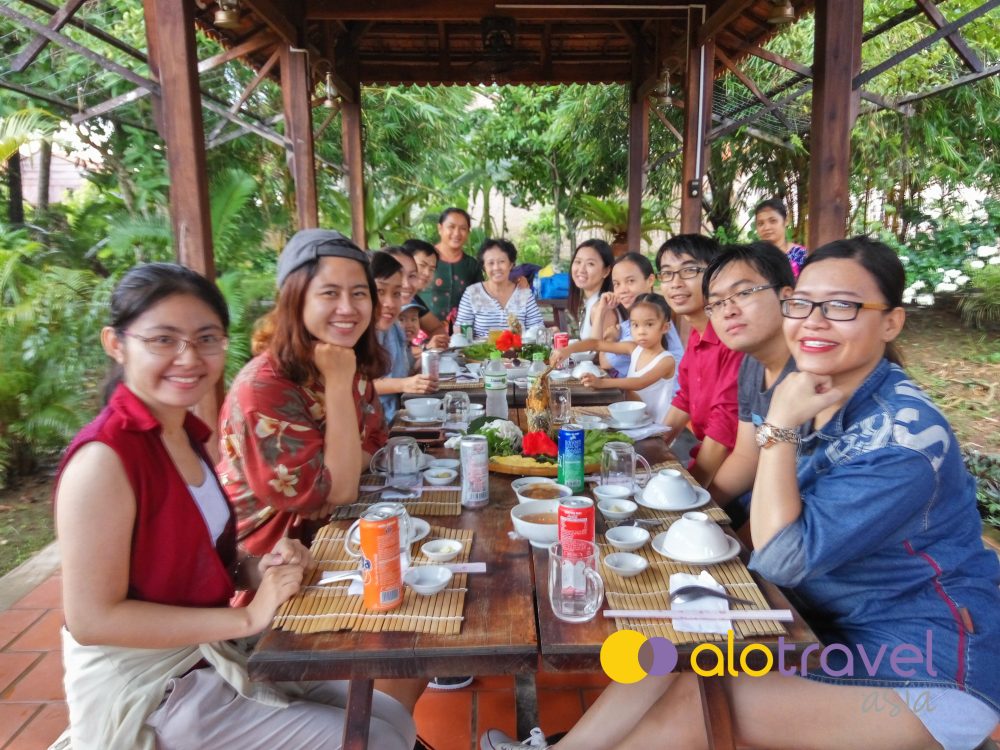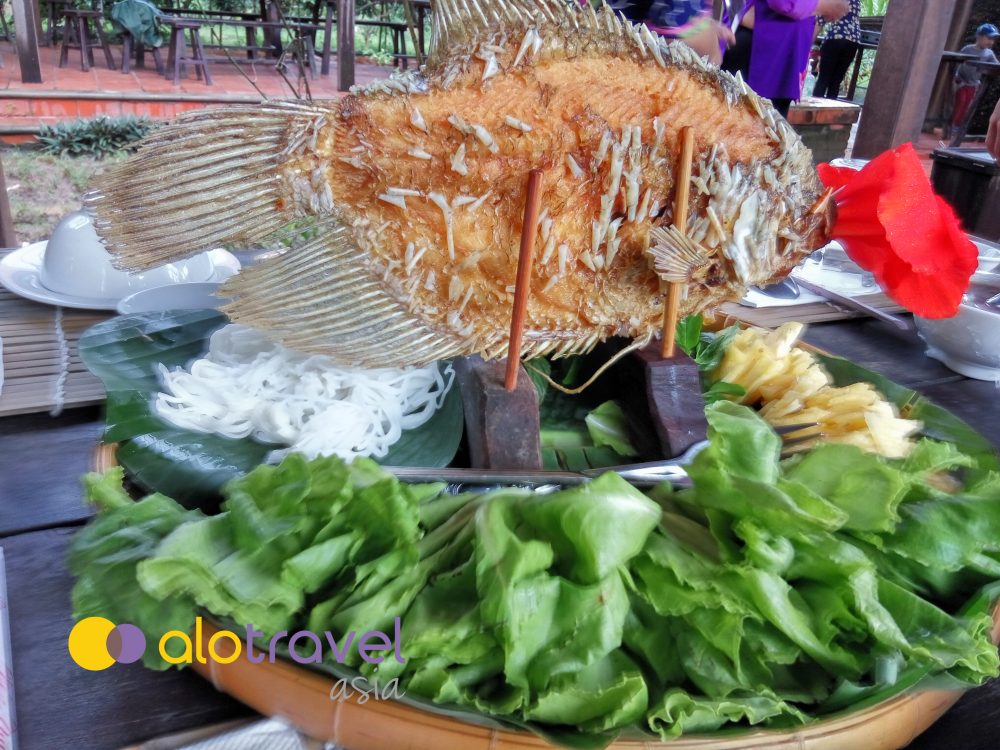 After lunch, we walked around Ut Trinh home-stay, took some pictures of the landscape, garden and rooms… If you choose a home-stay tour, you will stay here for a night. You can join cooking class in the afternoon, and learn how to make Vietnamese pancakes or "banh xeo" – one of the special food of the Southern region. Regarding to accommodation, rooms are very cozy, clean, Mekong style decorated. All have private bathrooms. Some rooms will have air-conditioners.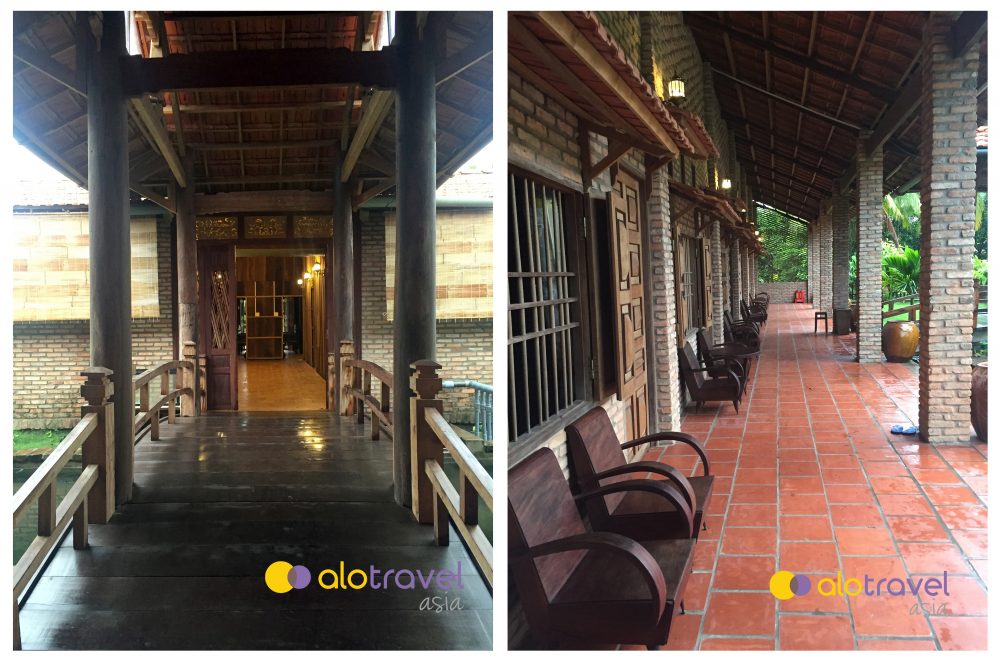 We ended our journey in Vinh Long with a traditional music show. It was raining outside but we enjoyed the show with herbal tea & fresh fruits in an over 100 year old ancient house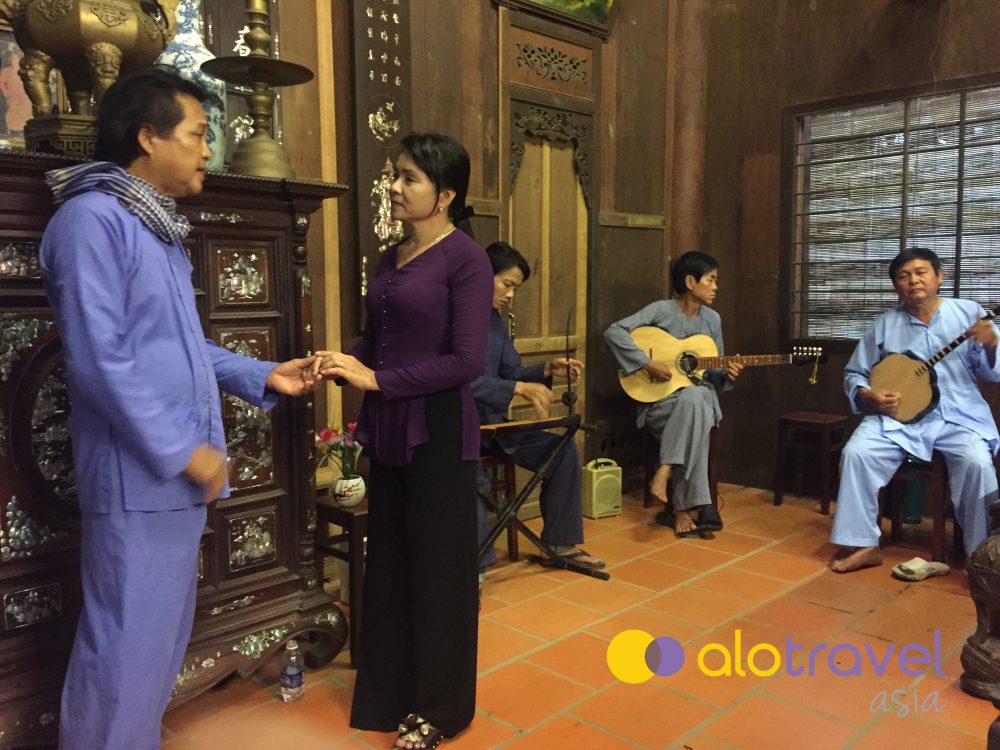 Back to the pier, we went to Can Tho where we spent one night there. From the land, we realized that Mekong Delta after raining was such a romantic sight.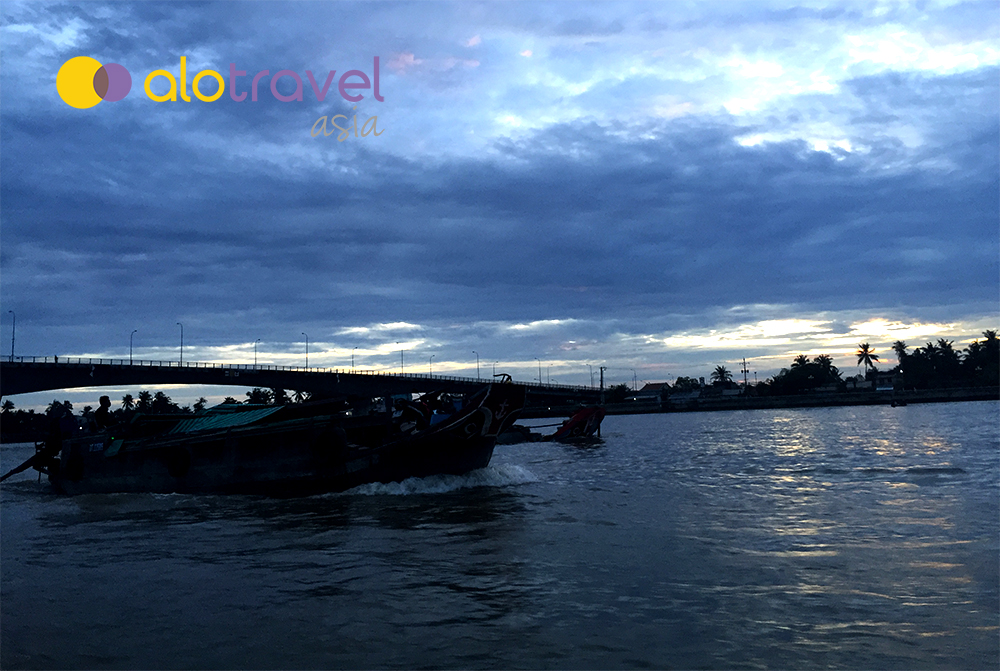 Can Tho is 50km away from Vinh Long (172 km from Saigon and take around 5 hours driving from Saigon).  It is the biggest city of Mekong Delta, tourists usually come to visit the famous floating market in the early morning. During the day, don't expect to see many interesting things. In the evening, the center becomes a gathering point for locals and tourists.
We chose to stay at Anh Dao Mekong Hotel – 3 star boutique hotel. From the outside, it's really small (compared with hotels in Saigon or Hanoi) and we were initially a little disappointed. Our perception changed after entering the rooms. They were quite spacious, cozy and well maintained. Bathrooms were well equipped, window was large. Simply put: "value for money".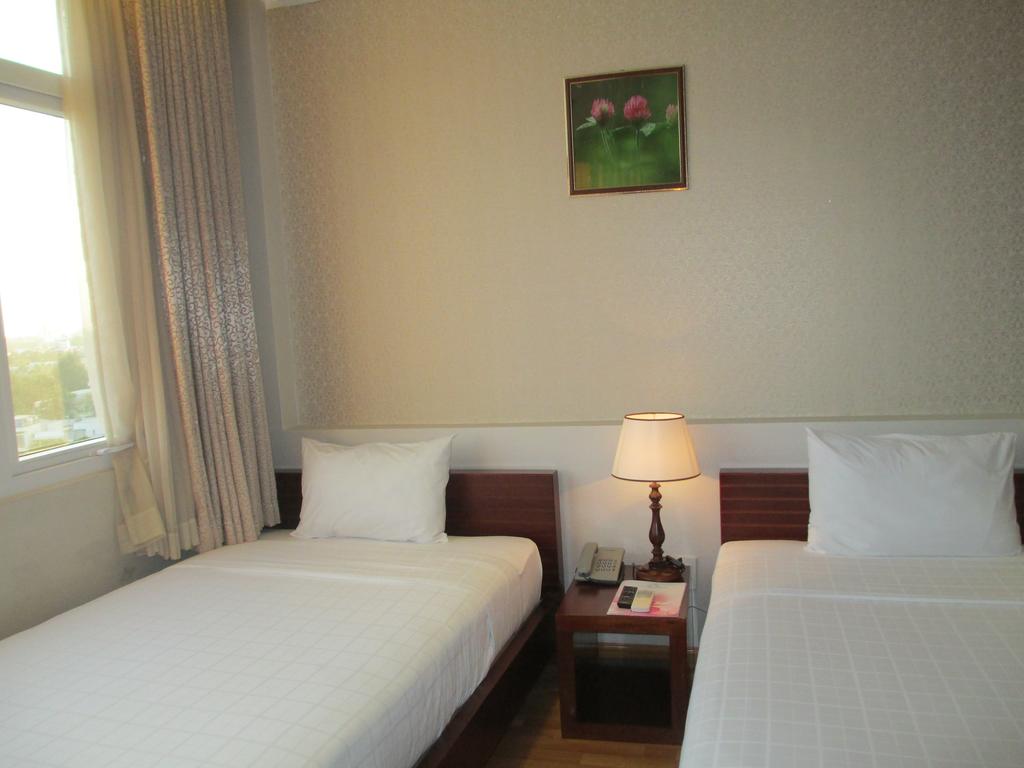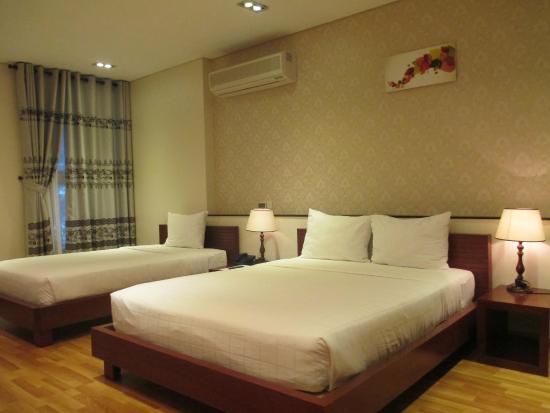 We had no planned activities for the evening. Every member can freely explore the city. I went to visit the night market to buy some souvenir but there were nothing special for me. You can try a foot massage at $5 per person or buy some local fresh fruit around Ninh Kieu pier: Durian, mango, rambutan, papaya, banana, star apple will be the best choice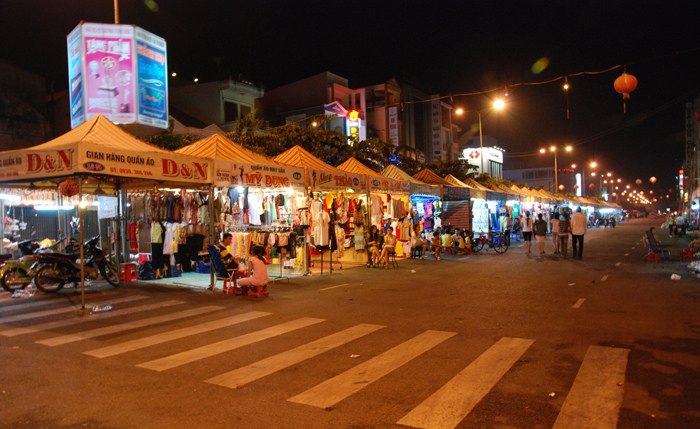 DAY 2: CAN THO – CAI RANG FLOATING MARKET 
At 5:00 AM we went to visit Cai Rang Floating Market. This is the main wholesale floating market near Can Tho, and takes place before and around dawn each day (most of activities of the market happen from 2:00 AM – 6:00 AM.) It's literally floating in the middle of a fairly large river, far from the riverbanks, which are lined with private houses and shops. Therefore, you will absolutely have to get on a boat in order to appreciate this floating market
Phong Dien floating market is further upstream the Can Tho river, it is a retail market. It is very active at dawn, but slows down early too, you may go there by land or boat either. Cai Rang and Phong Dien have the same style, so that you can choose one of them for your trip. Boat fee for visiting Phong Dien will be higher than Cai Rang Floating market also.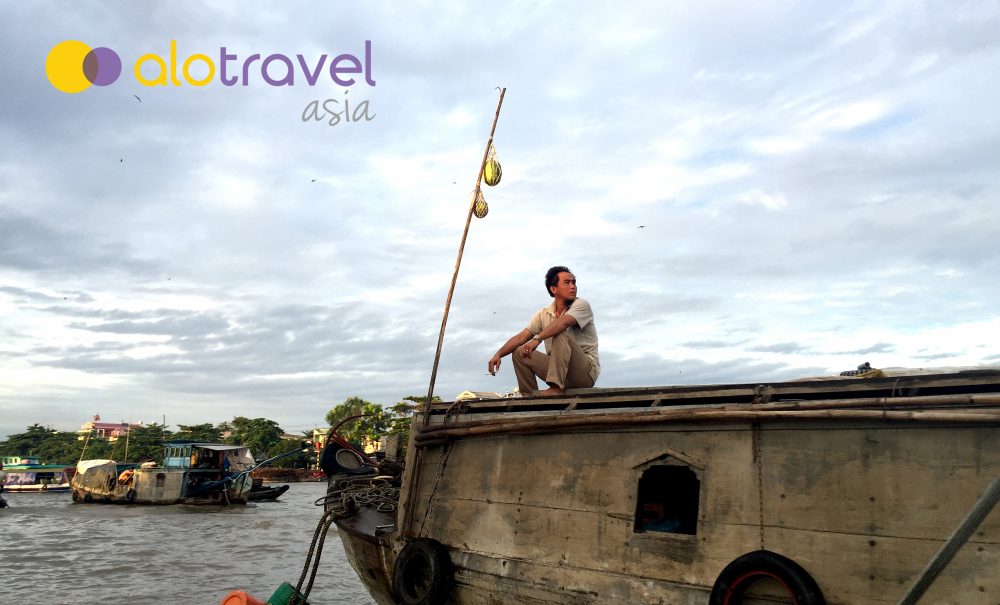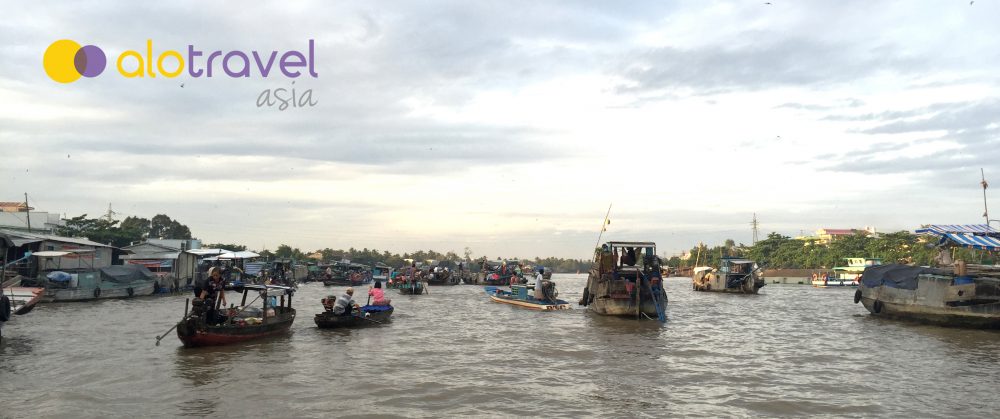 This man sells pure water bottles to other floating houses.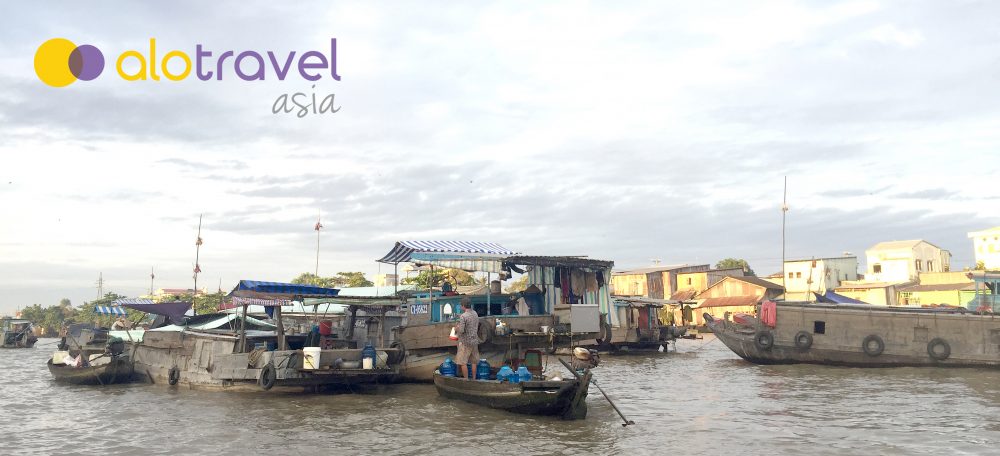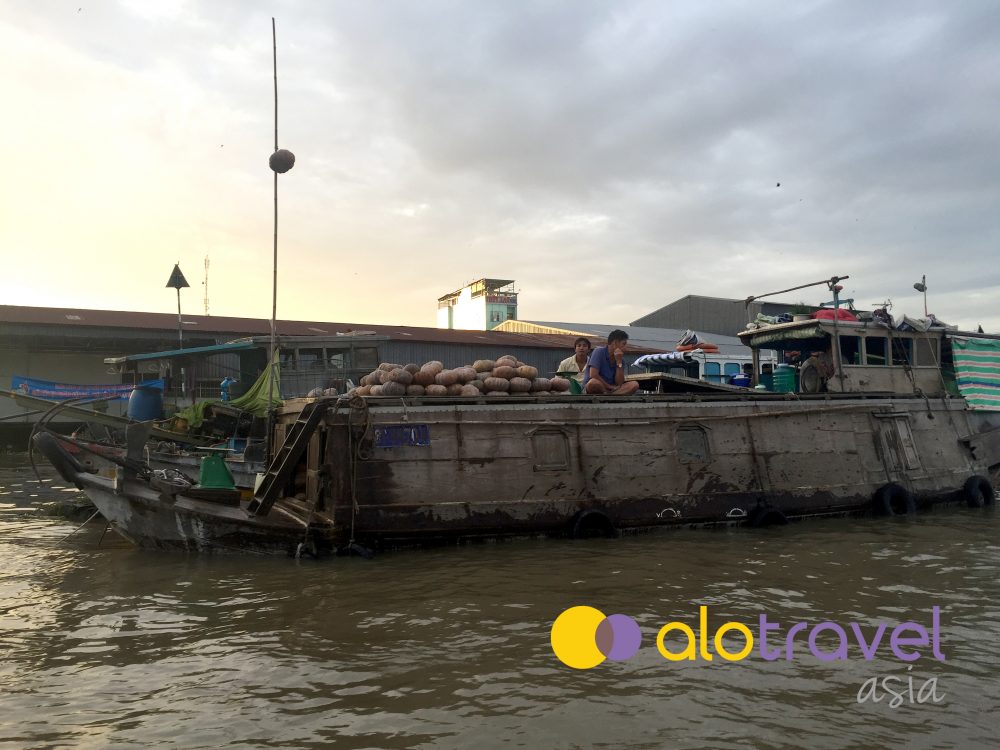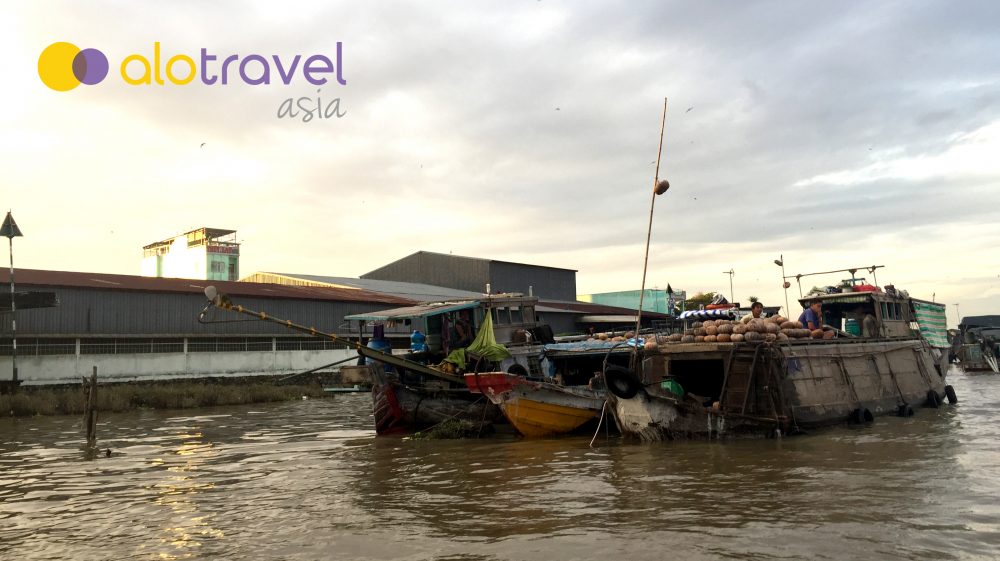 This woman sells "banh mi" – Vietnam sandwich as a breakfast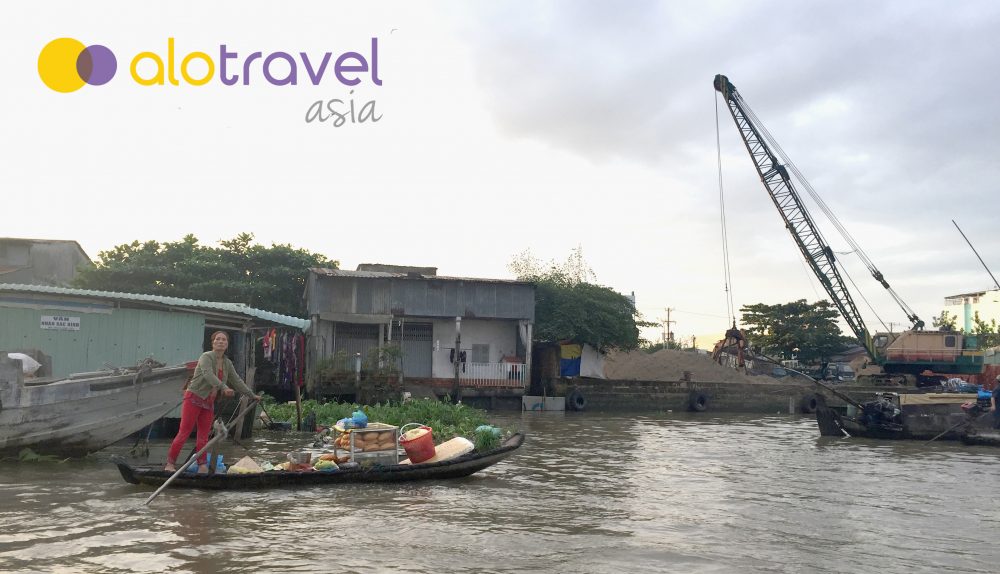 We returned to the hotel for breakfast, the packed our luggage and headed back to Saigon and end our trip in Saigon at around 4:00 PM.
We hope these information will be helpful for your next trip to Vietnam. Welcome to Mekong Delta – hidden charm in Southeast Asia.