Chill sky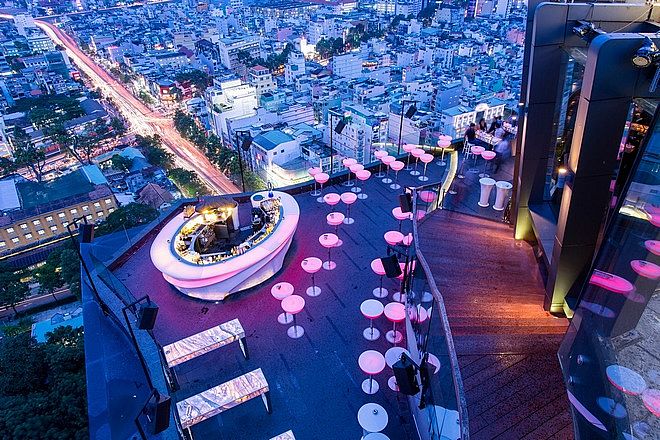 Chill Skybar is one of the most popular nightspots in the city. This rooftop bar and clubs sits on the 25th floor of AB Tower and attracts a lively crowd who are dressed to impress and keen to party. There is a strictly enforced dress code at Chill Skybar so make a little effort if you plan to enjoy a cocktail up here and definitely don't wear Birkenstocks or flip-flops.
The walk to the outside bar has a real wow factor about it, especially as you descend the few steps that lead to the terrace and take in the sweeping panorama for the first time. The bar uses lots of neon lighting that feels totally modern, and then far below you can see the hustle of the city.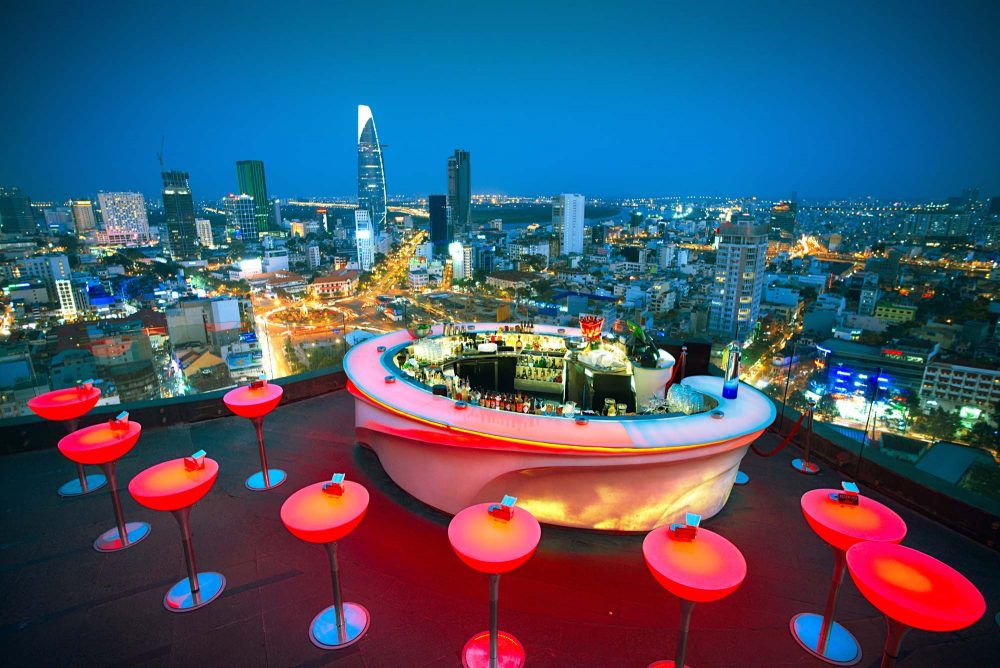 The bar opens at 17:00, an hour or so before sunset, and plays down tempo, chill out music through dusk, before livening things up around 22:00 when the DJ spins popular hip hop and dance music. Unlike other cocktail bars in Saigon, there is a dance floor inside Chill which becomes packed with the city's glitterati on weekends.
Address: AB Tower, Tầng 26,, 76 Lê Lai, Bến Thành, Quận 1, Hồ Chí Minh
Lush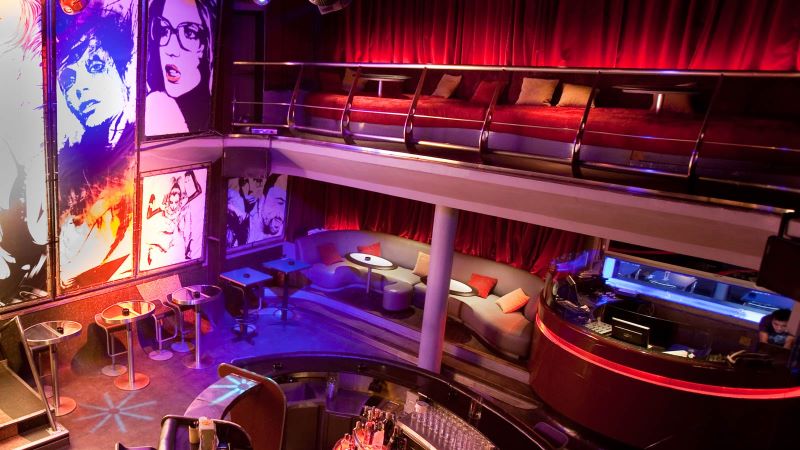 Lush Nightclub in Ho Chi Minh is a sleek and fashionable nightspot where the young and beautiful party the night away to different styles of music, depending on the evening. On Fridays and Sundays Lush is taken over by some of the best hip hop DJs in the city while Saturday night is the real highlight of the week with International funky house ensuring Lush is packed by a crowd of locals and foreigners.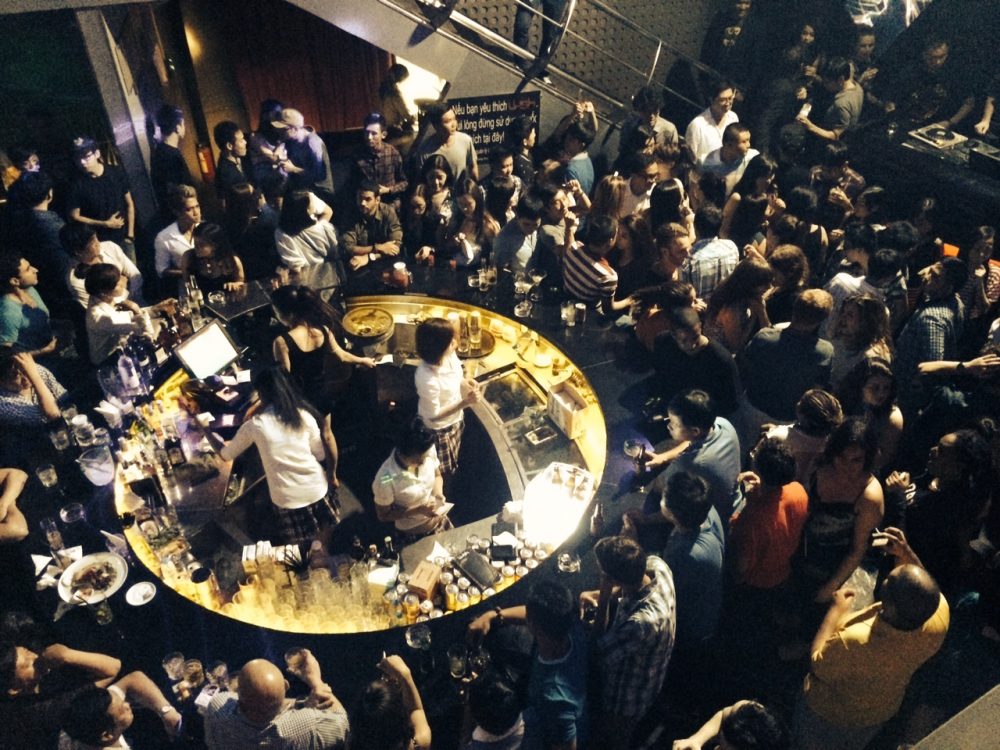 There is an amazing ladies night on Tuesday when the fairer sex drink free until midnight and on Thursdays there is a buy one get one free deal on beers and mixed drinks that lasts until closing.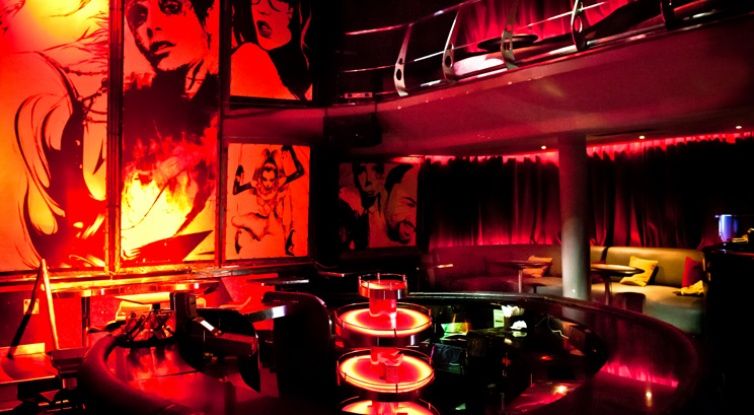 Following a renovation in 2012, the decor of the club is modern and playful with steel and concrete creating a masculine, almost industrial feel, but the use of neon strip lighting and Manga style animations add some fun to the surroundings.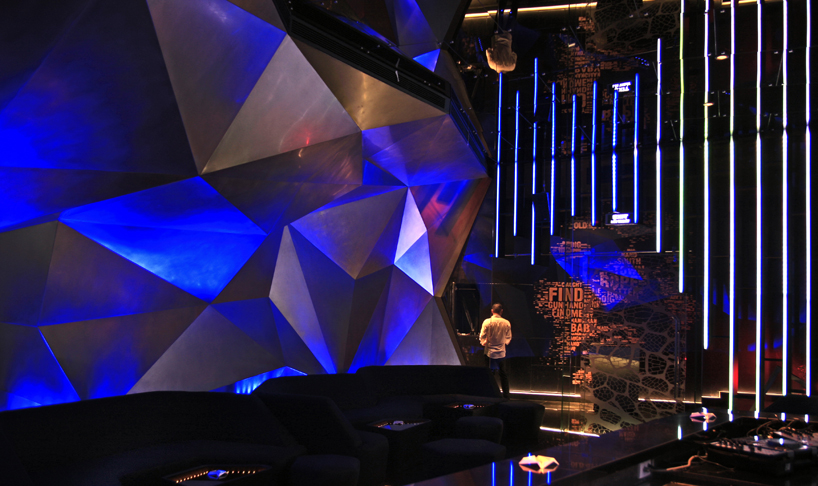 One thing is for sure: Lush is certainly the coolest nightclub in Ho Chi Minh. In front of the club there is a small garden which offers a great place to relax and perhaps grab a bite to eat and behind there is an outdoor bar – we recommend you start the night here before moving inside as the party heats up.
Lush Nightclub is located on Ly Trong Street in District 1, close to the Saigon Zoo and Botanical Gardens. Doors open at 20:00 but we wouldn't advise arriving before 21:30. The club is open seven nights a week and is consistently busy. For a modern, funky and fashionable nightclub in Ho Chi Minh, Lush is the obvious choice.
Address: 2 Lý Tự Trọng, Bến Nghé, Quận 1, Hồ Chí Minh
Broma Not A Bar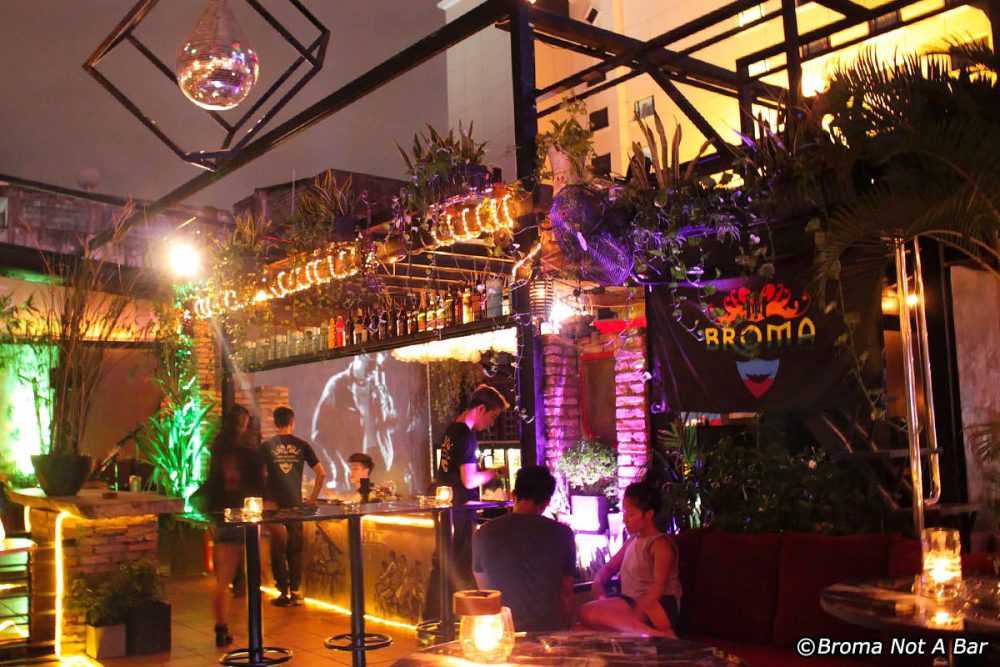 A favourite hangout spot amongst expats, Broma Not A Bar occupies the fourth floor of old French colonial building in Ho Chi Minh City's District 1. Accessible via a rickety stairway, this grungy-style bar regularly hosts live music performances and themed dance parties with resident DJs playing minimal, deep house and techno music until 02:00.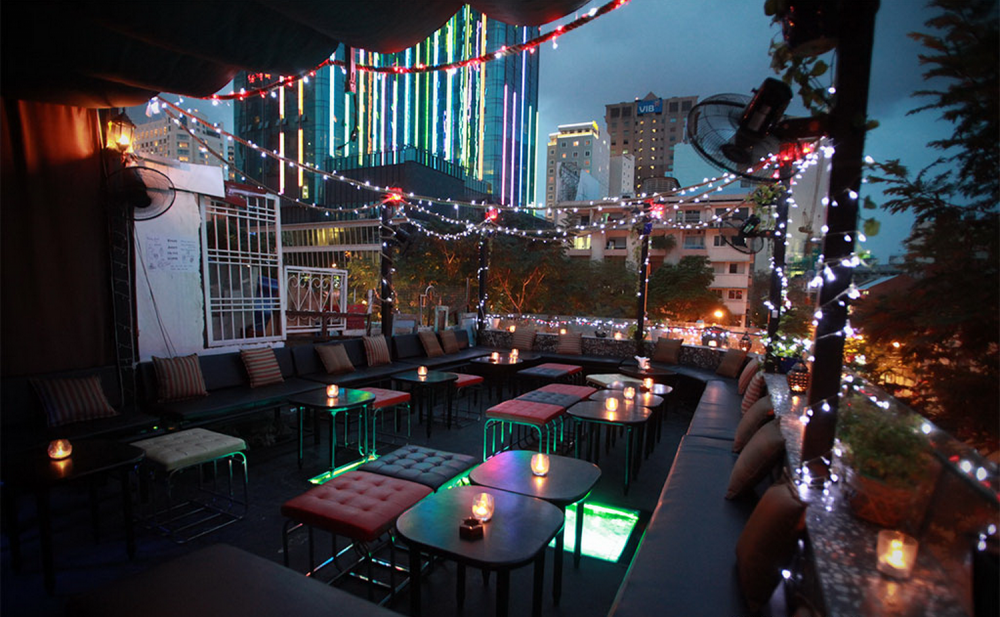 Drinks-wise, Broma serves signature cocktails, sangrias, wines, and more than 30 types of beer from Belgium, Germany, Spain, and Mexico. Meanwhile, bar snacks here comprise of Asian and western favourites such as wood-fired oven pizzas, spring rolls, and chips.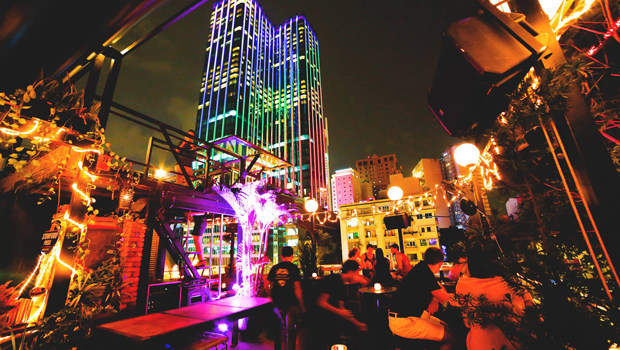 Address:
41 Nguyễn Huệ, Bến Nghé, Quận 1, Hồ Chí Minh
Glow SkyBar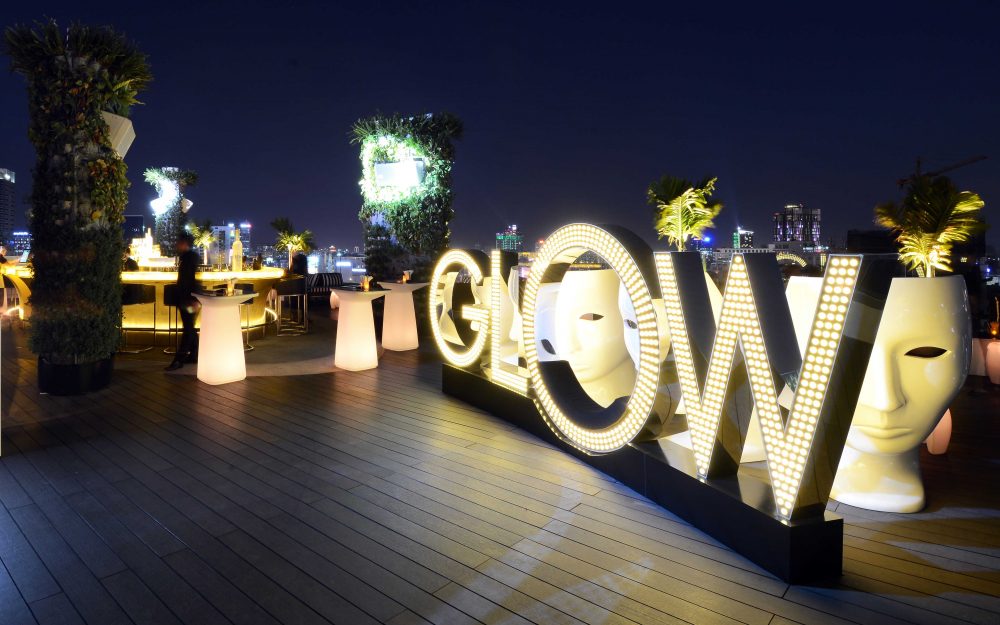 Glow SkyBar Saigon is a trendy rooftop venue that has gained massive popularity among  expats and trendy locals since its establishment in 2015. Located in District 1, it boasts a beach club atmosphere with plenty of tropical trees, black-and-white furnishing, spacious dance floor, and a fully-stocked bar on the main deck.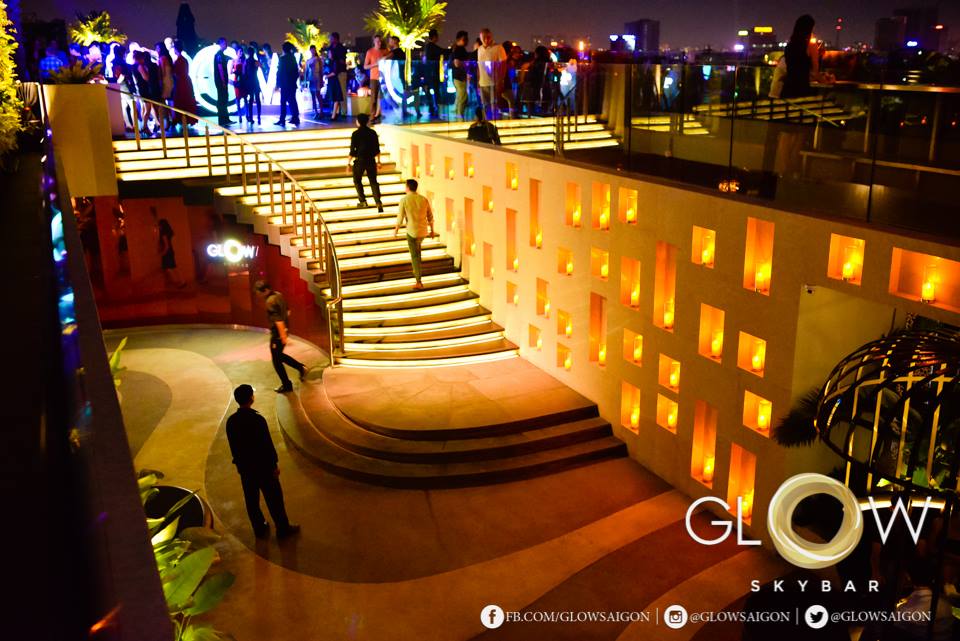 Offering expansive views of the city's modern and colonial architecture, you can enjoy a chat with friendly staff and fellow travelers during the day, and dance to resident DJs spinning deep and tropical house tunes from sunset onward.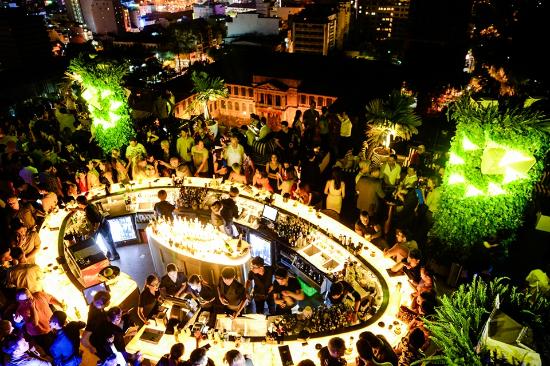 Happy hour promos are between 17:00 and 20:00, where you can enjoy 50% off on beers, mixed drinks, wines by the glass, and signature cocktails. If you're feeling peckish after all that dancing, Glow Skybar Saigon serves an array of sharing platters from VND 280,000 for two people and VND 420,000 for four.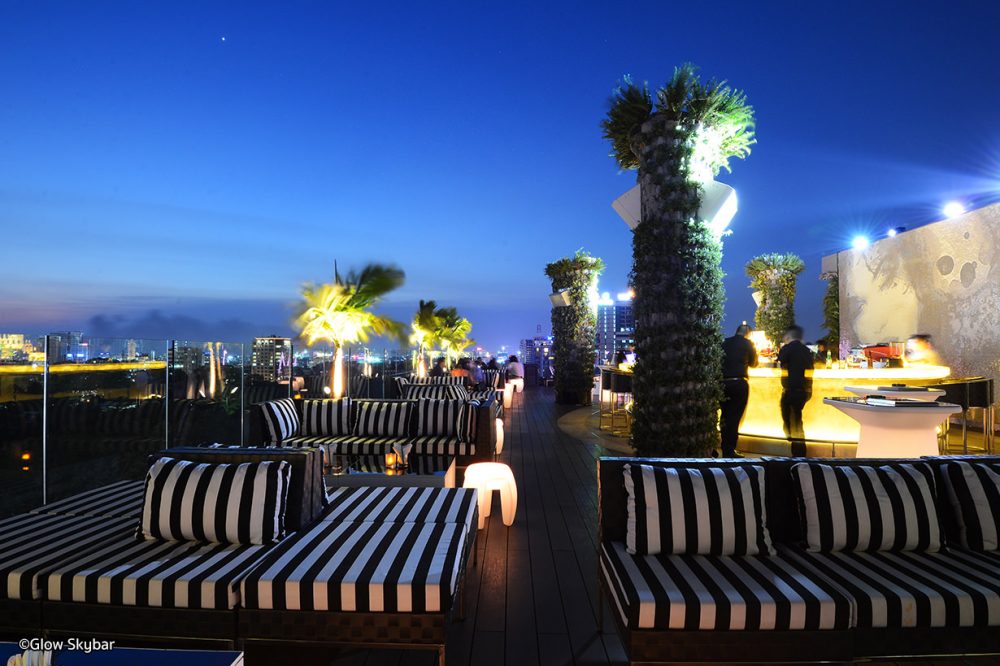 Opening Hours: Daily 09:00 – 03:00 Location: 93 Nguyen Du, Ben , Ho Chi Minh City Tel: +84 93 887 4569
Air 360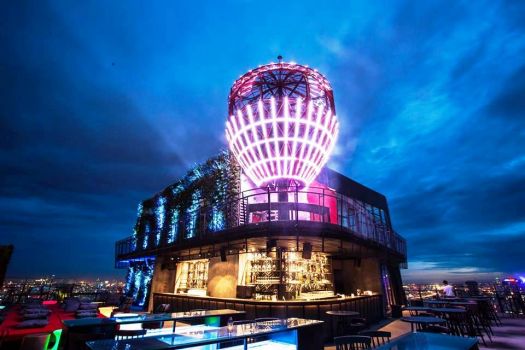 Air 360, 21 stories above sea level, is so named because it's the only rooftop bar with a fully-panoramic outlook on the city, they've also got a swimming pool, fish tanks built into some tables and cheaper prices than their rooftop competitors.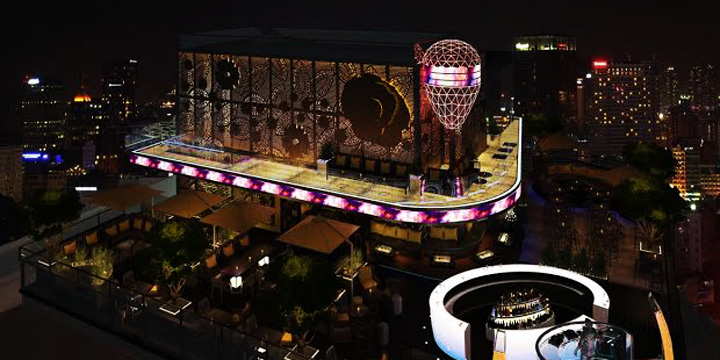 This newcomer on the flight level has also got a giant light-up balloon on the summit. Renowned for its vibrant music, cool atmosphere and fancy design it is the ultimate starter to a night-out for those who like things to start with a bang. No night out in Ho Chi Minh City is complete without a couple of cocktails from the glamorous list and some lights to shine it up while gazing out on the surrounding sparkling Saigon. For those who like their nights out to be remembered the pool parties are very on trend with funky music and pool fun.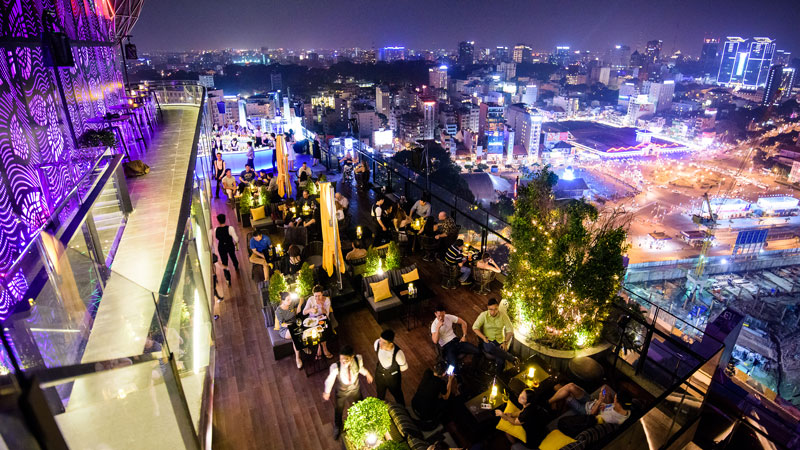 BEN THANH TOWER
Rooftop 22nd – 23rd , 136-138 Le Thi Hong Gam Street
District 1, Ho Chi Minh City, Vietnam
T: +84.974 587 788
Social club M'galerry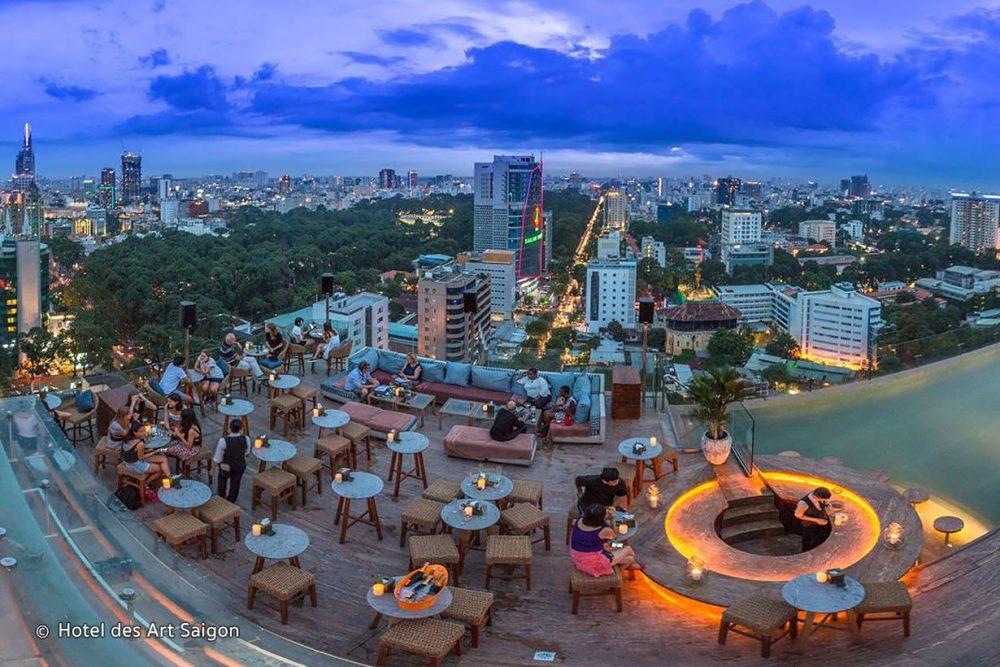 Social Club Restaurant & Rooftop Bar is a place where you can enjoy European cuisine while overlooking the city from the 23rd floor of Hôtel des Arts Saigon, MGallery Collection. Besides being a classy restaurant, it is a stylish rooftop bar with lounge areas and a swimming pool. The swimming pool overhangs the edge of the building and includes a pool bar. The venue was designed by the famous designer of Super Potato, and therefore has a unique, luxurious atmosphere.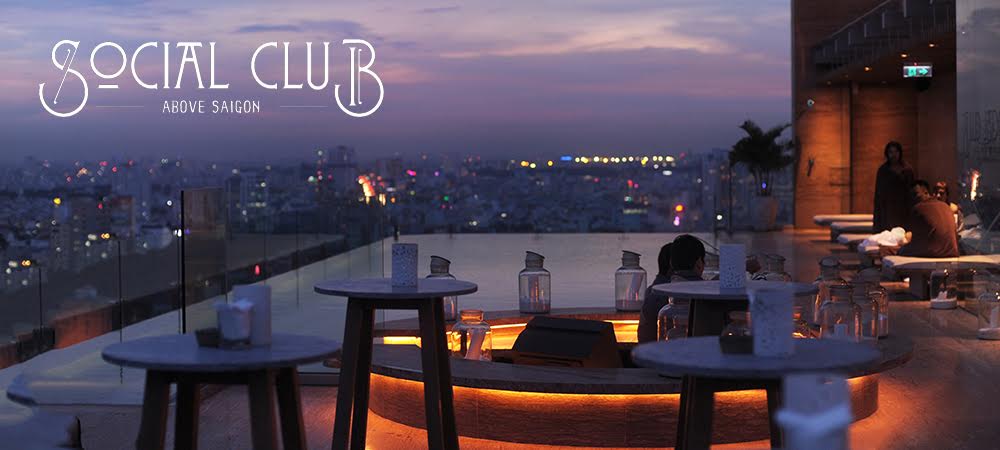 Serving up some remarkable fine-dining cuisine, you can enjoy it and the great view from a comfortable armchair or sofa, which really gives you that homely feel and makes you right at ease.
Opening Hours: 17:30-23:30
Location: 76-78 Nguyen Thi Minh Khai, District 3, HCMC
Tel: +84 8 3989 8888
Observatory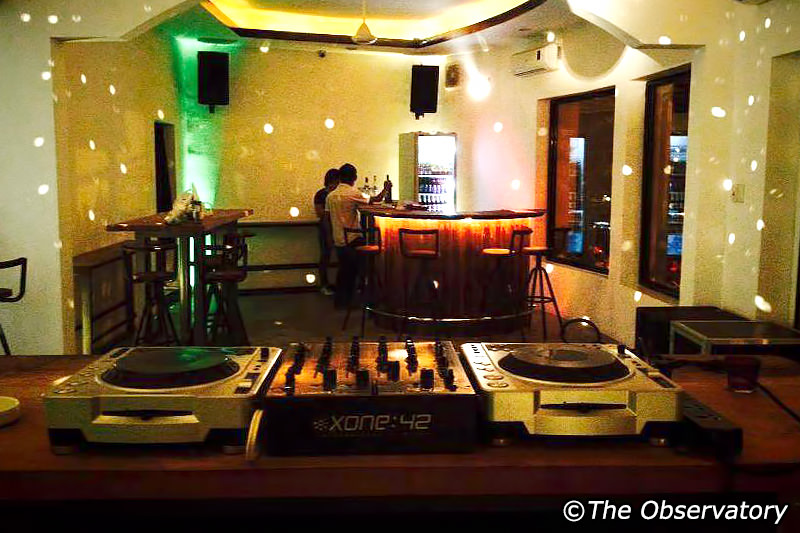 The Observatory serves as Saigon's fully­ dedicated underground music club: located on the 3rd floor of a building with a commanding view of the Saigon River, it plays host to a large range of local and international DJs every week ­ including globally recognized names such as Tom Trago, John Morales, Joakim and San Soda. Boasting an impressive sound system and dance space that can stay moving until 7am on weekends ­ it's the place to go for clubbing experience in the city.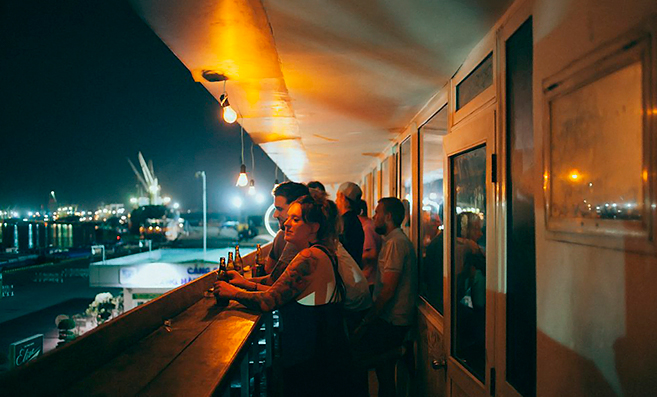 The philosophy behind The Observatory is simple: to serve as a place where Saigon and its people can have access to quality underground techno, disco and house in a laid­back, friendly and exciting atmosphere. It also has some signature crafted cocktails, fashioned by its charismatic and attentive staff.
Address:
3 (Cang Sai Gon) Nguyễn Tất Thành, phường 12, Quận 4, Hồ Chí Minh
Envy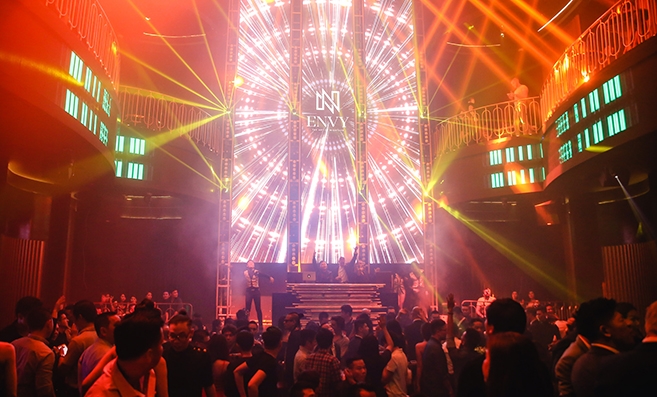 Envy Club raises the bar on what it means to go out in Saigon. Born from passion and inspired by perfection, the newly opened entertainment venue is three levels of art-deco inspired opulence.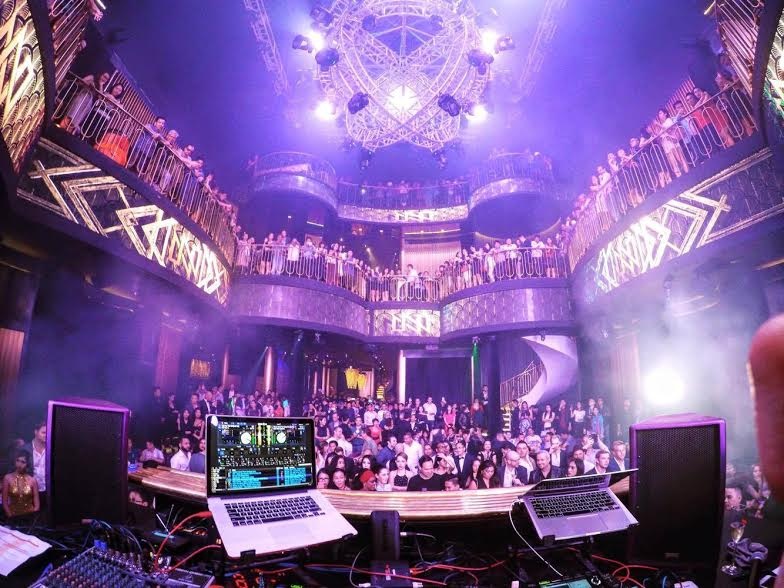 Culminating in a colosseum-esque pulpit and stage, they aim to become one of Asia's nightlife hotspots; 'a unique collaboration of outstanding musical talents, world class artists and fashion shows under one roof'.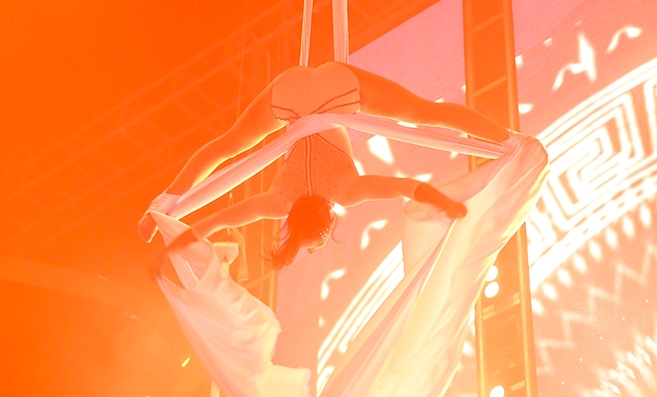 Often featuring airborne acrobatic dancers who descend from the sky, light shows worthy of any boiler room, and a 12 meter high LED screen with speakers, Envy is unashamedly a beacon for the most successful, most celebrated and most beautiful people in the heart of the city.
Address:
74 – 76 Nam Ky Khoi Nghia, Ho Chi Minh City, 700000
Source: anyarena.com; gourmet-vietnam.com; vietnam-guide.com