Blackboard tree (Milk tree)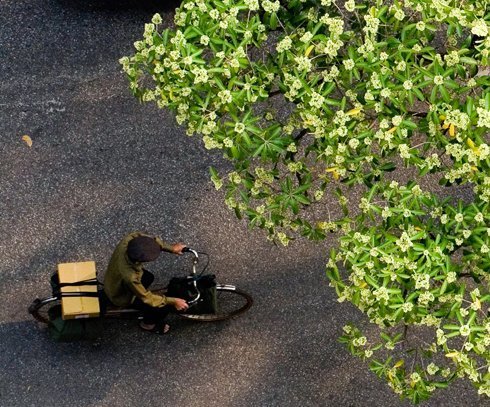 The tree is Ha noi autumn's symbol in citizens' minds. You can smell the blackboard fragrance in almost every corner of Hanoi's streets. The Blackboards are being planted scattered to avoid the strong smell since its heavy scent can cause the whole neighborhood dizzy and allergic. However, there will not be a Hanoi's autumn night without wandering the street in breezing atmosphere with the sweet smell of blackboard softly flying in the wind.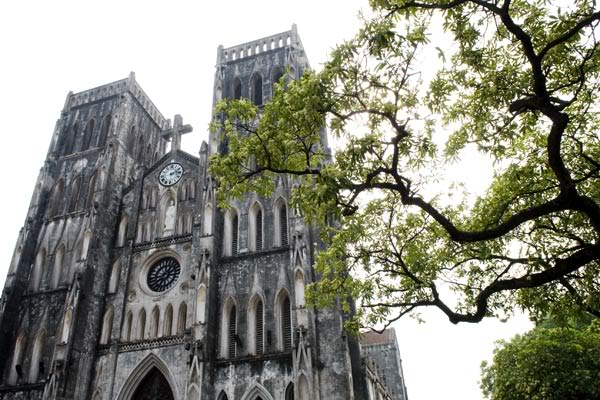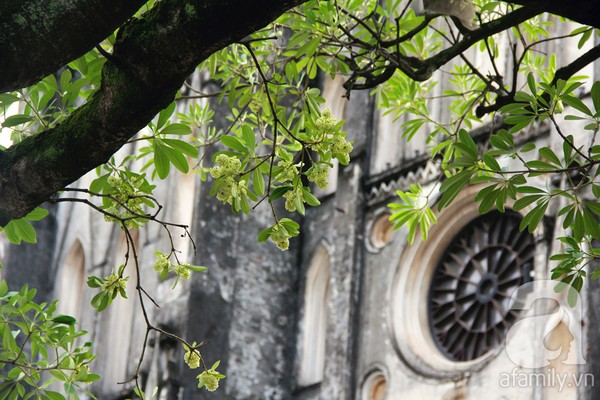 Yellow leaves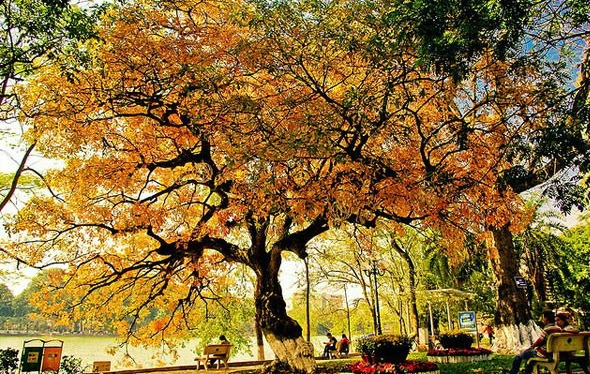 Autumn is the season Hanoi changing its clothes from the evergreen color to yellow slightly wine hue. The whole city just turns from energetic, hip and young city to somewhat retro, peaceful and quiet thanks to the coloring changing In just couple of days. The change is thought to be an alarm for citizens to put on some warm clothes themselves and ready for the upcoming winter which will come real close in just few days more.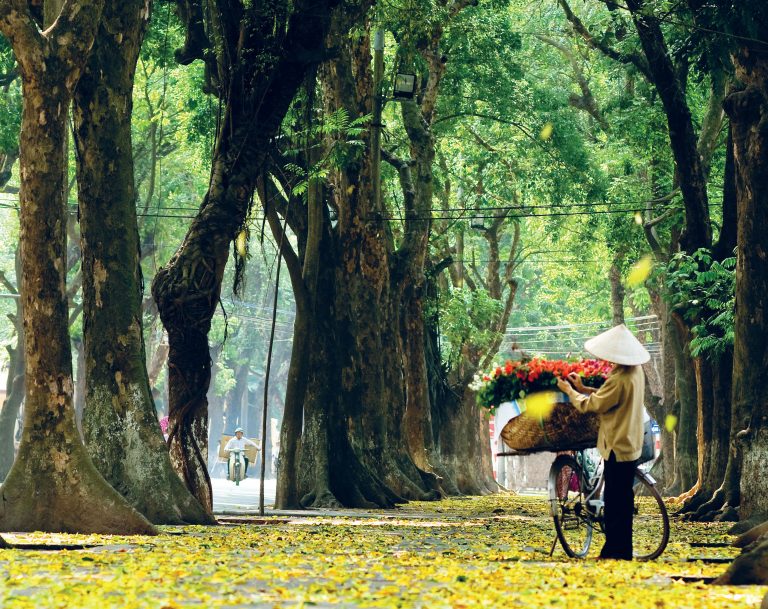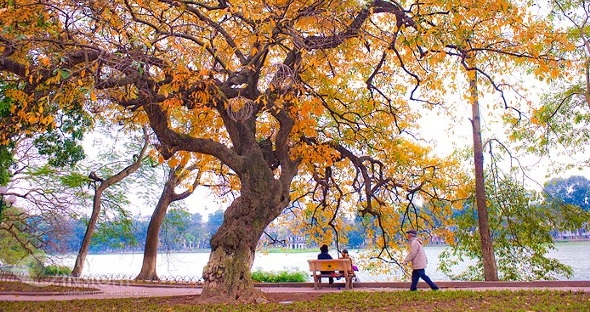 Young green sticky rice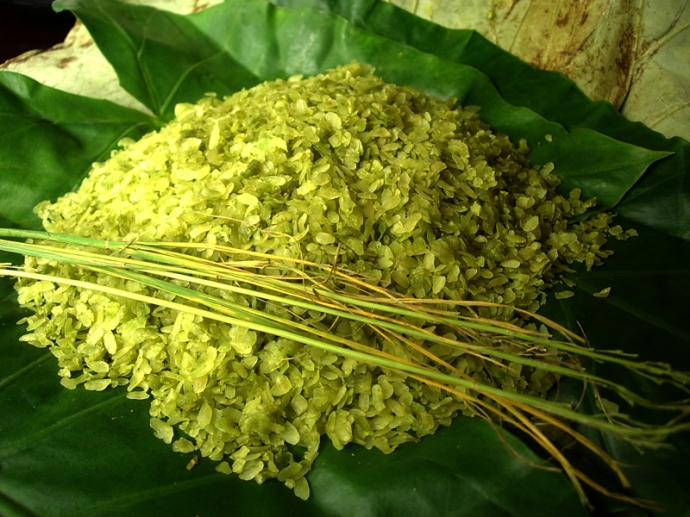 "Com" (green sticky rice) is a delicacy that is made only in autumn and cherished by all Vietnamese. For Hanoians, nothing evokes autumn like the taste of young rice from Vòng Village; the grain so sweetly scented that they left a lasting impression.
Served with red persimmons or ripe bananas, cốm is truly delicious. When autumn comes, Hanoians everywhere always remember the special taste of cốm – special gifts from the soil made by hard-working peasants, holding a simple and fresh fragrance.
Every autumn, when the cool north-westerly wind brings cold dew, the sticky rice ears bend themselves into arches waiting for ripe grains since they are at their fullest and the rice-milk is already concentrated in the grains, and that's when the local farmers will know it is time to make cốm.
Cốm is often eaten by hand, directly from the lotus leaves, a pinch at a time. When eating cốm, you must enjoy slowly and chew very deliberately in order to appreciate all the scents, tastes, and plasticity of the young rice which is sweet, nutty and buttery.
Gorgeous and photogenic sunlight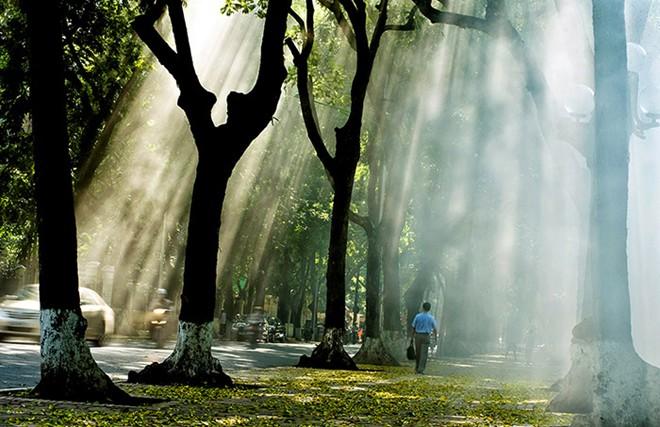 Mornings from Hanoi with autumn sunlight is so different with those in summer. The sunlight is so graceful, so elegant that you just want to run around the corner of the street and take several shoots of refined pictures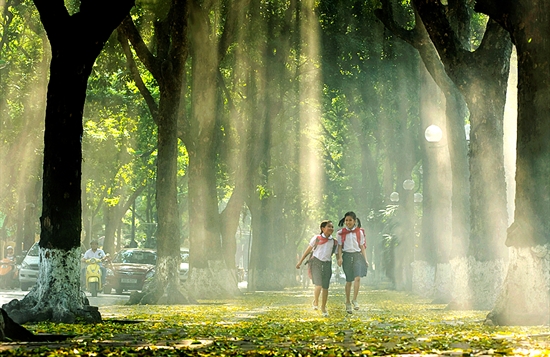 Dracontomelon ripe fruits (Qua Sau)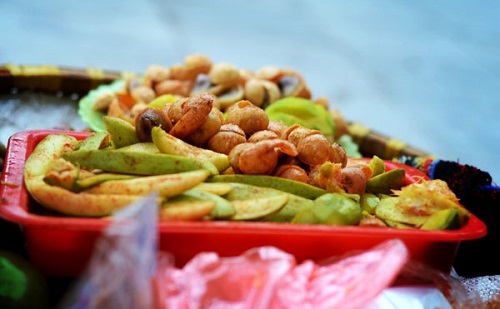 Sau is Hanoi fruit and specialty only. In summer when the fruits are still green, Hanoians collect them to add to their soup as a light sour ingredient; whereas when in autumn, when the fruits are ripe, Sau can be fragmented for 2 days with the mix of chilly,  sugar and salt to become a snack that is famous among people. The snack can be seen selling by street vendors in the Old Quarter at cheap price for 1 portion. So don't hesitate to try when you have chances.