What are the most popular Vietnamese Street Food in Saigon and where to find them? In this blog, you may find 05 popular Street food dishes in Vietnam's most bustling city. 
Food plays a big part in Vietnamese culture. In fact, almost every aspect of social and family life revolves around either producing or sharing a tasty meal from North to South. Especially is street food in Saigon. Here are 05 Vietnamese Street food that will give you a perfect introduction to the best street eats in Vietnam:
1. Pho (Noodle Soup) – Number 1 Vietnamese street food of all time.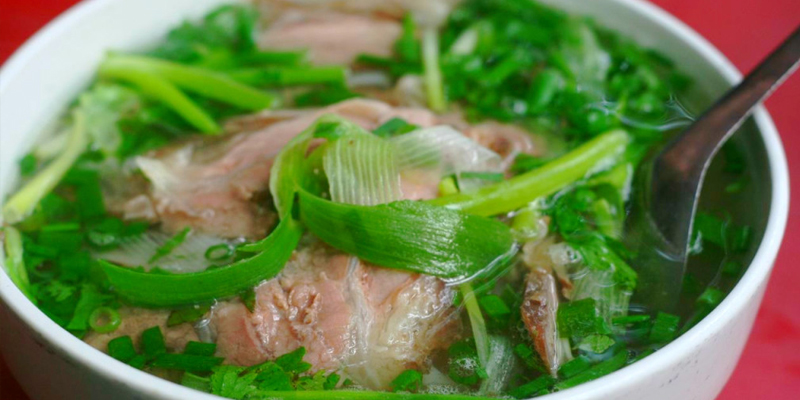 Pho is known as a traditional dish of Vietnamese cuisine. Its main ingredient is noodles and broth (or soups in the Southern way) with thinly sliced ​​beef or chicken. It is used with spices such as soy sauce, pepper, lemon, fish sauce, chili. It's quite cheap, tasty, a popular Vietnamese street food that is widely available at all hours.
Where to find:
Phở Tàu Bay – Address: 435 – 433 Lý Thái Tổ, Ward 9, District 10, Ho Chi Minh City.
Open hours: about 5.00 – 11.00 am
Prices: 70,000 VND ($3) for a bowl
Phở Dậu – Address: 288 Nam Kỳ Khởi Nghĩa, Ward 8, District 3, Ho Chi Minh City.
Open hours:  6.00 am – 12.00 pm 
Prices: 65,000 – 70,000 VND ($2,90 – $3) for a bowl
2. Bun Cha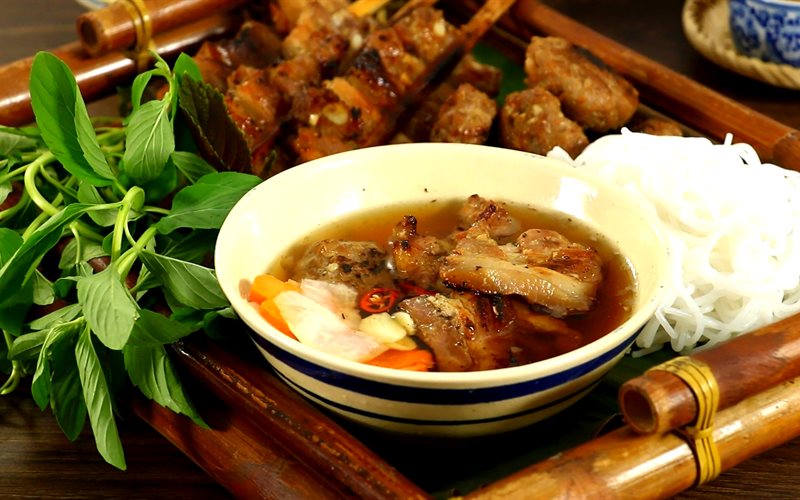 Bun Cha is a Vietnamese street food dish with vermicelli, grilled pork ball on charcoal and bowl of salty sweet and sour sauce. Dishes originating from northern Vietnam. It has the similar to grilled meat vermicelli in Central and South, but the fish sauce has a lighter taste.
Where to find:
Bún chả Phố Cổ – Address: 225 Phan Xích Long, Ward 2, Phú Nhuận District, Ho Chi Minh City
Open hours: 7.00 am – 9.30 pm – great for any meal
Prices: 35 ,000 – 40,000 VND ($1,5 – $2) per person
Bún Chả 145 – Address: 145 Bùi Viện, Phạm Ngũ Lão Ward, District 1, Ho Chi Minh City
Open hours: 12.30 pm – 20.00 pm – great for any lunch and dinner
Prices: 30,000 – 60,000 VND ($1,30 – $2,7) per person
3. Mi Quang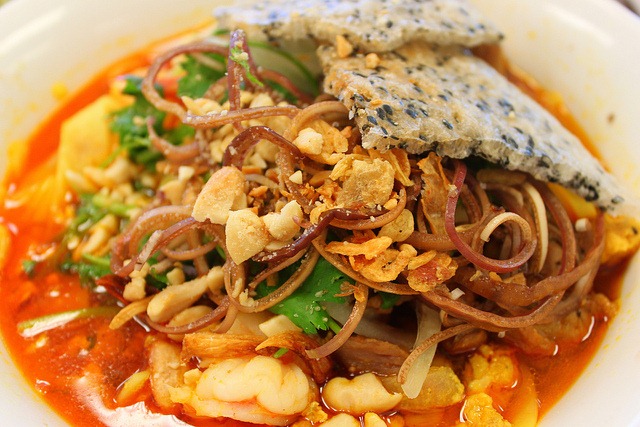 Mi Quang is a typical Vietnamese street food dish of Quang Nam, Vietnam, along with Cao Lau. Mi Quang is usually made from noodles with finely ground rice flour and coated into thin layers of bread, then sliced ​​horizontally to thin noodles about 2mm. Wheat fiber made from wheat flour is mixed with some additives to make it brittle and tough. This noodle has yellow noodles, used with shrimp, pork, raw vegetables, and very little broth.
Where to find:
Ngon Hè Quán – Address: 257/6D Phan Xích Long, Ward 2, Phú Nhuận District, Ho Chi Minh City
Open hours: 7.30 am – 22.00 pm – great for any meal
Prices: 20,000 – 55,000 VND ($0,90 – $2,5) per person
4. Cafe Sua Da (Vietnamese iced coffee with condensed milk)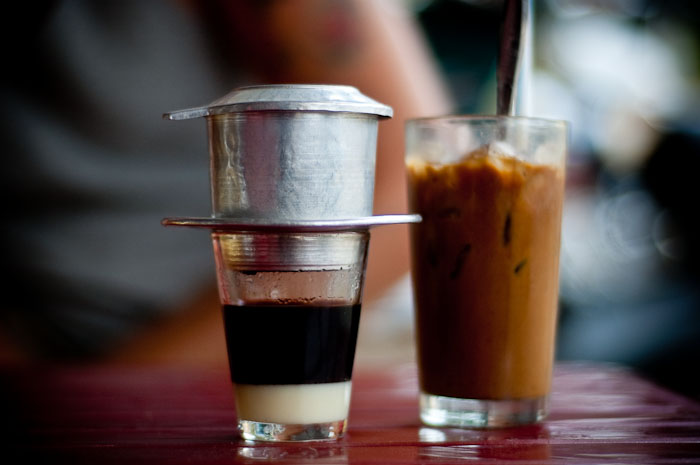 Ice milk coffee is a popular drink in Vietnam traditionally made from blended coffee with sweetened condensed milk and put ice in a glass. Vietnamese-style iced milk coffee includes roasted or pre-mixed roasted coffee and sweetened condensed milk.
Where to find:
You can easy to find in Bui Vien Street or Nguyen Hue Pedestrian Street or Notre Dame Cathedral areas.
Or refer here
5. Banh Mi – The "anywhere" street food of Vietnam

Bread is made with ordinary wheat flour and is a portion of popular street food in the North, Central, and South Vietnam. Depending on the locality in Vietnam, banh mi can be used instead of breakfast, or as a fast-food at different times of the day for students, students, and workers because of the reasonable price.
Where to find:
Banh Mi Huynh Hoa. Address: 26 Lê Thị Riêng, Bến Thành Ward, District 1, Ho Chi Minh City
Open hours: About 3:30 pm-midnight daily
Prices: 30,000 VND ($1.30), more expensive than others, but worth it for the amount of meat.
Banh mi Hong Hoa – Address: 62 Nguyễn Văn Tráng, District 1, Ho Chi Minh City
Open hours: I think open in the morning, I arrived at 8 am, and they seemed to be at their peak serving, so good place for breakfast
Prices: 17,000 VND ($0.80)