Ben Thanh market:
Lunch stopover on shopping day in Ben Thanh market
Hue traditional food: Enter Gate 7 on Phan Chu Trinh street, you can see this court on the left with the board " BANH BEO HUE". Only $1 for a mixing dish here. The mixing dish include banh beo, banh bot loc, banh khoai, banh it, cha Hue and fish sauce, dried shrimp topping.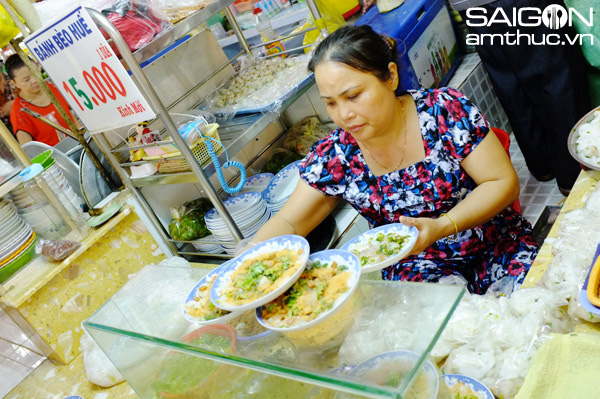 Sweet soup dessert – Che Be ($1/glass): a 40 year old stall in Ben Thanh Market, enter Gate 7 (near BANH BEO HUE stall). over 20 kind of sweet soup for your choice from Vietnamese style to Chinese and Thailand style.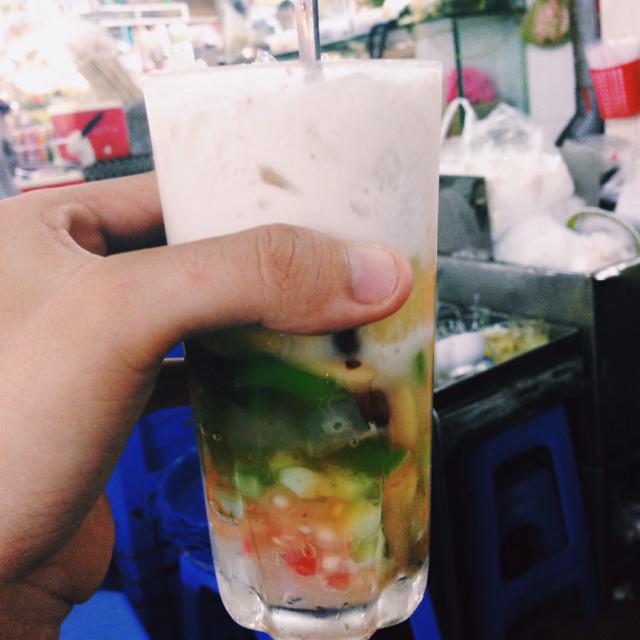 Banh mi (Vietnamese Bread): $1 – $1.5
Banh mi Huynh Hoa: 26 Le Thi Rieng street, district 1. This food court is near New World hotel and just 10 minute walking from Ben Thanh market. It's voted the number 1 banh mi in HCMC. Open: 3.00PM – 11.00PM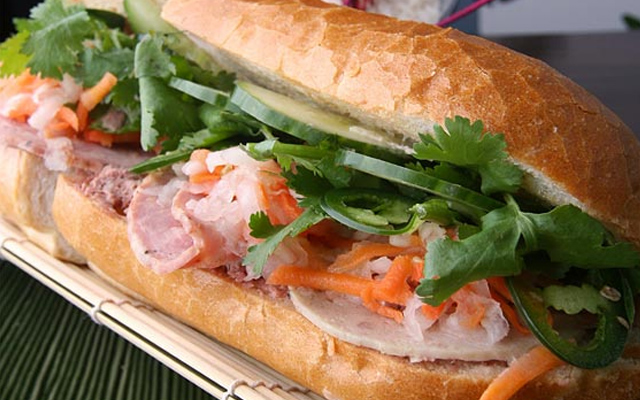 Banh mi Nhu Lan: 50 Ham Nghi street, district 1. Beside Banh mi, they serve a lot for authentic Vietnamese street food. Good place for lunch stopover. Open: 24/7
Banh mi grilled pork ball – 37 Nguyen Trai street, District 1. It's not like traditional Vietnamese banh mi, but you will love it if you are grilled meat fan. Open 3.00PM – 6.00PM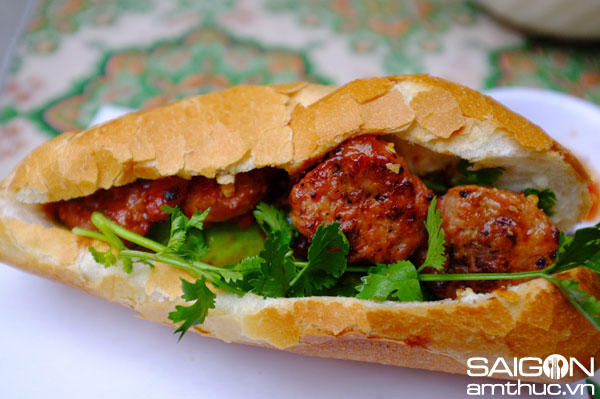 All kind of Noodle soups
Bun Moc ($2 – $2.5 / bowl): Bun are the thin soft rice vermicelli noodles, the broth is pork based. One dish is serve with: some kind of Vietnamese sausage, chunks of pork meat (even a bone) and meatballs. You can taste Bun Moc at Bun Moc Thanh Mai 14 Truong Dinh street, District 1. Open 2.00PM – 8.00PM.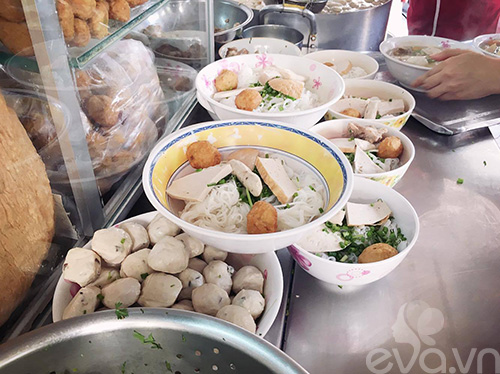 Bun Bo Hue ($2.5/ bowl): the broth is beef based with lemongrass and chilli – very strong taste, vermicelli noodles and beef stewed.  Nam Giao at 136/15 Le Thanh Ton street (just 5 minute walking from Ben Thanh market)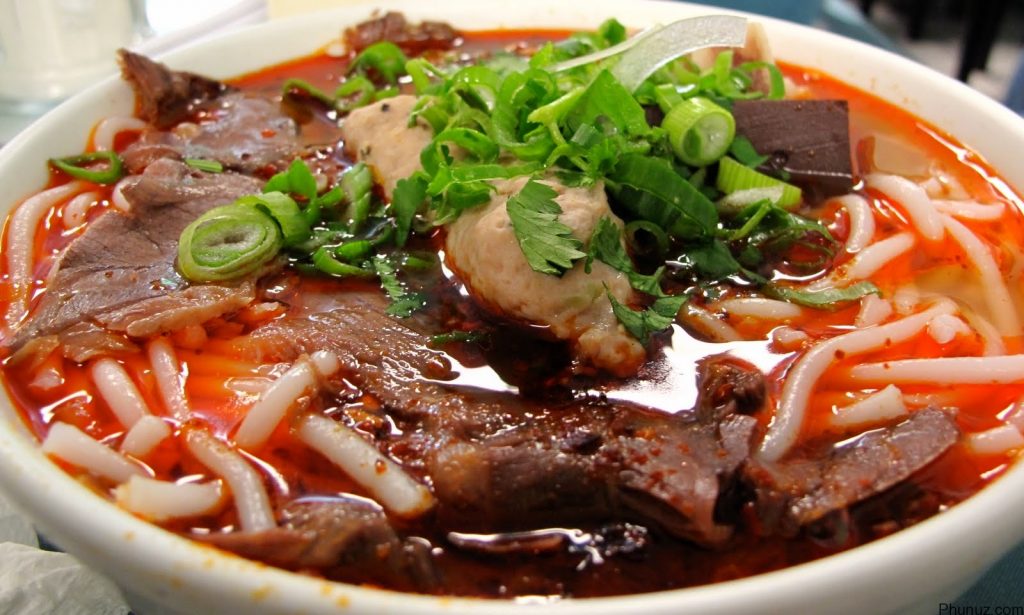 Bun Thit Nuong ($2/bowl): one bowl included vermicelli noddle, grilled boneless pork, cha gio, fish sauce. Chi Thong at 195 Co Giang street, district 1  – Open 7:00AM – 10:00PM.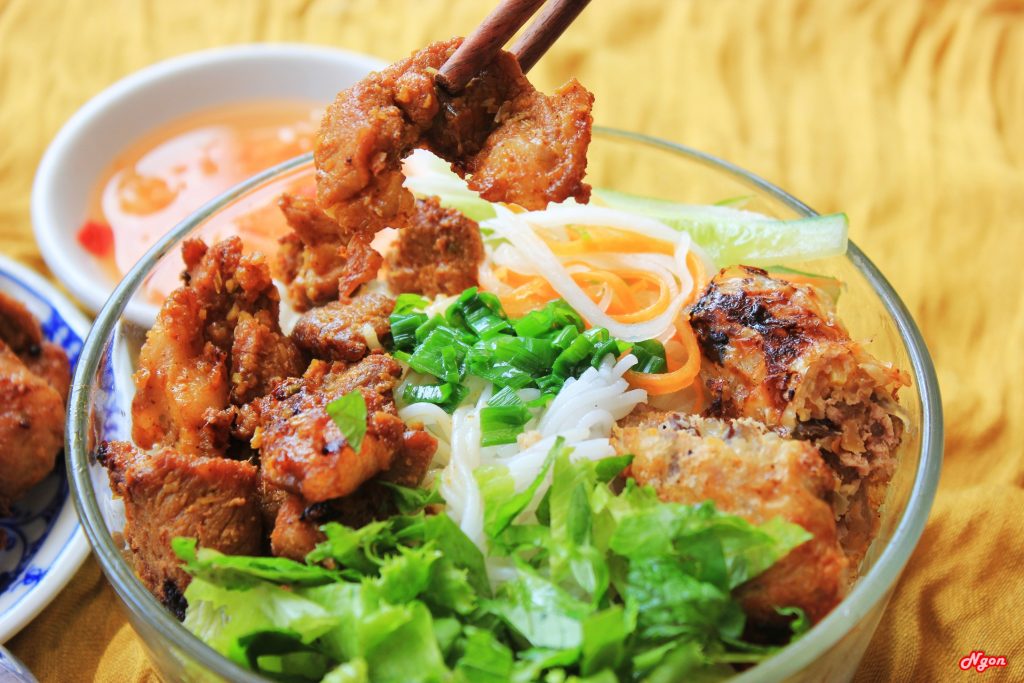 Com Tam (broken rice)
Com Tam is a famous breakfast in the South of Vietnam, one disk included broken rice, fried egg, grilled pork chop, Vietnamese meatloaf, pig skin and fish sausage.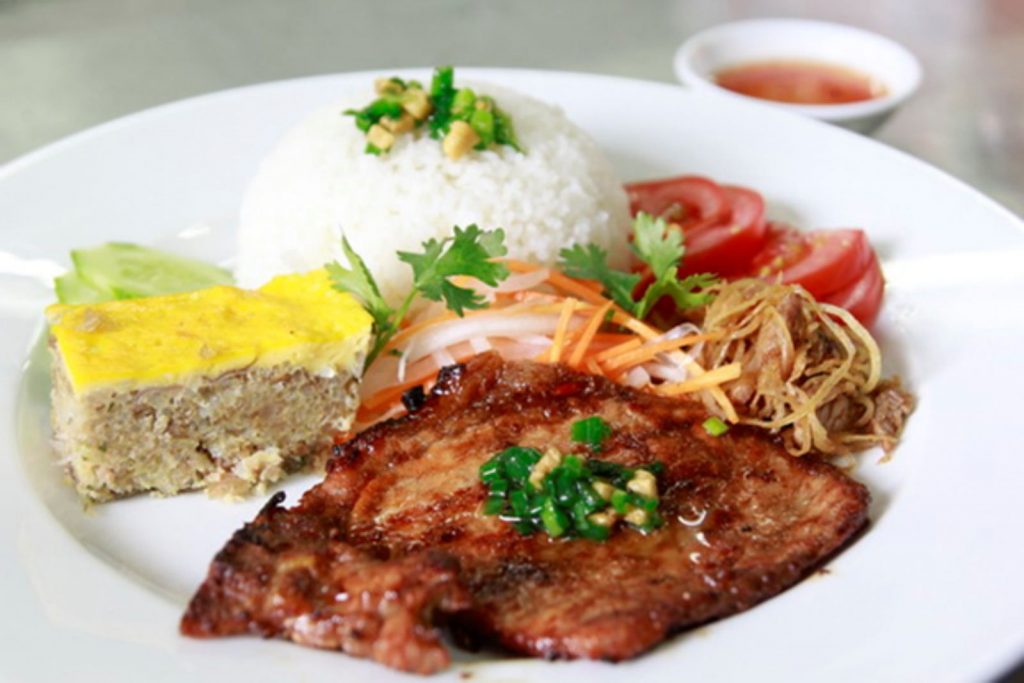 You can pay from $1 – $3 / dish
Com Tam Moc – 85 Ly Tu Trong street, District 1
Com Tam Thuan Kieu – 114 Yersin street, District 1
Com Tam Cali – 236 Le Thanh Ton street, Distric 1
Com Tam Ba Ghien – 84 Dang Van Ngu Street, Phu Nhan district
Com Tam An Duong Vuong – 500 An Duong Vuong, District 5
Vietnamese Pan Cakes
Banh Xeo ($5 / dish): Banh Xeo, literally "sizzling cake", named for the loud sizzling sound it makes when the rice batter is poured into the hot skillet is a Vietnamese savory fried pancake made of rice flour, water, turmeric powder, stuffed with slivers of fatty pork, shrimp, diced green onion, and bean sprouts.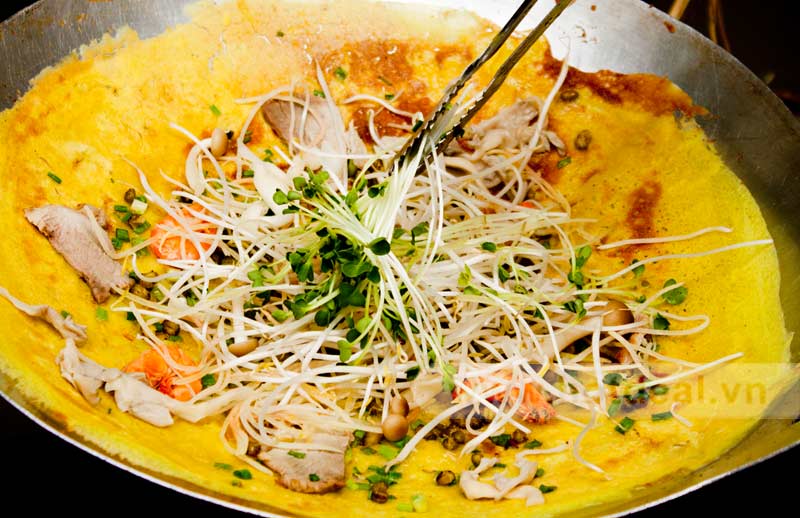 Try our Banh Xeo at:
Banh Xeo 46 Dinh Cong Trang street, district 1 –  Anthony Bourdain was here and made it extremely famous over the world
Banh Xeo Muoi Xiem – 190 Nam Ky Khoi Nghia Street, District 1.
Banh Xeo An La Ghien – 74 Suong Nguyet Anh street, District 1
Banh Khot: banh khot is made from rice flour, coconut milk, turmeric powder, topping with bean sprouts and chopped-meat / prawn / squid / scallop. You can order one mixed disk with $4 at Banh Khot Co Ba Vung Tau – 40B Tran Cao Van street, District 3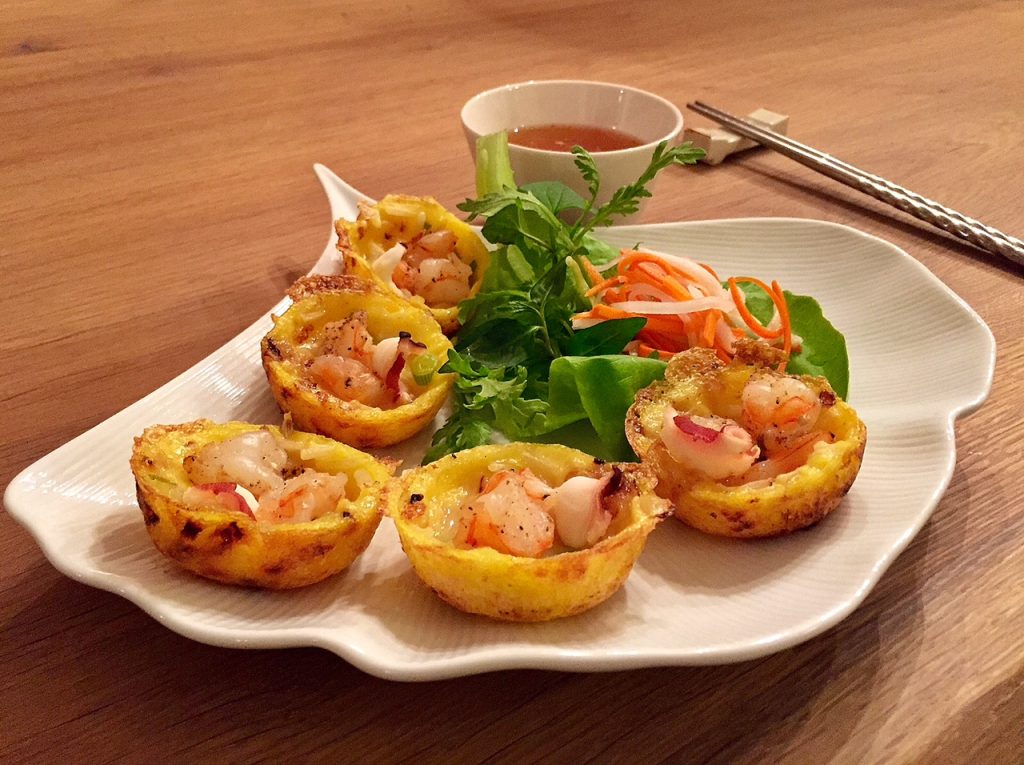 Wrap & Roll
Goi cuon (Vietnamese spring roll): is a Vietnamese dish traditionally consisting of slide pork, prawn, vegetables, rice vermicelli wrapped in rice paper. We will dip the roll in soya sausage or fish sauce.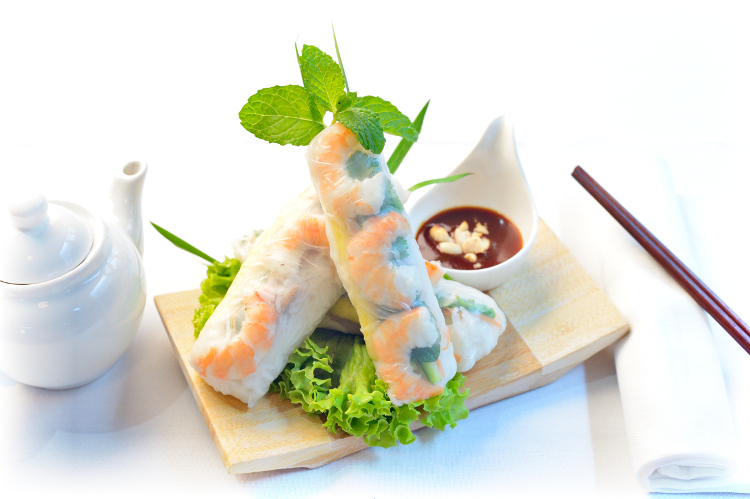 Cha gio is a popular dish in Vietnamese cuisine and usually served as an appetizer in Europe and North America, where there are large Vietnamese communities. It is ground meat, usually pork, wrapped in rice paper and deep-fried. You can order Cha Gio at everywhere.
Bo La Lop (grilled Beef in Wild Betel Leaf): lightly spiced and seasoned chopped meat (half beef & half pork), wrapped by wild betel leaf and then the rolls have to be BBQ over the charcoal to obtain this characteristic smell.
Bo cuon mo chai (grilled Beef in omental fat): this is an other version of Bo La Lop, they change wild betel leaf by omental fat. Bo Cuon mo chai usually is served with Bo La Lop.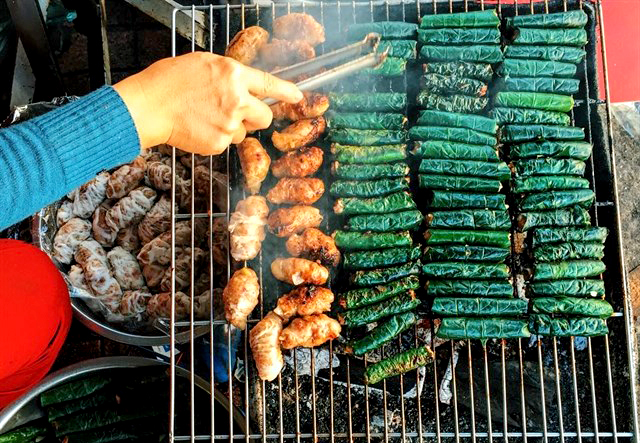 Where you can try:
Co Lieng – 321 Vo Van Tan Street, District 3.
Banh Trang Trang Bang Hoang Ty – 01 Nguyen Huu Cau Street, District 1.
Some special food from the North
If you do not visit Hanoi on this trip, you also can try Bun Cha and Pho in Sai Gon. Taste is not original but quite ok 🙂
Phở: ($2-$3/bowl)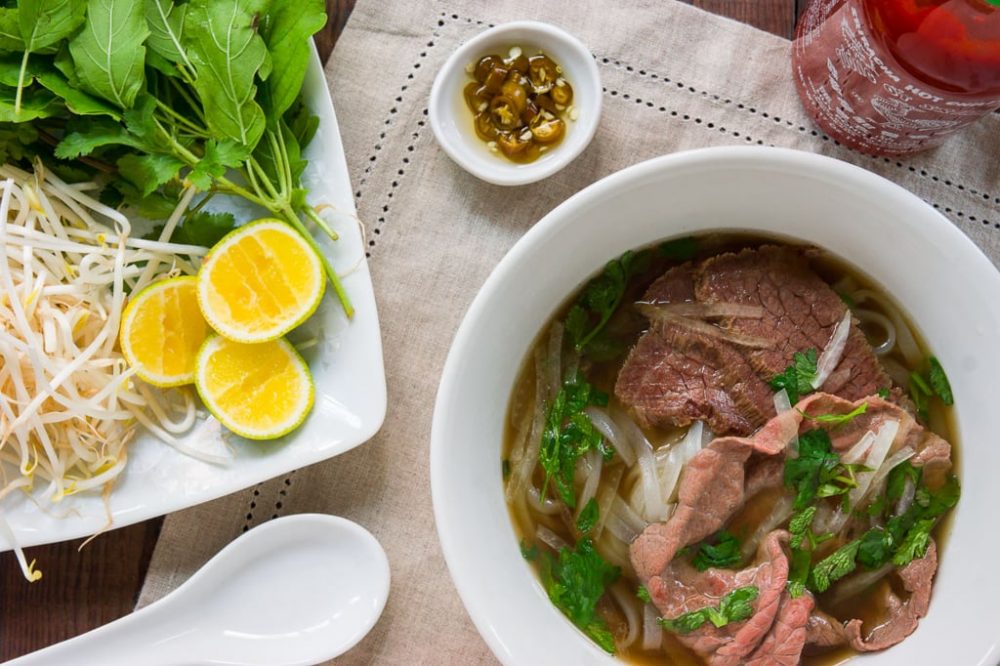 Pho Phuong – 25 Hoang Sa, District 1. Open hours: 6:00am – 9:00pm
Pho Xe Lua – 14 Alexandre De Rhodes Street, District 1. Open hours: 6:30 am – 5.00 pm
Pho Hung – 302 Vo Van Kiet street, District 1. Open hours: 6:00am – 10.00pm
Pho Hoa – 260 Pasteur street, District 1. Open hours: 6:00am – 10.00pm
Pho Trung Dung – 18A/56, Nguyen Thị Minh Khai street, District 1. Open hours: 6:00am – 12.00am
Bun Cha ($2-$3/ dish)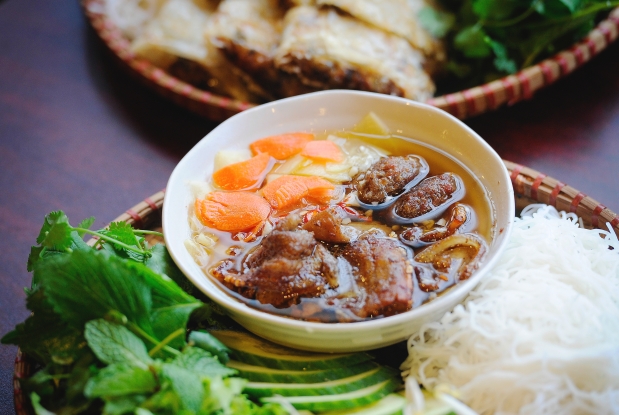 Bun Cha Thang Bom – 71 Mac Thi Buoi street, district 1. Open hours: 11.00am – 3.00pm
Bun Cha Ha Noi Nem Cua Bien – 26 Le Thanh Ton Street, district 1.
Source: content is collected from some food blogger & online food magazine 
Picture: from internet
Edit & summarized: ATA team