Kiriwong village is located at Kamlon subdistrict, Laan Saka district, Nakhon Si Thammarat province. The village is also best known as an ecotourism destination, and it was even awarded for such efforts in the 1998 Thailand Tourism Awards.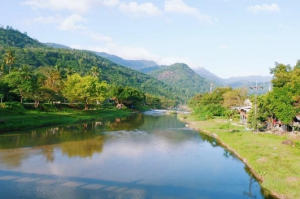 The village is nestled at the eastern foot of the 1,835-metre-high Khao Luang, the tallest mountain in Southern Thailand and the source of the Tha Di River, which flows straight through town in a flurry of rocks, rapids and pools. The continual flow of mountain water joins moisture that floats off the nearby Gulf of Thailand. Khao Luang blocks the airflow, blanketing the abundant orchards in cool morning mist.
From generation to generation, the main occupation of people is gardeners mostly are fruit gardens which also called as Suan Somrom. This village is well known with the beauty of its landscape because the location that surrounded by mountains, rivers and forests. But the most attractive point of this village is its people so that sometimes we are not travelling to only just see beautiful tourist spots but to experience how local lives. The people here live in simple lifestyle and take care of each other like they are the same family. Let's go back to the basic and absorb the feeling of peaceful moment here.

Now seen as an exceptional example of community-based, environmentally sound tourism in Thailand, Baan Khiri Wong has managed to preserve its rural village feel despite drawing groups of mostly domestic travellers, especially during fruit harvest time from July to September. Travellers can partake in an array of local crafts and agricultural practices while relaxing amid some of Southern Thailand's most impressive mountain scenery.
Khiri Wong is known for its dedication to Suan Somrom, a type of organic gardening in which several fruit varieties are grown in a single plot. Trees bearing durian, mangosteen, rambutan, sala, coconut and banana dot the village, from tiny roadside plots to vast hillside orchards. The fruit is widely considered to be among the finest in Thailand, which is saying a lot! Much of it is shipped to places like Bangkok's Or Tor Kor Gourmet Market, where it fetches premium prices.
At other times of year, the village churns out preserved fruit products like sun-dried mangosteen (better than raisins) and roasted durian paste. The custard-like durian flesh is boiled along with natural additives, then wrapped in betel palm husks and cooked over a wood fire. When finished, the two-bite size treats have a rich and smoky flavour without the typical stench of fresh durian, and they stay good for months. Other Khiri Wong fruit products include fresh bottled juices and mangosteen wine.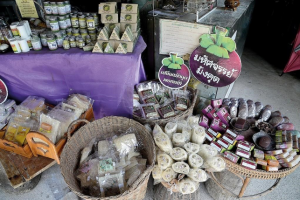 The villagers also produce a number of hand-made non-edible goods that rely almost exclusively on things found in the local orchards or jungles. Certain types of leaves are used for natural dyes to make tie-dye wears; coconut shells are carved into toys and boxes; herbs are used for soap-making and natural remedies; and minerals are polished into beads to create splendid jewelry.

All of the crafts are organised into groups, each with a communal workshop where visitors can study the processes. At the heart of the village, an extensive Local Products Centre sells all of Khiri Wong's locally made products under one roof. You'll also find smaller shops dedicated to a specific range of products, including several dried fruit vendors near the temple and a large jewelry centre on the south side of the Tha Di.
After soaking in mountain vistas along the flower-lined roads to Khiri Wong, visitors can take a dip at a designated swimming area to the southeast of town, or rent a tube to float near the Nan Hin Tha Ha rapids at the far western end of the road that runs alongside the Tha Di's northern bank. A bit further north is Wang Mai Pak Waterfall, one of several points that can only be crossed on foot or by dirt bikes via partially submerged roads. There's also the small Soi Dao Waterfall, reachable after a short hike, or you could head to the larger Kharom Waterfall, among others, in nearby Khao Luang National Park. Khiri Wong's pristine natural surrounds teem with tropical flora and fauna.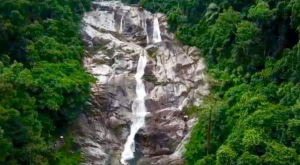 Khiri Wong boasts a small but eye-popping morning market providing a glimpse of the fresh local produce and forest products. From morning to early afternoon, you'll find a string of street-style food vendors set up along the northern bank of the river, right in the heart of town. A coffee shop found here was one of several places offering bicycle rental, and we were told that motorbikes can be arranged as well. The village is also easy to explore on foot.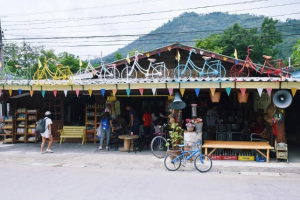 While Baan Khiri Wong works well as a day trip from Nakhon Si Thammarat town, it's also a great place to spend a few nights.