1. Noir – Dining in the dark
Add: Lane 178 Hai Ba Trung . Da Kao . District 1 . Ho Chi Minh City . Vietnam
At Noir. Dining in the Dark, you will embark on a sensory journey into a different world and savour exquisite tastes and textures in complete darkness. This multi-sensory dining experience will stimulate your senses and open your mind.
The experience begins in our pitch black dining room where you will be guided and served by blind or visually impaired staff who have been specially trained to assist and reassure sighted guests who are in complete darkness. Transfer your trust to these skilled guides they lead you to experience a new way of sensing the environment around you. After a few moments of adjustment, the darkness will kill off any shyness or trepidation and bring about an open-minded atmosphere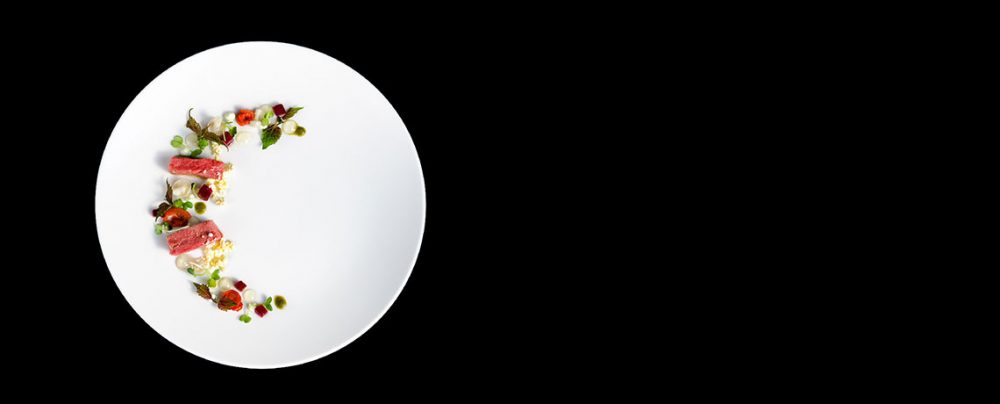 2. Hum Vegetarian Restaurant
Add 1: 32 Vo Van Tan St., Ward 6, District 3, Ho Chi Minh City
Add 2: 2 Thi Sach St, District 1, Ho Chi Minh City
Situated in two beautiful locations in districts 1 and 3, near the city's top tourist attractions, Hum Vegetarian offers a cozy, elegant and calming atmosphere in which to enjoy delectable food. The food is prepared on site from various fresh beans, nuts, vegetables, flowers, and fruits.
High quality food & service, beautiful ambiance. You will be surprise by HUM delicious food even you are not vegetarian.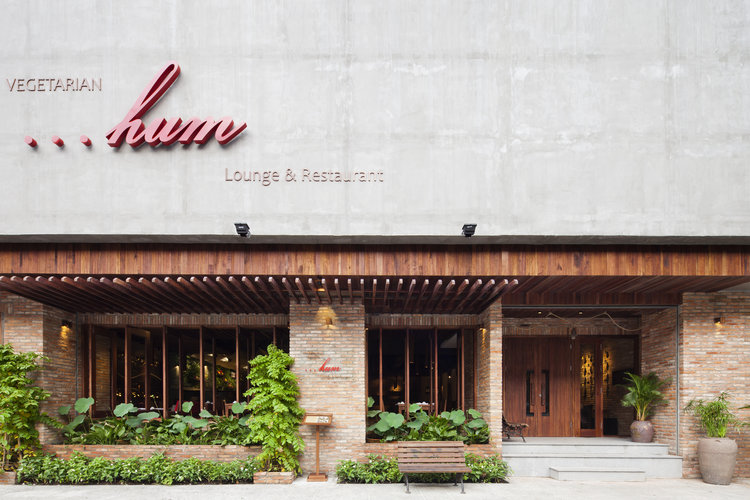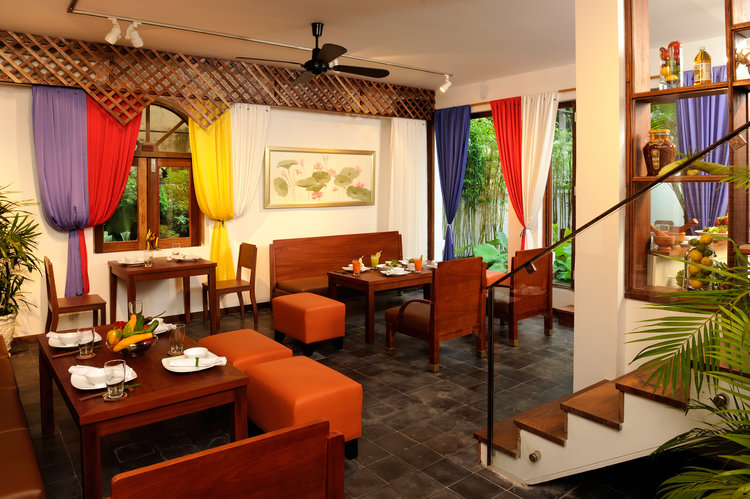 3. Pizza 4P's
Add 1: 8/15 Le Thanh Ton, District 1, Ho Chi Minh City – Reservation phone:+84-8-3622-0500
Add 2: 8 Thu Khoa Huan, District 1, Ho Chi Minh City – Reservation phone:+84-8-3622-0500
Pizza 4P's becomes the top pizza restaurant in Vietnam because they combine the original pizza (Naples) with some Asian twist, such as Japanese Sashimi Pizza and Vietnamese Four Flower Pizza. The special thing here is homemade cheese from freshly drawn milk in the 1000 m above sea level highland of Da Lat; to keep its milky flavor and natural texture, their professional cheese makers carefully craft each cheese by hand.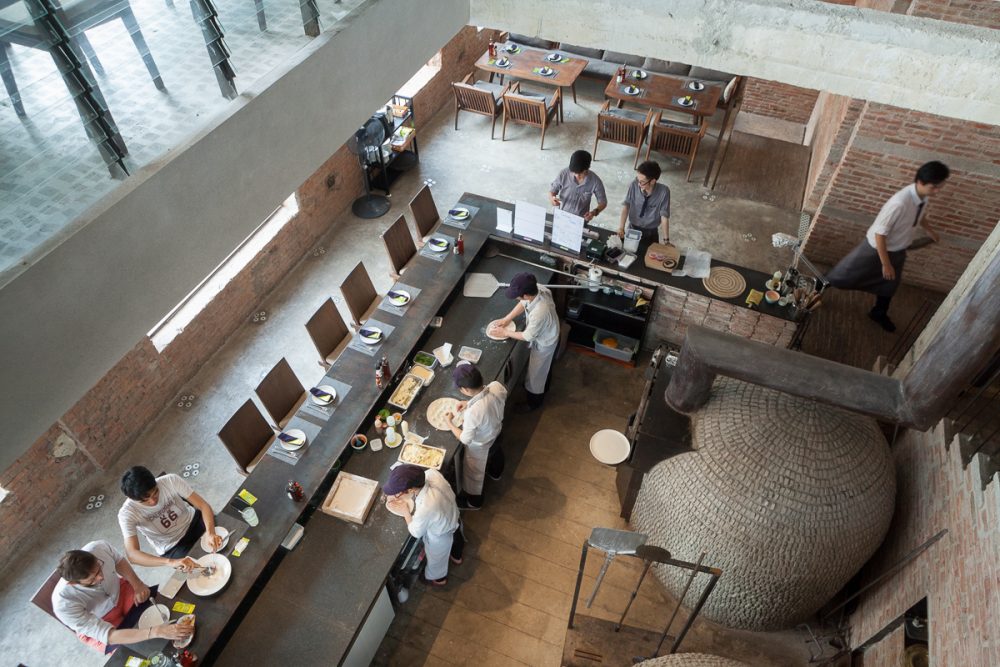 4. CUC GACH QUAN
Add: 10 Dang Tat str, Tan Dinh Ward, District 1, Ho Chi Minh City
In November 2011, this restaurant welcomed American film star Angelina Jolie and her family during their holiday in Vietnam. She wrote in the visitor's book: "Thank you for wonderful lunch, beautiful place, good food. We look forward to next time".
Cuc Gach Quan (Cục Gạch Quán) is a "country side" restaurant which specializes in serving traditional Vietnamese cuisine. After entering through a half-open wooden gate that conjures up an image of a secret retreat, a pond reflected lights from the Gieng Troi, a roofless well in the middle of a traditional house where the sunlight can get inside…. come and taste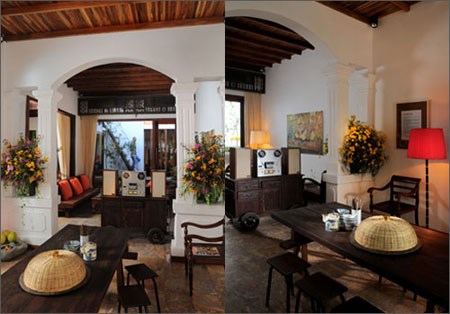 5. MOUNTAIN RETREAT RESTAURANT SAIGON
Add: Rooftop (level 6th), 36 Le Loi, Ben Nghe Ward, District 1, Ho Chi Minh City
To get to this hidden charm, you have to climb 5 flights of stairs but it's worth. The restaurant locate on the roof top of an old – building without elevator. You will have a chance to try the Authentic Vietnamese dishes- "mom's cook style" here.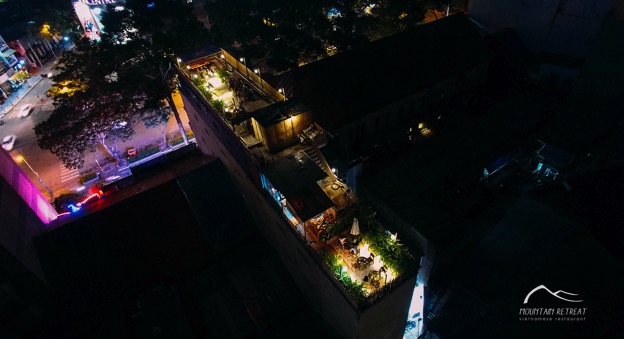 6. SPICE BISTRO
Add: 2 Thi Sach street, Ben Nghe ward, District 1, Ho Chi Minh City
Restaurant with the back-in-time style will give you an unforgettable memory. Good presentation with traditional Vietnamese trays, boxes..etc. Beside authentic Vietnam food, they give you a lot of good taste street food such as: Banh Mi, sticky rice, roasted coconut, soya pudding with reasonable price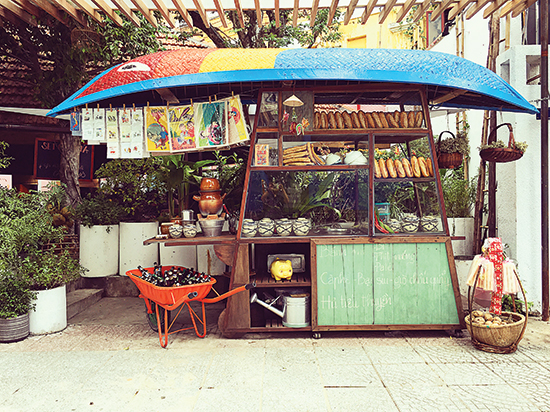 7. THE DECK SAIGON
Add: 38 Nguyen U Di, Thao Dien, District 2, Ho Chi Minh city
Situated on the banks of the Saigon River – and in the famous district where most of Expat live here – Thao Dien area, District 2. It's take 20 minutes driving from the center of Saigon
True to its name, customers can enjoy breakfast, lunch, brunch or dinner on the large outdoor wooden deck. Together, chefs Cao Lam Gia and Adrian Scott have designed a menu based on contemporary pan-Asian fusion cuisine with an emphasis placed on simplicity. Its location guarantees a romantic setting, and cruises along the neighboring river are available before or after dinner. It is also possible for the restaurant to bring you to your dinner table by boat, just ask in advance when you make your reservation.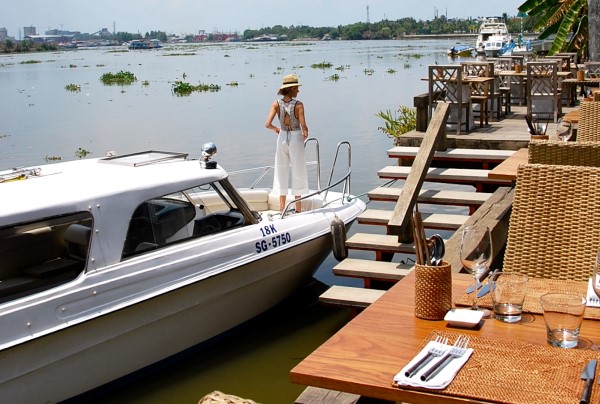 8. NHA HANG NGON
Add: 160D Pasteur, District 1, Ho Chi Minh City
Located on Pasteur Street in the tourist centre of District 1, Nha Hang Ngon is a 10 minute walk from the Ho Chi Minh Opera House, along Le Loi and right at the Pasteur Street intersection. Set in a leafy garden ringed by food stalls, each cook serves up a specialized traditional dish, great choice of all different Asian food: Vietnamese, Thai, Japanese or Chinese cuisine. It's a good place for moment you have any ideas for dinner .
One weak point, it's very busy, crowded and noise, you have to reserve in advance by phone.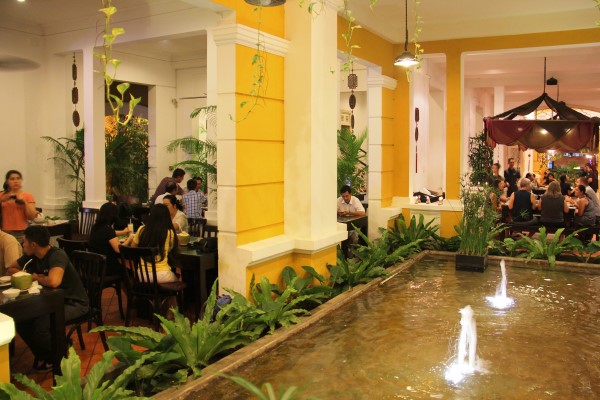 9. HUONG LAI RESTAURANT
Add: 38 Ly Tu Trong, District 1, Ho Chi Minh City
Huong Lai Vietnamese Restaurant service staff and some of the kitchen staff are former street children, orphans and youth from very poor families. Huong Lai has provided them an opportunity to better their life. Huong Lai Vietnamese Restaurant offers a variety of authentic yet inexpensive Vietnamese home cooking cuisine.