On May 1st as it was the public holiday of Vietnam, I had some days off work so I decided why not having a trip to Halong? My choice for the trip is Swan cruise – a petty and cozy 3-star cruise which sails on Bai Tu Long route – the hidden and less crowded part of Halong.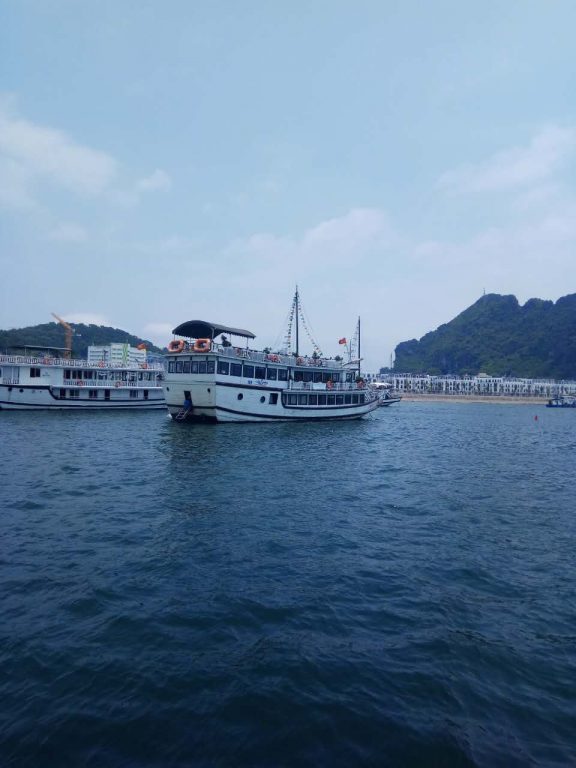 As they usually pick guests up at the Old Quarter around 7.45 to 8.30, I was not staying in hotel while Hanoi so I came to their office to get on the bus as the first customer of the day.  The ride from Hanoi to Halong took around 5 hours with one stop in between for you to spread your legs, going to the restroom or having some refreshments (Swan provides 01 water bottle for each customer, so if you don't want to buy anything at the rest stop, it's totally fine).
We arrived in Hon Gai Harbor around noon time (13.00 –ish) and waited for a bit for the guide to buy us entrance tickets. The waiting is quite nice with enough chairs and tables for everyone to relax. They have free instant coffee, tea and water for those who are in need.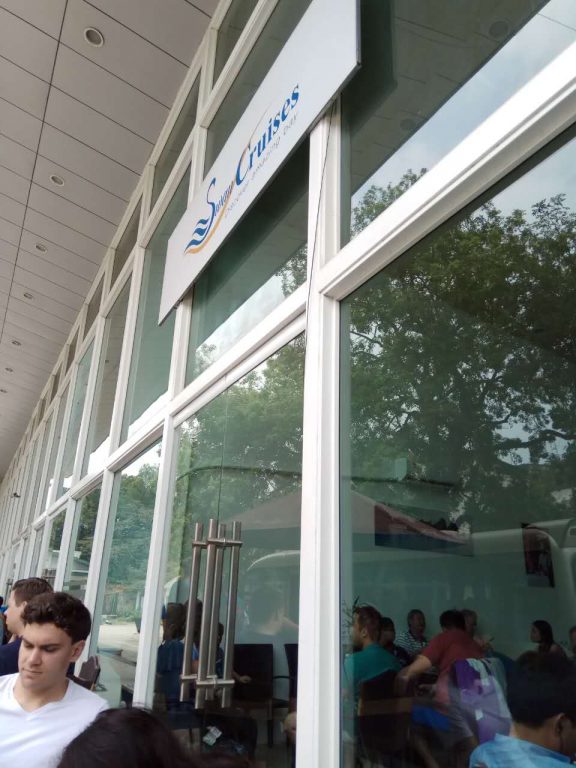 With the guidance of the tour guide, we got on the tender to head to Swan cruise. As they have 3 cruises: 8-cabin, 9 –cabin and 12-cabin, this time, I was staying in the biggest one – 12-cabin cruise. My first impression was the white color outside and the brown color inside of the furniture. The brown color made all of us feel warm and welcome. With the cold towel and delicious welcoming drink, we listened to the cruise manager and guise describing about the cruise and the itinerary of the trip.
We have 20 minutes to relax and check-in our room before having lunch. My room was a twin one as I traveled with my mother. We all agree that although it's small but very clean, convenient and giving of good vibes.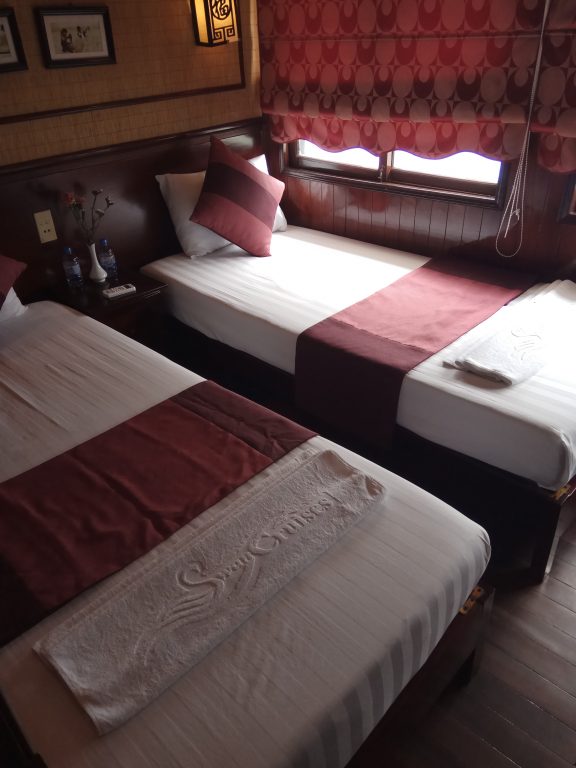 The lunch was served with plenty of food for everyone. Their drink list was also stuffed with some very good choices of cocktail and mocktail. Wish I remembered to take pictures before the meal but pardon me as I was super hungry  ;).
After a quick nap, we sailed on the tender to visit a small floating village on the bay.  Now, there are only three families still staying. I didn't see the people but a lot of cute puppies instead.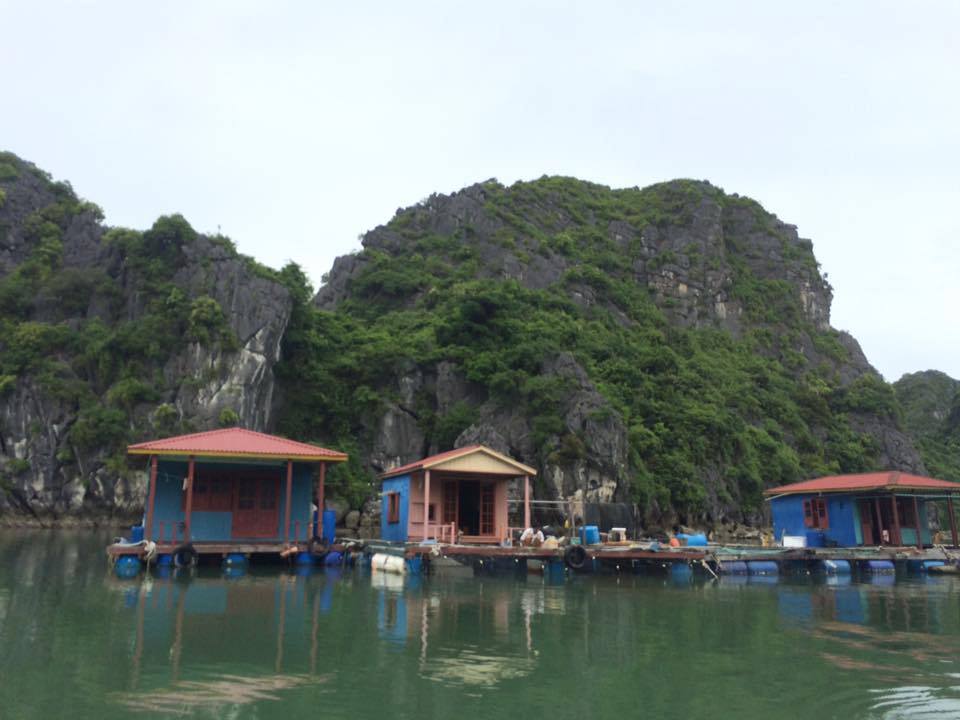 The small village was the starting point for kayaking. With the clear instructions of our guides, we were good to go. You can see me felt very happy while kayking with my mom via the pictures of Kien – the tour guide taking for me.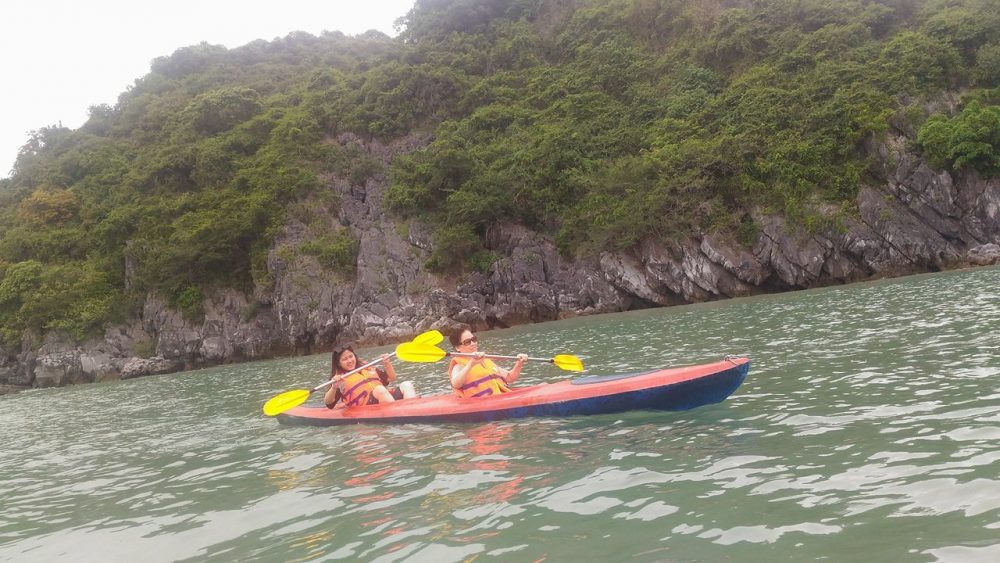 After an hour, we arrived in a small island where everybody could swim and relax a bit before we could either choose to kayak back to the meeting point or to the tender right nearby so it can come back to the point without any tiredness.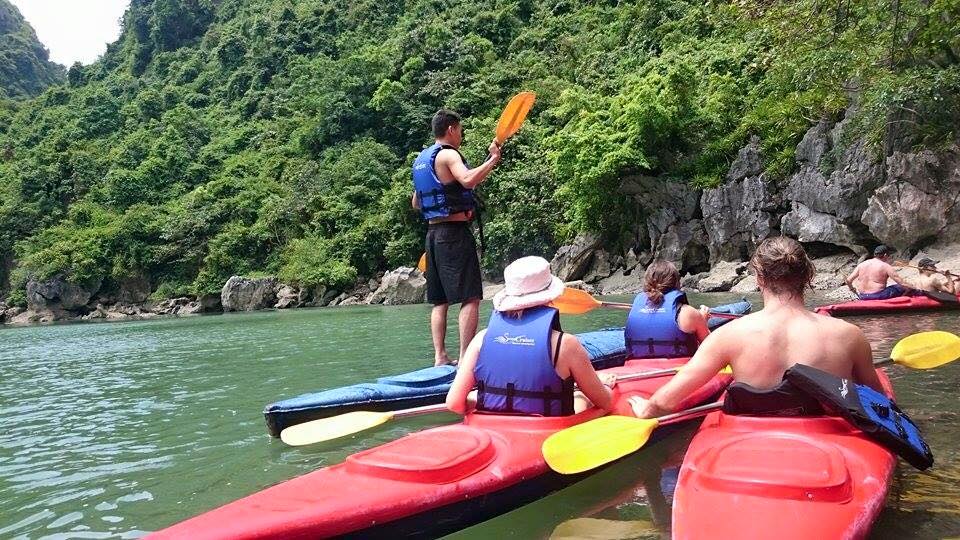 We came back just in time for the sunset party up in the sun deck. With fruits, snack and smoothies, we all had wonderful chilling time.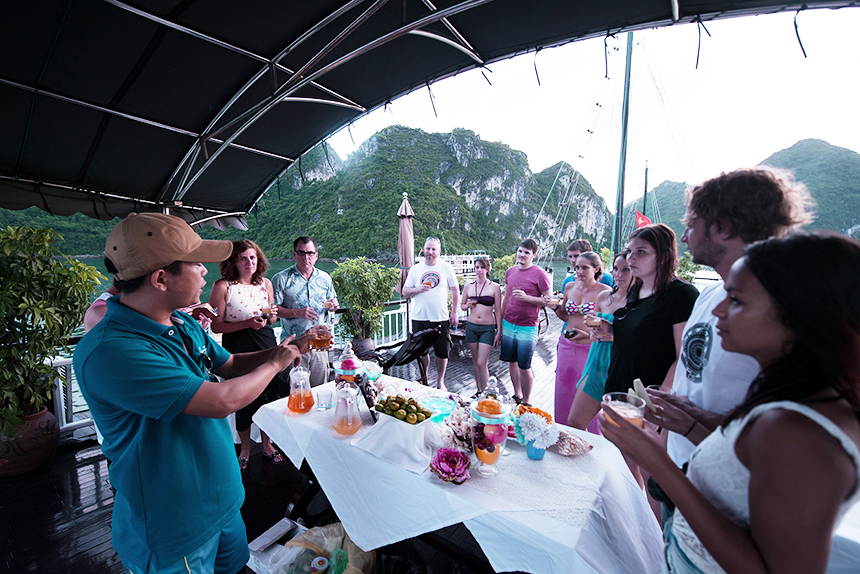 The BBQ dinner really had everyone's attention with the Drunken Vodka Shrimp's method of cook. With just 5 minutes of cooking and a lot of smoke and fire, everyone had the share of wonderful shrimps.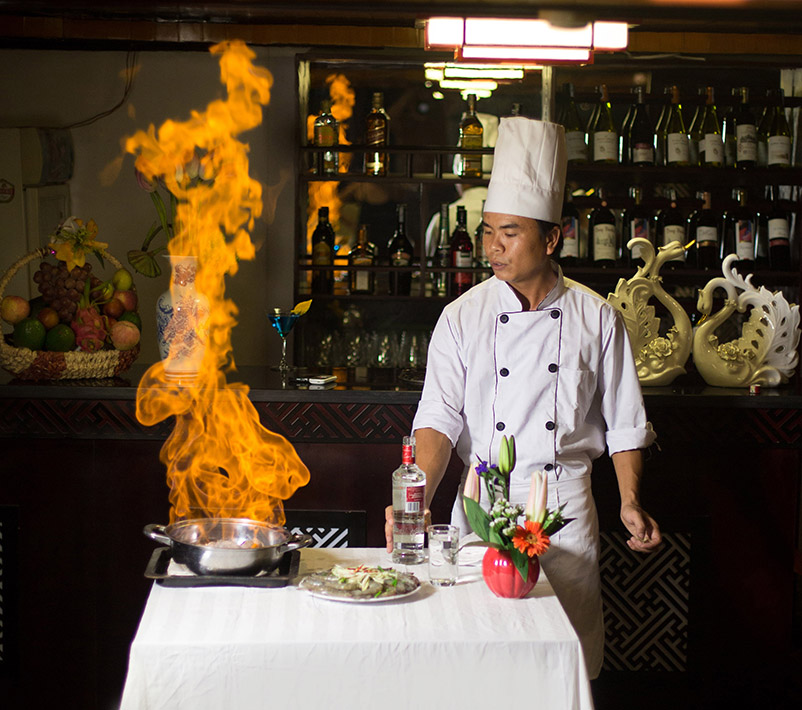 I and my mother were so full of the dinner so we headed back to our cabin. Clients could choose that or stay to squid fishing and play some board games that I was sure would be amazing too.
Early in the morning was the Taichi session that my mother chose to join. She said that it was quite serene and beautiful practicing in the beautiful scenery of Halong. After that, everyone was ready for the breakfast with many choices of egg, bread, crepe, fruit and smoothies. We were full of energy before getting on the tender again to visit the Thien Canh Son cave. The cave was quite crowded as it was the public holiday, I think it would be much more okay in the normal day.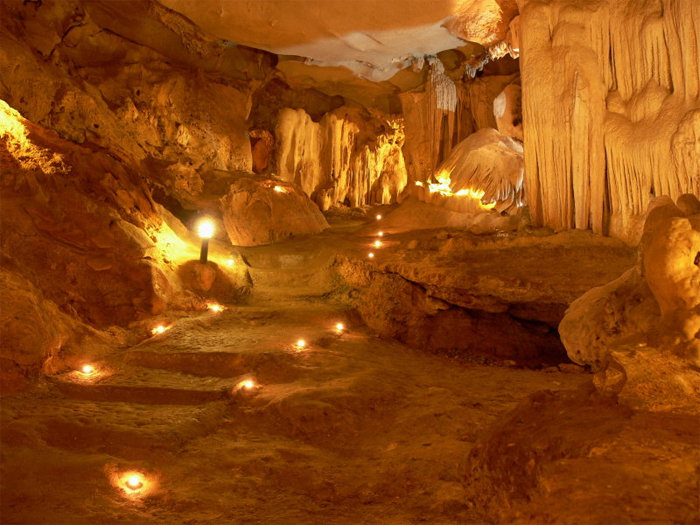 Kien – our guide – told us a lot of stories about the cave, Halong bay and fun hints behind. How Halong bay has its magical green water was also mentioned and do you know how many limestone islands there are in the bay? It will surprise you but I will leave the fun unrevealed so you can learn about it yourselves 😉
We came back to the big boat around 9 am and packed everything up ready for the check-out at 9.30. The luggage could be left at the cabin and would be transferred later on by cruise staff.
After the check out, we all gathered up at the restaurant to join a cooking and fruit carving class.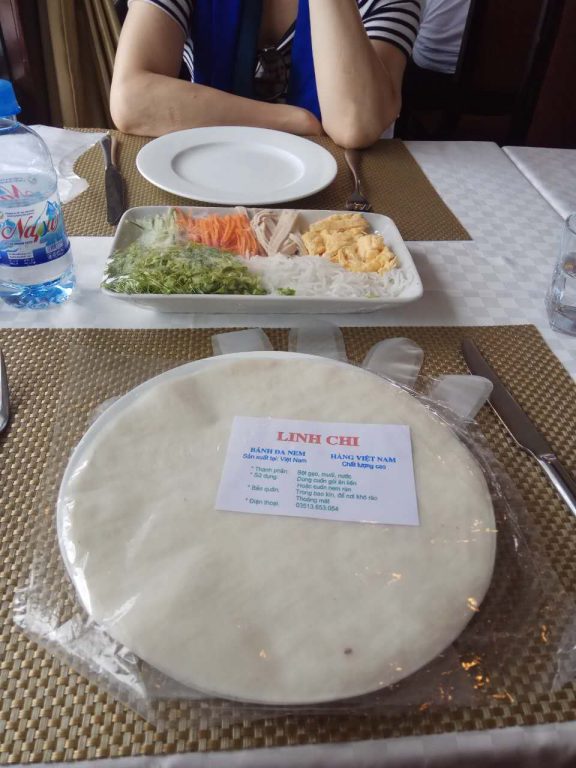 A very young chef showed his skill with make an apple to a Swan – the cruise symbol and then carrot, daikon and cucumber to flowers by his magical hands. We all gave him a round of applause.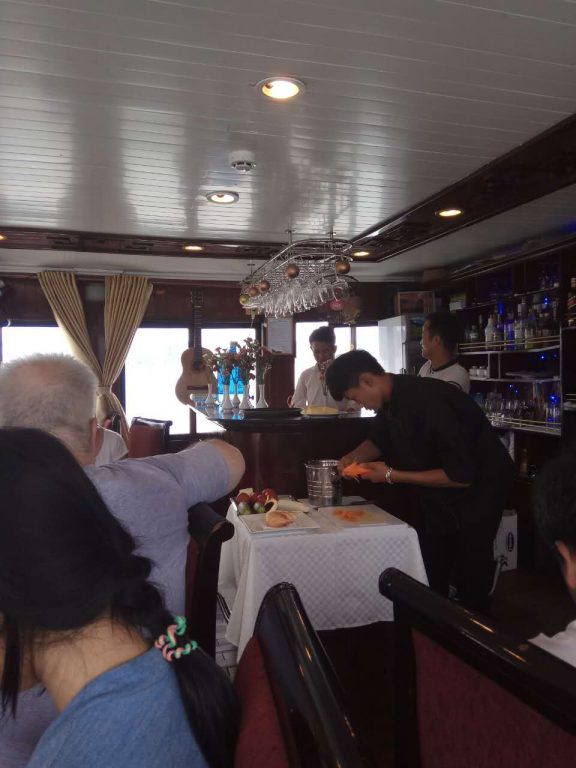 After the lunch, we completed the drinking bill (as beverage is not included in the tour's price). My mom and me liked all the drink and seemed like everyone else too.
While everyone waiting for the cruise to be back the harbor, I asked the cruise manager to see other cruises as well to see how the other two cruises look like. And it was up to my expectation that they are all pretty and clean.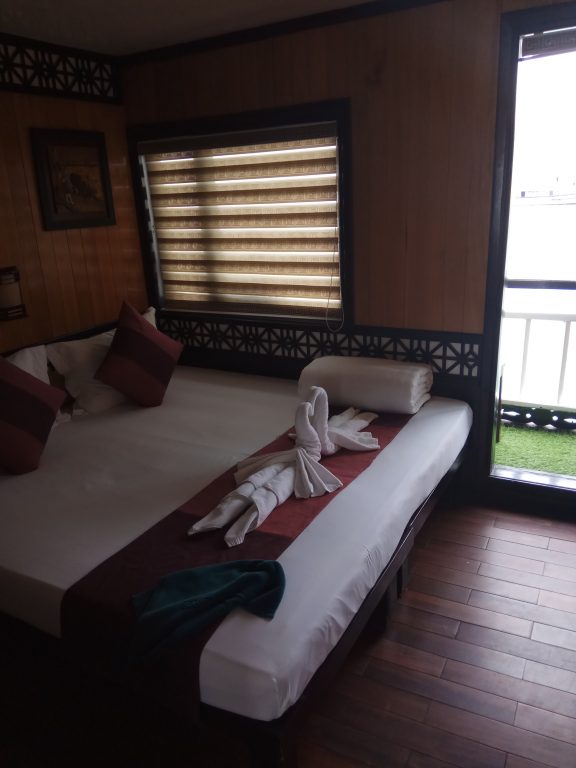 My final thought about the trip was how attentive and friendly the staff was. They went out of their ways to make sure everyone feel good and relaxed.  We could always see the smiles on each staff's face when serving us and it made everything go smooth after that.
That was my inspection trip on Swan cruise and I have had a nice time. I'm sure you will as well if you join in the trip with Swan.