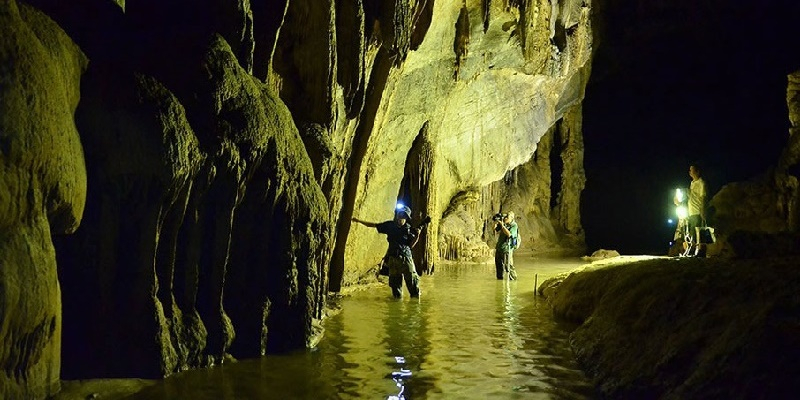 USD 115
Operated by Phong Nha Discovery
The cave was discovered by a local man in 2005 and 5 first km of this cave was explored by explorers from British Cave Research Association in 2005, the whole 31 km was explored and publicly announced by the British cave explorers.
This cave is 31 km long, longer than Phong Nha Cave which had been considered the longest cave in this national park. The height can reach to 100 m and 150 wide. The limestone formation is also more spectacular than that of Phong Nha Cave. The British cave explorers was impressed by the beautiful and spectacular stalactites and stalagmites inside this cave and they named it Thiên Đường Cave (Paradise Cave).In 2012, a new scorpion species Vietbocap Thienduongensis was found here.
Paradise cave is just allowed 1000m for visitors, 7000m deep more for adventurer.
Tour summary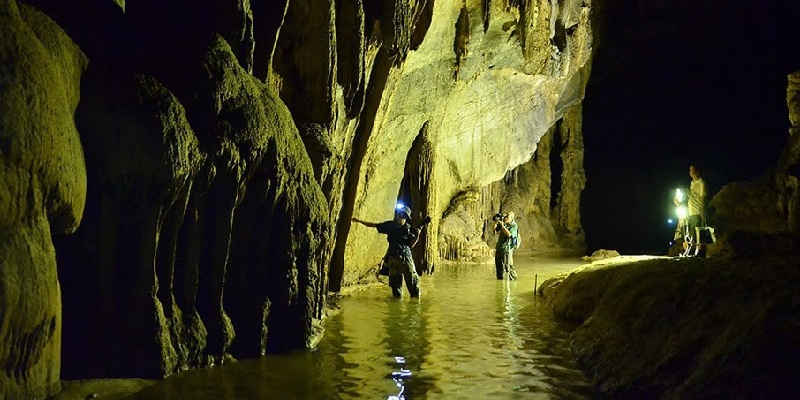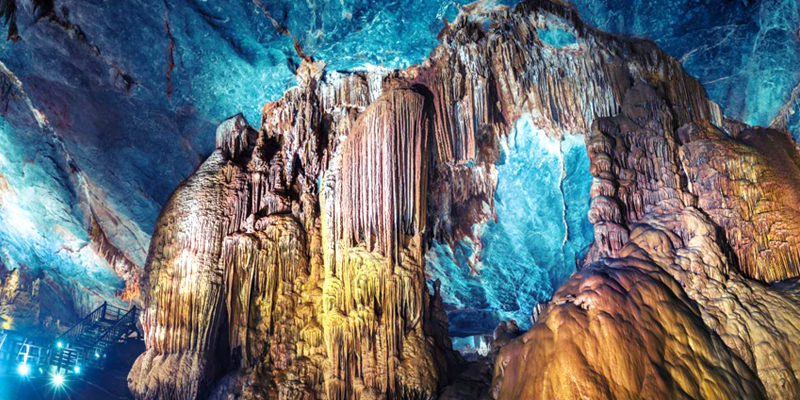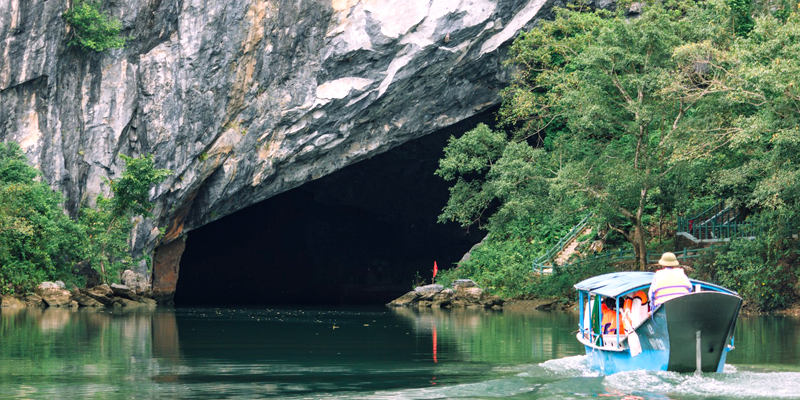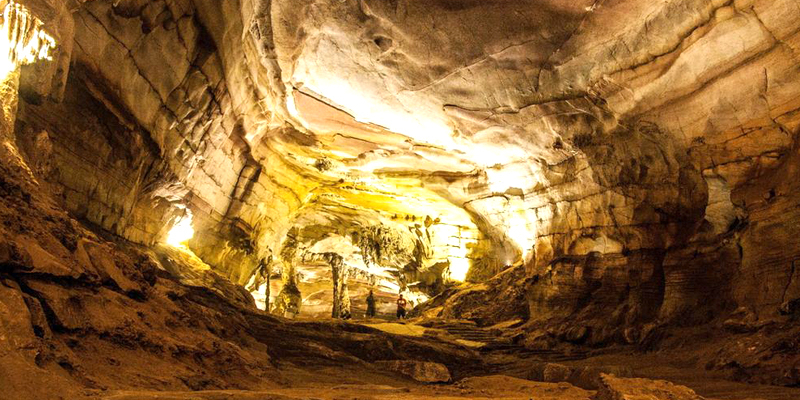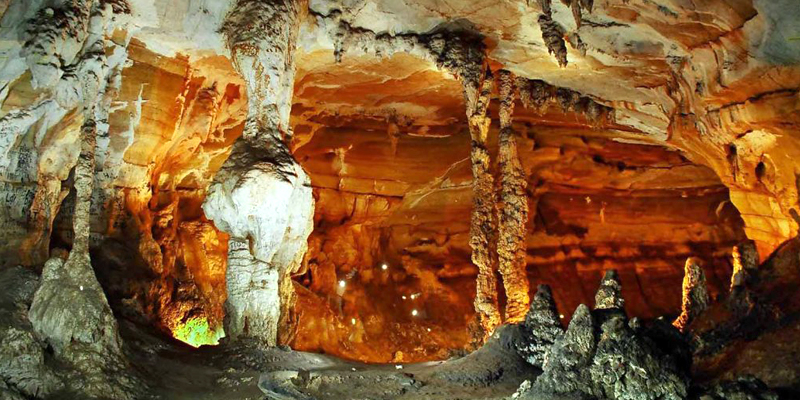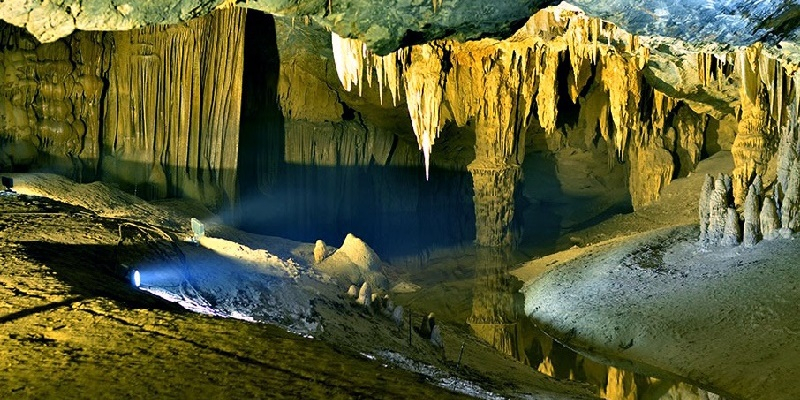 Itinerary
Day
Activities
Location

7:30: Our driver will pick up you at your hotel or appointment place in Dong Hoi City

8:15: Our driver will pick you up at your hotel or apointment place in Phong Nha village.

Then transfer to Paradise Cave about 75km far away. Equipments and food will be prepared by our local guide or cave expert and porters. They will meet you at the Paradise Cave Reception Hall to give you some safety instruction and cave equipments

You will be transfered further inside the forest to the foot of mountain. From here, you have to walk up over 500 steep steps or slope path to the mouth of Paradise Cave.

At the end of the first 1000m kilometers along a wooden staircase, you can easily to take photos and admire hundreds of colorful stalactites and the stalagmites created millions years ago.

Following our the experienced and enthusiastic guide to continue to adventure inside more 6000m with personal flashlight.

Overcoming the cliff path, challenging courage and perseverance of the people, you will discover and learn about the formation of stalactites systems colorful and rich in shape.

About 500met first, tube-shaped cave, where more than 80met highest, widest point is about 120met, occasionally we encounter blocks tall stalactite glittering like diamond. Deeper inside the stalactites and the stalagmites are increasingly diverse and unique, stone breast with a variety of colors and designs, like a hand of the Creator. This magic is in the darkness of caves still exists Heaven life of many species, such as fish, bats, spiders and crickets … hundred bats sticking on the ceiling in the first 3.5 km. According to the predictions of the British Royal Cave Association, there are certainly some doors around here to the outside world. And it is true that, as far as the bat cave about 200m, there is the junction of two shallow streams, we can enjoy cool breeze blowing from the spring. Stop at the first 4000m, customers choose for themselves the beauty and location shooting, kept interesting moments

Then, continue to do Kayak over streams, it is truly interesting and attractive during the journey. Pass through 100 meters above the stream, where we have sprawled down in order not to touch the ceiling.

Leaving small stream, the next journey, you have the opportunity to try their own courage to overcome the steep road, rugged land along the stream bed, where there are only narrow paths to a threaded through. The other side of the cylindrical stalactites, the cave looks like the labyrinth. Without a guide or warning signs are very easy to get lost in another ways.

After 1 hour, we will arrive the most beautiful place which is considered as "the Heaven Well". According to the oriental concept of this is the harmony between heaven and earth to make things cosmic proliferate. Nature so close but always contain a mystery which no less exciting. Between the stream is smooth rocks as shaped by the hands of artisans, with different shapes and different colors look beautiful. The scenery here is nowhere

After enjoying lunch beside the underground stream, you relax, take photographs and preparing the journey back to the same way.

4:30-5:15: Tour ends.
Tour details
PACKAGE PRICE PER PERSON  (USD)
IN GROUP TOUR:     USD 115
Valid from 1st January –  31st December 2019
*Notes:
Rates vary frequently. Please contact us to get the best possible price based upon your travel period and specific touring needs.
Rates are not applied for Tet holiday period and other public holiday
TRIP INCLUDED
Experienced tour guide, luggage porter
Lunch as mentioned in the tour
Electric car transters from the main entrance to the mountain
02 bottles of mineral water 0.5 for 1 person/day
Supplies of protection for trip
TRIP EXCLUDED
Visa and visa arrangement fee
International airfare and airport taxes
Accommodation
Transfers & meals not indicated on itinerary
Travel insurance
Personal expenses (tips, gratuities, etc.)
Beverage
VAT 10% (If you want the invoice, 10% will be charged extra. If not, no extra will be charged)
Enquire now
Feel free to ask us any questions via the form below.