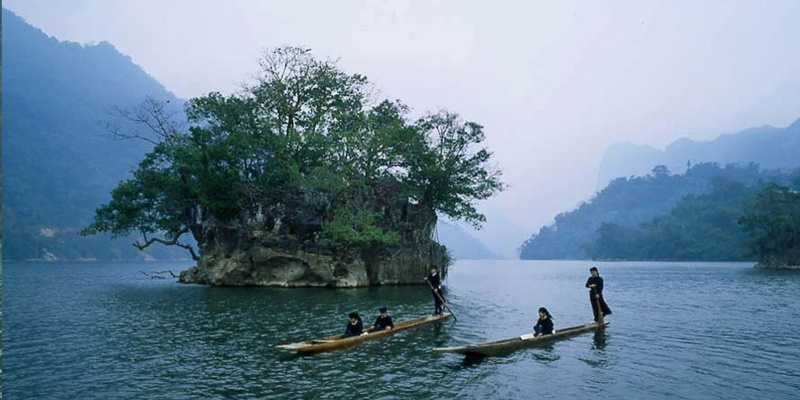 USD 120
*Departure: Every Friday
* Group tour by GAT
Ba Be National Park and Lake is the largest natural freshwater lake in Vietnam with exceptional fish diversity, a population of langurs, over 200 bird and 350 butterfly species, geological treasures and mature primary limestone forest. In places like this, careless tourism can bring human disturbances and endanger this heritage, while thoughtful Ba Be with a controlled impact provide excellent support to conservation projects in the area and help the economies of local people. We share your desire for the latter option and promise that nature knows how to return your kindness. Surrounded by the lush green of the forest we hope you enjoy and learn from the time spent with all of our friends there and raise a glass of corn wine with your hosts, toasting to the health of our shared environment
Ban Gioc Waterfall, in Cao Bang province and located on the border of Vietnam – China, is the most beautiful waterfall of Vietnam (personally). It will be very big omission if you visited many sites in Vietnam but haven't visited this famous landscape. Standing under the foot of waterfall, you will feel the relaxed and pleasant atmosphere made by water fog flying up. Seen from a distance, you can see the grandeur and charming of Ban Gioc waterfall.
Tour summary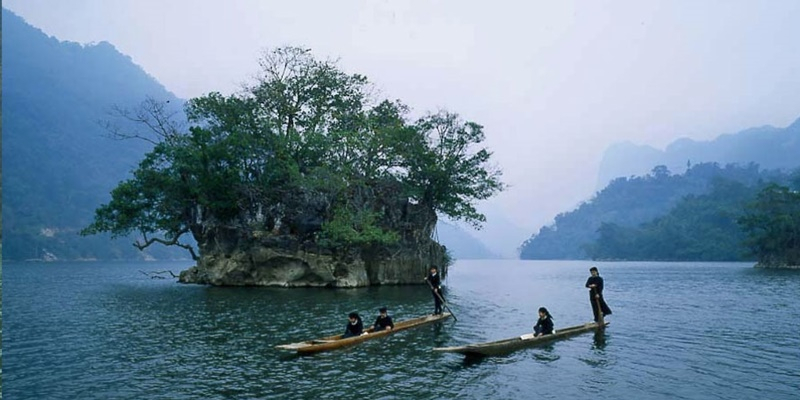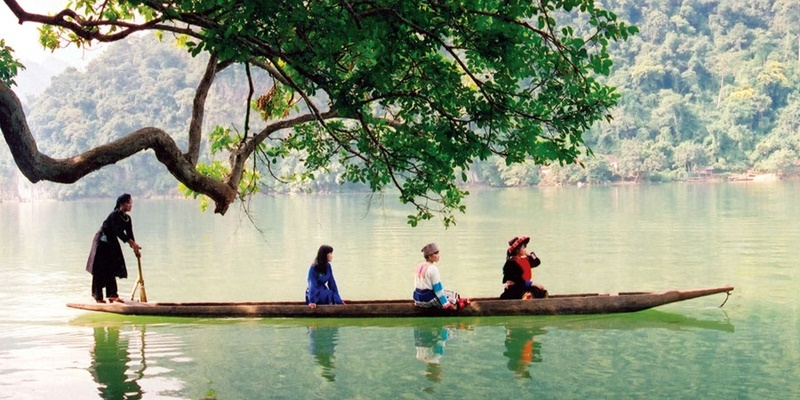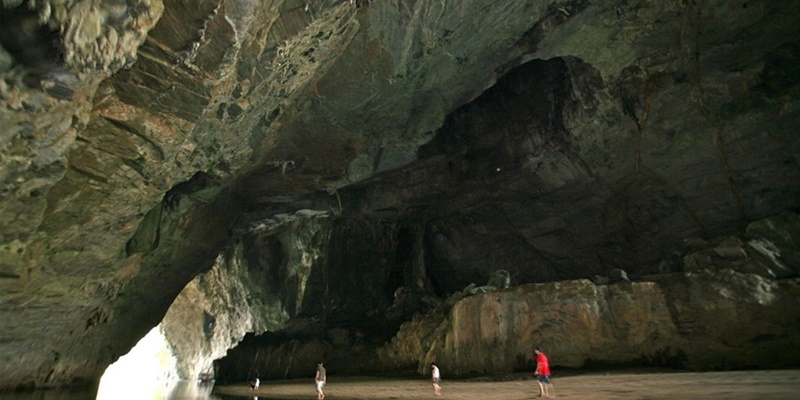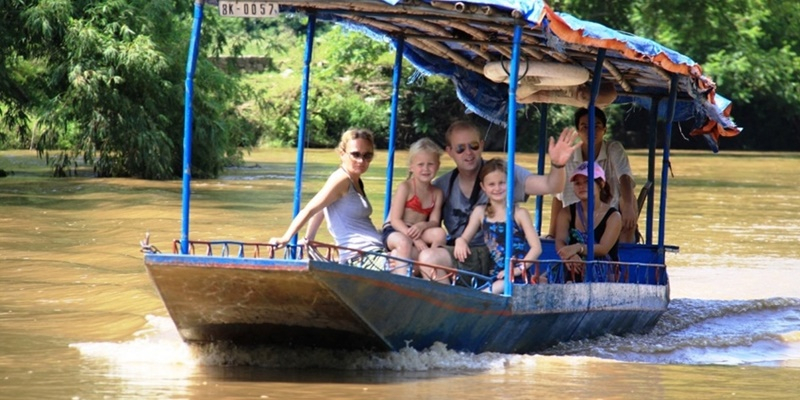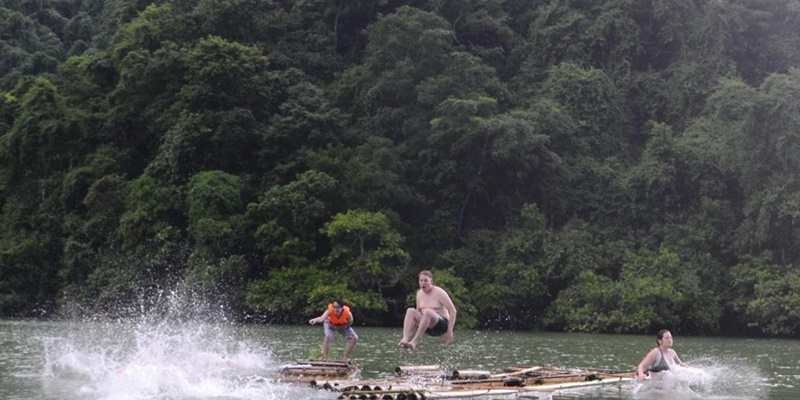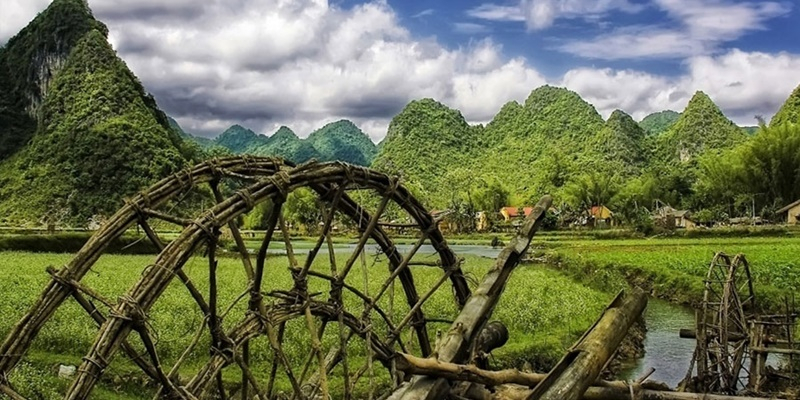 Itinerary
Day
Activities
Location

1

Day 1:  Hanoi – Ba Be Lake (LD)

06.30: Beginning of the excursion with Babe lake, not only famous in Vietnam but in the world.
09.00: Stop on the way, breakfast time (on client's account – not included)
12.00: Arrive Ba Bể, check in Homestay at Pác Ngòi village. Lunch break
14.00: Follow our tour guide to Pác Ngòi boat station. Get into the boat, go sightseeing around Ba Bể Lake, take pictures with a lot of beautiful sceneries and stop by some places below:

Farry Pond: The Pond is over 3,000m 2 , surrounded by limestone mountain and old-growth forest.
An Mạ Temple: According to legend, in Le-Mac war, Mac generals lost the fight. They ran to Puong Cave and ended their lives there to protect their loyalty and pride. To eulogize Mac generals' spirit, people built a temple to worship Mac family. Worried that Le soldiers would destroy this temple, they changed its name to An Ma. The word "An Ma" means "peaceful and beautiful grave" in Tay people's language.
Widow Island: That is a beautiful small island lies in the middle of Babe Lake. Boat will stop by this island. Tourists can have time to immerge in deep and cool water (about 30 minutes) in summer.

17.00: Return Homestay for bathing and relaxing. Enjoy a cup of coffee at the end of the afternoon.
18.30: Have dinner. After dinner, tourists can participate in some activities, such as: performing art activity, campfire activity or listening to Then music (self-paid).

2

Day 2: Ba Be Lake – Ban Gioc Waterfall – Tiger Cave (BLD)

06.00: Breakfast time.
06.30: Check out Homestay and get into our car, off to Cao Bang. Have chance to see the wild and imposing beauty of some passes on the way, such as: Wind Pass, Khau Khang Pass, Tai Ho Sin Pass, Cao Bac Pass, Ma Phuc Pass.
11.30: Have Lunch at Quang Uyen town.
13.30: Visit BanGioc Waterfall, with 53m height, dividing into 3 levels. This is one of the most beautiful waterfalls of Vietnam and it also is the forth biggest waterfall in top 10 greatest waterfalls lying between 2 countries in the world.
15.00: Continue with visiting Tiger Cave, one of the greatest caves in northern Vietnam.
17.30: Enter Phuc Sen Knife Village, which is famous for making knife tradition.
18.30: Arrive Cao Bang, check in hotel, take a rest and then have dinner. After dinner, you are freely to do anything. Overnight at the hotel in Cao Bang city.

3

Day 3: Cao Bang – Pac Po – Hanoi (BL)

06.00: Check out from hotel, have breakfast. Get in our car and go to Pac Bo.
08.00: Enter Pac Bo historic monument (50km away from Cao Bang). Have a view at the place where Ho Chi Minh lived and led Vietnam's revolution from 1941 to 1945. We will have time to take pictures at Lenin Stream, Karl Marx Moutain and visit Coc Bo Cave.
12.00: Have lunch in the restaurant on the wayback to Hanoi.
18.30: Arrive Hanoi. Tour ends
Tour details
PACKAGE PRICE PER PERSON (USD)
| Type of hotel | Price (in USD) |
| --- | --- |
| Hotel 2* | USD 115 |
| Hotel 3* | USD 120 |
*Private tour is available. Please contact for more information
Inclusions
Transport by 7 to 45-seat AC Car
01 night at accommodation hotel, 2-3 persons in a room. In case there are an odd number of tourists, there will be a room having 3 persons if accepted. If not, an additional fee of 50% price of a hotel room will be charged
01 night at homestay in Pac Ngoi village
05 meals (2 breakfasts, 3 lunches and 2 dinners)
Boat rental fee
English speaking tour guide
01 bottle of water is served everyday during the time traveling by car
Exclusions
VAT invoice
Electric car in Pac Bo
Additional fee if there is any change in ticket prices
Tips for driver and tour guide
Travel insurance
Beverages for meals and other personal expense.
Enquire now
Feel free to ask us any questions via the form below.