What is the best souvenir from Vietnam? What represents the country most? And what will serve as a valuable reminder for your time here? Read ahead for the top ten beautiful souvenirs from Vietnam.
1. Non La
Non La (palm-leaf conical hat) is a traditional symbol of Vietnamese, they also use the conical hat to fan off the heat of summer and protect us from sun, rain or rough wind. The legend of the Vietnamese Non La is related to maternal love and the history of rice growing in Vietnam.
Non La is also an object of which, as part of the national spirit, closely links Vietnamese people, so many travelers enjoy taking a Non la as a special souvenir from Vietnam.
2. Ao dai
The most popular and widely-recognized national costume of Vietnam, the Ao Dai is a symbol for national pride. It leaves a lasting impression to anyone who comes and visit the place. For Vietnamese people, the Ao Dai is reflected the grace and elegance of Vietnamese women
3. Ao Ba Ba
Ao Ba Ba is a traditional southern Vietnamese garment. It is most associated with rural southern Vietnam, especially in the Mekong Delta. The Ao Ba Ba may not be commonly worn like before, but every Vietnamese is aware of its importance in the diversity of culture. A traveler with a curious mind and eagerness to learn should not miss the opportunity to check out the Ao Ba Ba – the tradition Southern Vietnamese garment.
4. Art
Having a thriving pool of artists, people have come to know Vietnam as a source of amazing paintings. With various galleries scattered in Hanoi, Hue and Ho Chi Minh City, shopping for oriental masterpieces is fairly easy. Pick up a piece of art from each new city you visit, and create your own evolving art collection. Display your art on a beautiful gallery wall in your home to help remember all of the amazing trips you've taken through the years.
5. Guoc Moc (Wooden clogs)
Guoc Moc is traditional shoes for older generation in the past. Over many years of heroic history, Vietnam today still preserves the identity and history of older generation with a set of 3 "specialty" Ao Dai, Non La and Guoc Moc.
Regardless of a woman attending ethnic events or cultural exchanges, it is easy to see that they carry all three of these items, as a means of conveying them on the national pride and beauty of Vietnamese woman.
6. Authentic Ceramics
Authentic Ceramics are so many specialty items such as tea sets, high end chopstick sets, beautiful hand painted glass jewelry boxes, coffee mugs, a wide variety of ceramics/china, handmade woven bags and so much more. You can easily find variety in a plethora of sizes, shapes and colors.
7. Bamboo masks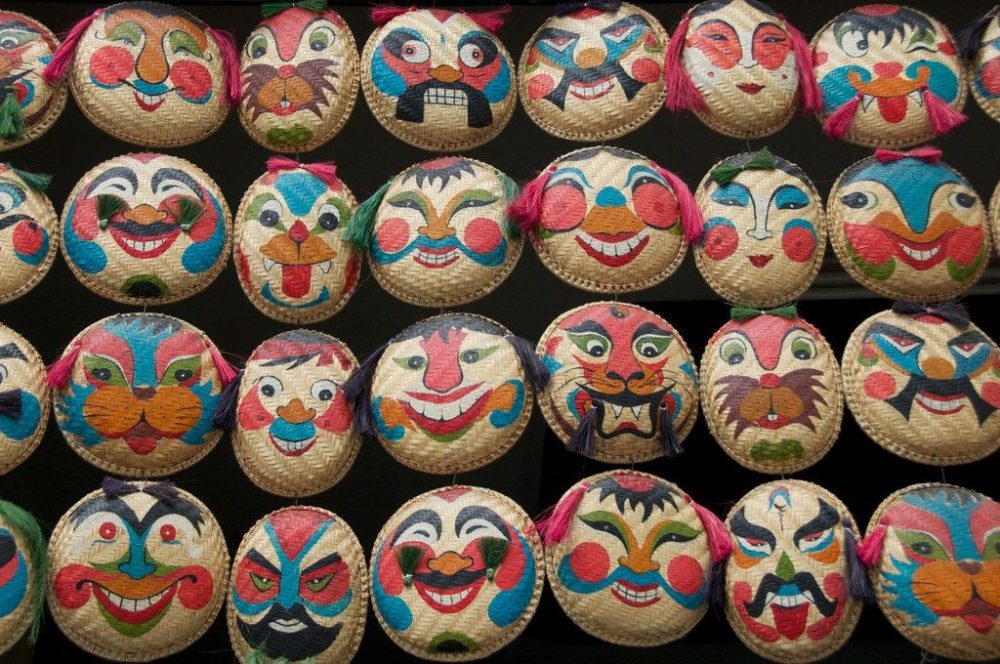 These colorful bamboo masks all over Vietnam, they are so characterful, varying from town to town and a great souvenir to hang on the wall once you return home.
8. Lantern
Vietnamese lanterns are symbolic – the people believe they bring happiness and good luck to a household. If you're travelling to Hoi An, this is the place to buy them.  They even have some really small versions which are foldable and easy to pack to bring home.
9. Lacquerware
Lacquerware in Vietnam is distinct in its style of using resin from son tree. The art links to the French influence in Vietnam and the same is work-intensive art form. It's said that high quality lacquer products go through 20 stages of development and can be used to craft dishes, bowls, vases, and more in beautiful colors and intricate designs. There are some galleries exclusively dedicated to this art where you can find some really great collection.
10. Vietnamese T-shirt
Some order beautifully embroidered cottons as well as printed T-shirts featuring a whole range of styles are available for you. Vietnamese T-shirt is considered as a good and practical gift in the list of things to buy foreign tourists when coming to Vietnam.
—–