The buzziest hotspots in the Vietnam right now, on our travel hit-list for the year ahead!
1. Ha Noi

The best place to begin in Viet Nam is Hanoi or more specifically the Old Quarter – where the old meets the modern. You'll find classy lounges that wouldn't be out of place in any world metropolis and bohemian hanging out places where locals, foreign residents, and visitors gather to soak in the atmosphere. If you're wondering what to do in Vietnam and where to start first, Hanoi is a good choice. (Check out Ha Noi best boutique hotels)
« Ha Noi travel highlights »
Old Quarter

– Hanoi's historic Old Quarter is also known as 'The 36 Streets'. This area, which is almost entirely devoted to commerce, dates back seven centuries to the time when a group of 36 guilds established themselves in the area, each on a particular street.

Hoan Kiem Lake

– At the heart of old Hanoi is Hoan Kiem Lake, Ngoc Son Pagoda sits on a small island linked to the shore by a photogenic wooden bridge. The lake supports a large population of turtles.

Ho Chi Minh Mausoleum Complex

– a special place for many Vietnamese. To the west of the Old Quarter, the Ho Chi Minh Mausoleum Complex is an important place of pilgrimage.

Food – Hanoi is an international city and with whatever your budget (or tastes), you can find your match here from local cuisine to your hometown dishes or maybe the fusion of many cultures in one. Hanoi food and the wonderful restaurants will never disappoint you.
2. Hoi An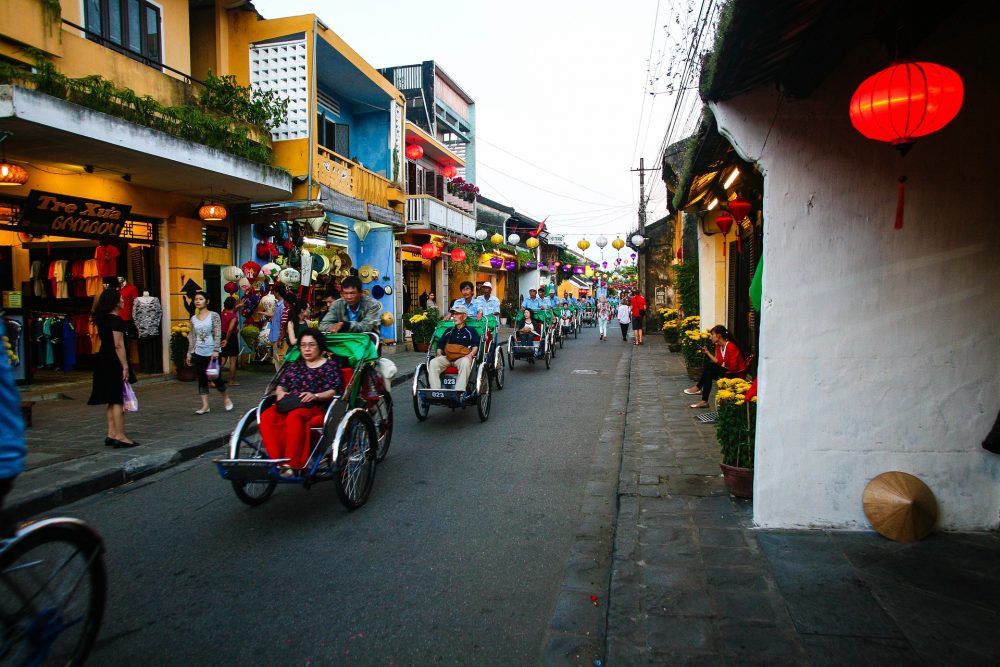 Vietnam's old town – Hoi An is located in South Central Vietnam. Hoi An proud of its historic architecture, traditions and rich culture which you can witness by wandering around the area that is dated back 2,000 years to the Champa Kingdom's period. Hoi An is also famous for creating exquisite textiles and that follows with selling custom-made clothing, shoes, bags, souvenirs and more through the tailor shops. The center of Hoi An is beautifully located with a laid-back scenery in their narrow and winding lanes adorned with ancient architectural wooden houses on the sides. (Check out our Hoi An travel tips)
« Hoi An travel highlights »
Street Food –

Hoi An is an ideal place to taste authentic Vietnamese street food.

Rice fields –

A must see Hoi An highlight are the rice fields. Sunrise or sunset is a perfect time to just take a bike or walk to the nearest rice field and enjoy the view.

Hoi An Heritage

– Hoi An Ancient Town was declared a UNESCO World Heritage Site (1999).

Attractions –

In this ancient town, there are a number of tourist attractions where you can have some insights into the history and culture of the regions.

Temple –

Famed for its ancient history and religious landmarks, packed with historical buildings and temples, it will definitely steal your heart.

Lanterns –

There are lanterns everywhere in Hoi An. One of the traits that make Hoi An so attractive.

Night time –

As the darkness falls, the bridge is illuminated by many colorful lights which can change its colors constantly.

Tailor –

Hoi An is famous for its tailors. There are dozens, if not hundreds, of shops around the city suits, dresses, or an Ao Dai Vietnamese traditional dress.
3. Ha Long Bay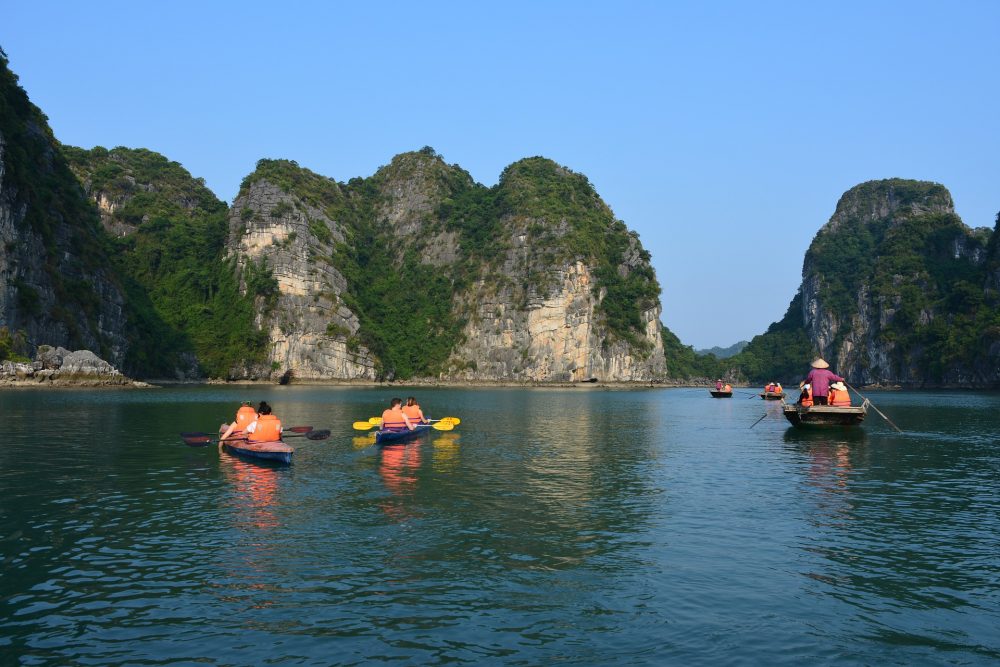 Ha Long Bay is probably the identifier of Vietnam. Located about 130 km east of Hanoi in northern Vietnam, Ha Long Bay is known for its aqua-green water, a cluster of limestone rocky outcrops rising and lush forest. The island is indeed one of the prettiest places in Vietnam and the most visited one as well. One can find intriguing caves and lakes. It is amazing to witness how over the centuries this island has been naturally processed into something so fantastic. Kayaking is the best way to explore Ha Long Bay.
« Ha Long Bay travel highlights »
Universal value

– Ha Long Bay is a UNESCO World Heritage Site and popular travel destination in Quang Ninh Province, Vietnam.

Cave

–  Ha Long Bay is a mature karst landscape developed during a warm, wet, tropical climate.

Cruise

– One of the most popular activities in Halong Bay is a cruise around the karst islands. The overnight cruise is one thing that you need to add to your itinerary if possible, and if you can (and your budget allows), extending your stay to more than 1 nights will be one of the best decision ever.

Watersports

– You cannot visit one of the most beautiful bays in the world, Halong Bay, without taking some time to enjoy the water: kayaking and canoeing.

SunWheel

– The SunWheel offers a stunning visual view of Halong Bay, the height of this Ferris wheel is what makes it so wonderful as you can see for miles.
4. Sa Pa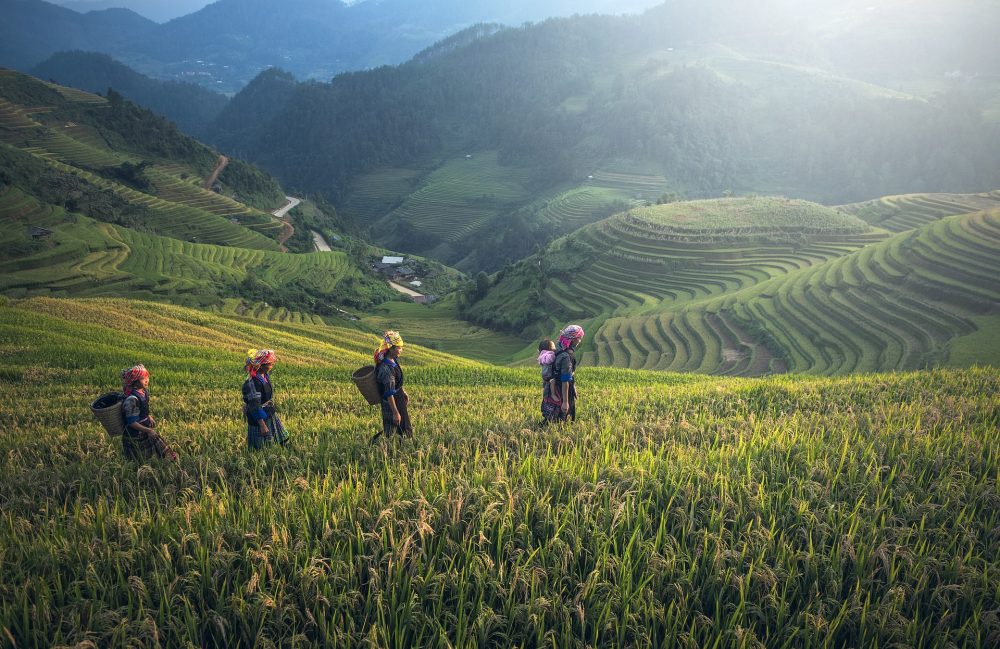 Located in the northwest of the country, SaPa is a mountainous district of Lao Cai province, possessing many wonders of the natural scene. Surrounded by pictorial mountains, rice terraces and a diversity of hill tribes in the remote northwest of Vietnam, Sapa is a town frequently used as a base for trekking in the Hoang Lien Son Mountains and touring rice paddies and traditional villages. From the town, there are many organized tours that aide tourists in mountain hikes and exploring the nearby rice paddies and remote villages. These tours present views of beautiful waterfalls and the opportunities to experience the food, customs and way of life among the local tribes.
« Sa Pa travel highlights »
Fansipan Mountain

– It is the peak of Indochina with the elevation of 3143m. A great adventure can start here!

Landscape

– Excellent views of the mountains, valleys, the magnificent limestone, the paddy fields of H'mong village.

Local ethnic group

– Explore daily activities of the local ethnic peoples, traveling with ethnic people who will become your local guides, because they are extremely knowledgeable about local cultures, history and the environment.

Sa Pa Market

– Many local authentic market occurs on specific days of the week. Local people will gather up and selling their products in such authentic, colorful and unseen before atmosphere.
5. Ninh Binh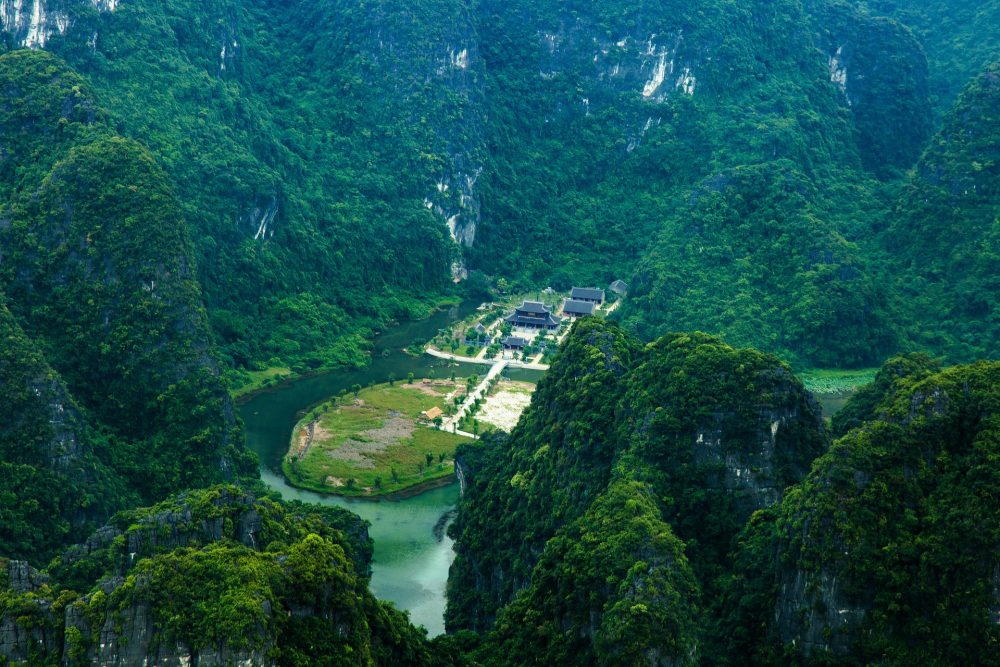 Located as far as 100 kilometers south of Hanoi is Ninh Binh province, Ninh Binh town is the centre of Ninh Binh Province and in the south of the Red River Delta region in northern Vietnam. Ninh Binh encapsulates so many aspects of the beautiful Vietnamese scenery in one place. Inside the province is the grandiose Tam Diep Mountain, connecting the North and the South. The province stretches from the Northwest mountainous area to the delta, thus being called a half mountain half plain area. In particular, Ninh Binh contains 3 main kinds of topography: limestone mountains with fascinating caves & grottos, the delta raised by Red River Silt, and a coastline with the length of 18 kilometers, enlarging the province area by 100m2 per year.
« Ninh Binh travel highlights »
Trang An Grottoes

– The picturesque cave and river complex was awarded the title of UNESCO World Heritage Site in 2014 not only for its outstanding beauty but also its cultural and historical significance.

Waterways

– This spectacular area of limestone karsts and internal waterways is accessible only by boat. The oarsmen and women can just as easily row the boats with their feet as their hands, making for an interesting journey and spectacular photo opportunities.

Tam Coc

– This beautiful area has impressive limestone rock formations similar to Halong Bay, but they are much more accessible and less well known.

Cuc Phuong National Park

– It is home to many hidden grottoes and is rich in wildlife and natural beauty. There are many scenic trails as well as an Endangered Primate Rescue Centre with around 130 monkeys. You can also stay overnight at the park, as there are several homestays and bungalows.
6. Da Nang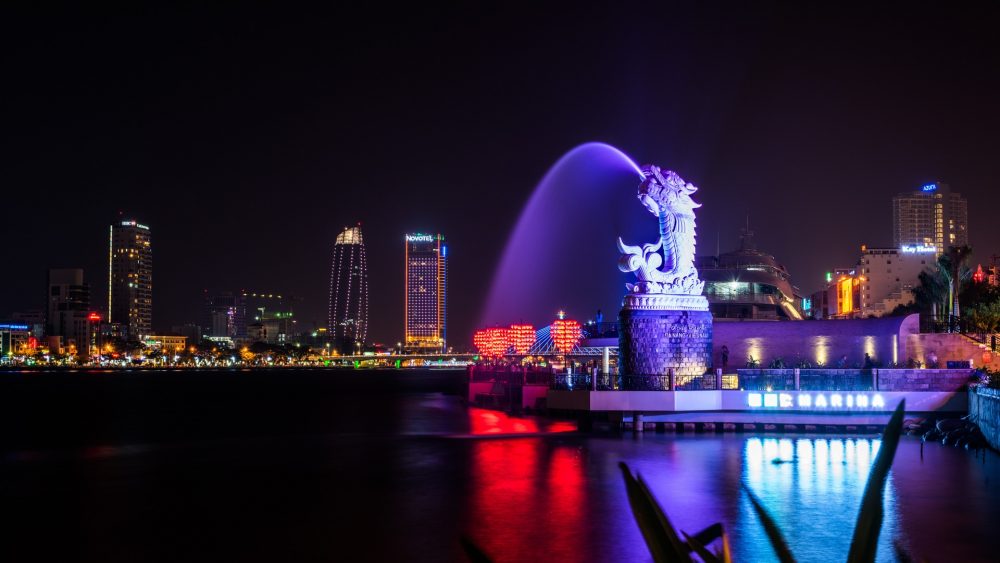 Da Nang is a coastal city in central Vietnam known for its sandy beaches and history as a French colonial port. The modern riverside city of Da Nang is increasingly making it onto every traveler's must-see list. It's particularly attractive after dark when the neon light spills across the Han River; on weekend nights the quirky Dragon Bridge is illuminated and, astonishingly, it breathes fire. East of the city, a seemingly never-ending stretch of sandy beach extends 30km to Hoi An.
« Da Nang travel highlights »
View

– The astounding natural beauty of the region can be seen in the areas surrounding the city.

Food

– Danang has some mouthwatering specialties that must be tasted whilst in the region.

Art and Culture

– Danang has an interesting collection of multicultural places of worship, it holds daily services in different languages and serves a large number of Catholics in Danang and the surrounding areas.

Festival & Event

– Danang celebrates numerous traditional and modern festivals throughout the year, each one celebrating a fascinating aspect of local culture.
7. Ho Chi Minh City (Sai Gon)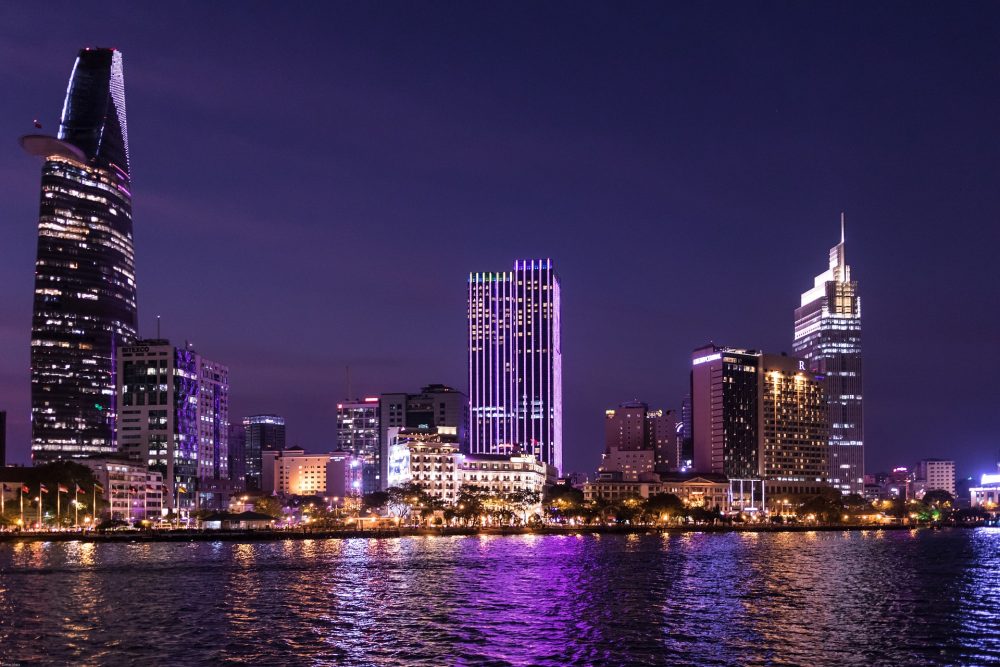 Ho Chi Minh City – also known as Saigon – is Vietnam's largest city and its economic powerhouse. Once dearly called as the Diamond of the Far-east with the luxury level overriding that of Hong Kong or Bangkok, Ho Chi Minh City is now the most populated city in Vietnam. Modern office skyscrapers, amidst Oriental style pagodas and food stalls along the street, create a dynamic urban area in very special sense. It's the city's limitless vitality that furnishes much of its allure.
« Sai Gon travel highlights »
Food

– there's no better place to sample the delicious flavors of Vietnam. And Saigon's French and other international culinary offerings are impressive too.

A chaotic, fast-changing city

– Saigon is one of South East Asia's fastest growing cities. The chaos is exhausting and exhilarating all at once.

History

– A major centre of French colonial power and then the centre of US power during the Vietnam War, Saigon's history is incredible.

Disappearing gems

– Saigon's leaders are ripping through the city's heritage with rapacious determination. Check out the cool cafes that are pushing back in old heritage apartment blocks.

Nightlife – Saigon's mayhem by day morphs by night into a vibrant scene of rooftop bars from the fancy to Saigon hipster with plenty of texture in between. The craft beer scene is buzzing too.
Nearby

– The former Viet Cong Tunnels and Cu Chi and the Mekong Delta are easy excursions from Saigon
8. Mekong Delta
Southern Vietnam covers the Mekong Delta, the extreme southern end of the Mekong River, and the area around Ho Chi Minh City. The major tourist attractions in Mekong Delta are the colorful floating market that sells a melange of locally grown items, the rustic villages, lush rice paddy fields, fruit orchards and sugar cane groves as well as bird sanctuaries. Needless to say, you're bound to have a great experience visiting south-western Vietnam in Mekong Delta.
« Mekong Delta travel highlights »
Local fruit gardens

– There are orchards heavy with fruit all year round that making many visitors fascinated.

Floating market

– The waterway does become a maze of many different boats packed with papaya, mango, bananas, pineapple, and even cigarettes. To meet the demands of both domestic and foreign visitors, different services are also available on the floating market. Apart from fresh fruits, we can enjoy Vietnamese breakfast dishes, like Pho, Hu Tieu or coffee on the small boat that the ladies row along the coast as well.

River tour

–  Get a fascinating insight into the lifestyle and culture of Vietnam's waterways.

Local living

– What makes its unique are dense rivers, canals system, house stilts, and lifestyle of locals on a river.
9. Hue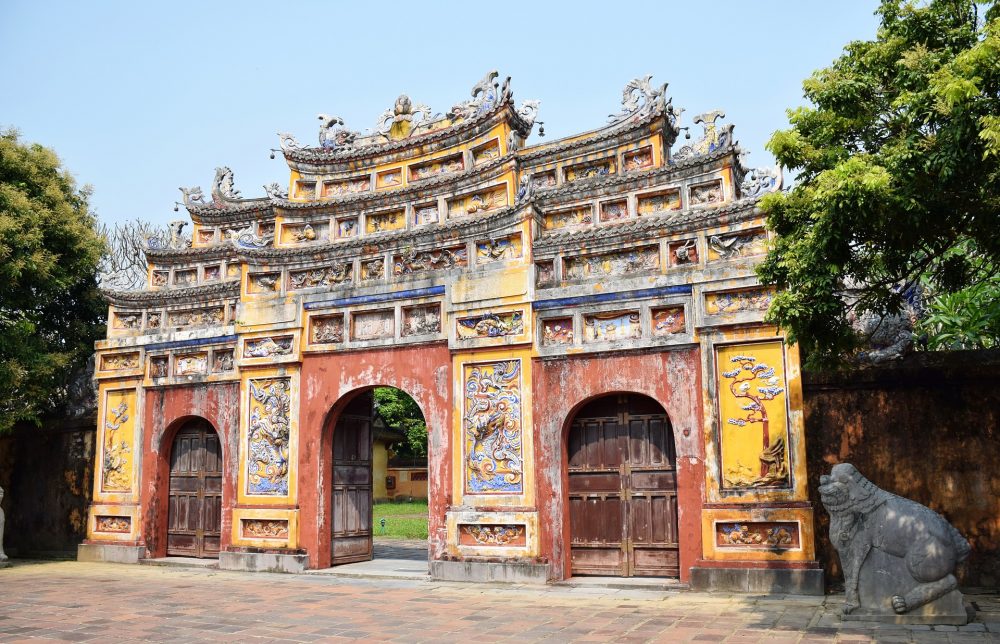 Situated on the bank of the Perfume River in Central Vietnam, Hue once served as the imperial capital of the Nguyen dynasty. Today, the vestiges of this former glorious period are reflected in the city's architecture, culture and cuisine, making it one of the best places to visit in Vietnam. Of the city's monuments, the Citadel is the most famous. Once the seat of the Nguyen emperors, the Citadel is a sprawling complex of grand palaces, ornate temples, walls and gates Another important landmark on the river is the city's official symbol, the Thien Mu Pagoda.
« Hue travel highlights »
Cuisine

– The cuisine of Huế forms the heart of Central Vietnamese cuisine, but one of the most striking differences is the prominence of vegetarianism in the city.

Cultural

– The royal lifestyle and customs have had a significant impact on the characteristics of the people of Hue.

Historical

– Hue is well known for its historic monuments, which have earned it a place in UNESCO's World Heritage Sites.

The imperial city of Hue

– The city represents the outstanding demonstration of the power of the vanished Vietnamese feudal empire, including a complex of monuments, tombs and pagodas that attract tourists coming from all over the world.
10. Phu Quoc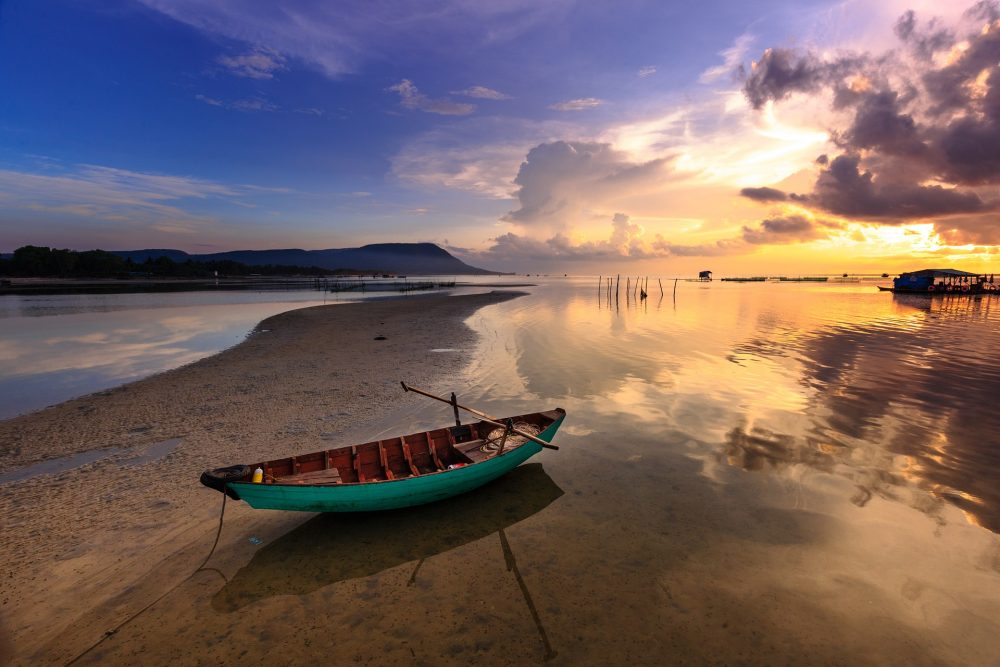 Phu Quoc is the largest among all Vietnamese islands With 1-hour flight from Ho Chi Minh City 500km, Phu Quoc is called the Emerald Island because of its triangular shape, as well as the island of "99 mountains" – its many sandstone chains gradually descending from the north to the south. The place is a classic deserted island getaway with travelers rave about the west coast with its picture-perfect white-sand beaches and spectacular ocean sunsets. It's also well worth exploring the red dirt roads of the lush interior, which is dotted with pepper plantations and dominated by a national park.
« Phu Quoc travel highlights »
Beach & seafood

– The incredibly clear and calm water, white sandy beach, shining sun, and cool sea breeze make it a good spot for vacation photos and a comfortable place to relax.

Ocean Discovery

– Warm water, colorful fish, and bountiful marine resources, including sponges, corals, crustaceans, and reptiles under the water make this a good spot for snorkeling and diving.

Animal

– Vinpearl Safari is a zoo with large collections of animals, such as birds, elephants, deer, tigers, and lions. These animals are from all around the world.

Phu Quoc Waterfalls –

The waterfall itself is not particularly amazing, but the route to the waterfall and the scenery along the way is wonderful.
Read more: