Are you searching for a unique cooking class in Saigon and what you get from Google's results are some classes organized at some restaurants in town?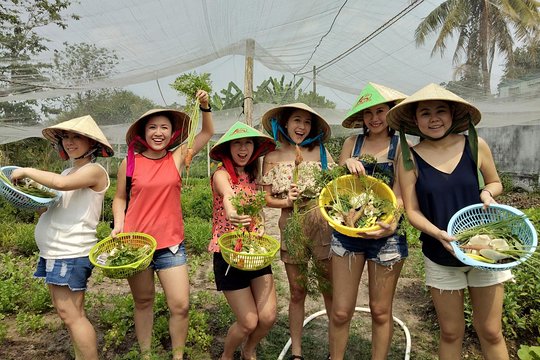 It is not a local thing that you are expected. We – ALO Travel Asia team knows about it and we would like to invite you to join with us a special cooking class "HCM Cooking Class" which is organized in a local countryside home near Cu Chi. With this course, you just not only know how to grow an organic farm, but also know how to make an traditional Vietnamese cuisine in a unique way
In the morning, we come to pick-up you at hotels in Saigon (located in central city) and bring you to Agricultural Villages. After about an hour to go by car, you will arrive in a very green and peaceful countryside.
Once you arrive, you will be served a cup of iced tea. Then, you need to become a farmer right after a chef give you a traditional conical hat – NON LA. The Chef – Mr. Tan who used to be a doctor, will introduce about his farm's attractions such as cow and buffalo areas, rice fields, fish -prawn -chicken – duck areas, herb & vegetable garden… before you begin to harvest with a scissor and a basket. Remember that all items you are going to harvest ahead will be used as your ingredients for coming cooking dishes. All type of herb in this farm are also special, they are different from those you can see at the normal market in Vietnam, they are actually "organic" – stronger flavors.
After enjoying farming, you will get be ready for cooking. With a half-day-course, you can learn to make 4 typical Vietnamese foods, you can choose anything you want. During the course, Chef Tan will explain all the medical sense of ingredients, plus, he also teaches how to make all types of Vietnamese sauces in very unique way that you will never see from anywhere else.
Most popular and selected dishes for HCM Cooking Class are: Pho, Bun Bo Hue, Banh Mi, Spring Rolls, ect…
After all, you will be awared a prize of CERTIFICATION OF ACCOMPLISHMENT IN VIETNAMESE COOKING CLASS and an T-shirt as a souvenir
A rich list of Vietnamese recipes will be awarded and sent to your email too!
Moreover, this course can be combined with a trip Cu Chi Tunnel for who has limited time but still love cooking and visiting Cu Chi. By booking this program, you will have a chance to visit Rice Paper Factory, Rubber Tree Forest on the way to Cu Chi Tunnel.
For more details or book these tours:
Please contact us at info@alotravelasia.com for further detailed.