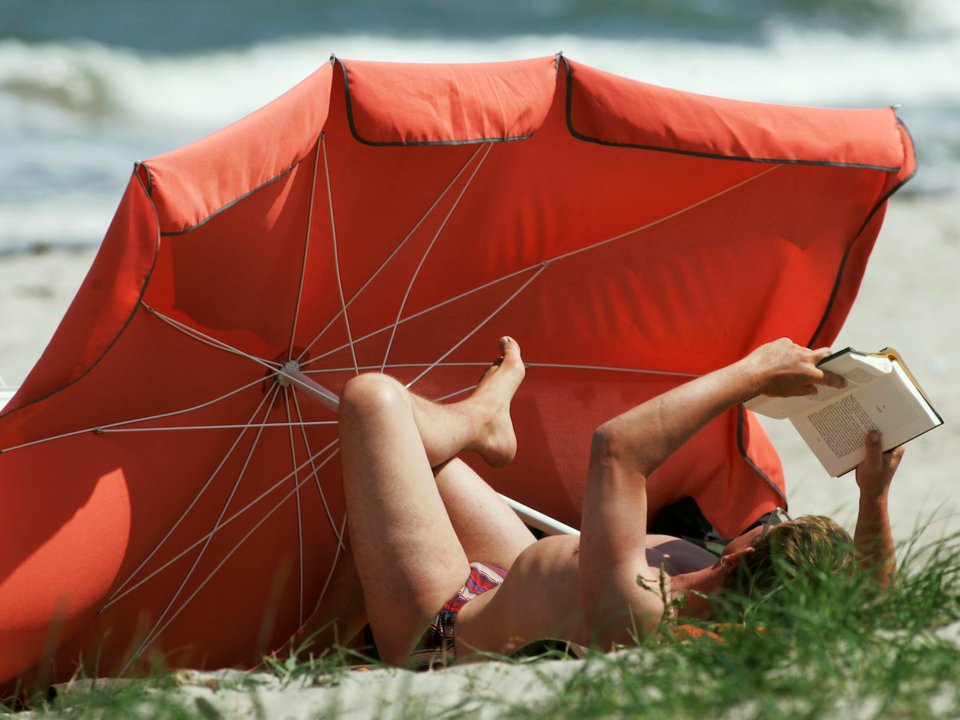 Get outside and read a book this summer. (Heribert Proepper/AP)
There's no better time than summer to lounge around with a good book.
Whether you're fresh out of college or a little older and wiser, there's a story out there that's perfect for you.
Goodreads rounded up the best books to read this summer across a number of genres: fiction, young adult, nonfiction, historical fiction, romance, and fantasy and science fiction.
In order to create the list, Goodreads picked the books that had been added to users' "Want to Read" shelves the most. They also considered early reviews — all 31 books earned at least a four-star rating.
Keep scrolling to see the hottest books for summer 2018.
"Us Against You" by Fredrik Backman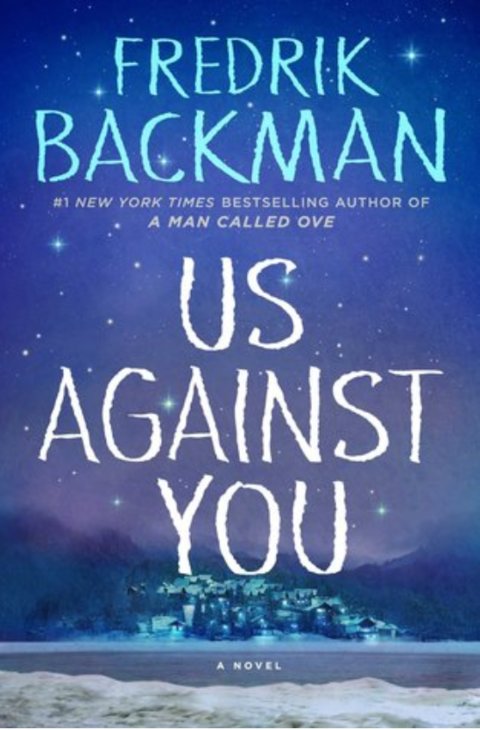 » Paperback, $14.40 Goodreads
Goodreads Synopsis: In this unforgettable follow-up to "Beartown," the citizens of a small town in Sweden rally around their local hockey team, even as a hostile rivalry threatens to destroy friendships, families, and the fragile peace of a volatile community.  Buy it here >
---
"Florida" by Lauren Groff
» Paperback, $23.20 Goodreads
Goodreads Synopsis: From the author of "Fates and Furies" comes a piercing collection of short stories exploring the moments that make us feel alive, all anchored by the landscape, climate, history, and state of mind of Florida. Buy it here > 
---
"The Incendiaries" by R.O. Kwon
» Hardcover, $20.80 Goodreads
Goodreads Synopsis: A fractured love story collides with a secret extremist cult in this electrifying debut about a young misfit, the woman he adores, and the obsession that unravels their relationship and leads to a harrowing act of violence. Buy it here >
---
"A Place for Us" by Fatima Farheen Mirza
» Hardcover, $16.20 Goodreads
Goodreads Synopsis: The first novel from actress Sarah Jessica Parker's new imprint, SJP for Hogarth, charts the crucial turning points in an Indian American Muslim family's past, from the bonds that bring them together to the differences that pull them apart. Buy it here >
---
"All We Ever Wanted" by Emily Griffin
» Hardcover, $17.97 Goodreads
Goodreads Synopsis: One photograph, snapped in a drunken moment at a party, overturns Nina's status among Nashville's elite, forcing her to choose between her family and her values in this poignant tale from the author of "Something Borrowed." | Buy it here >
---
"My Year of Rest and Relaxation" by Ottessa Moshfegh
» Paperback, $28 Goodreads
Goodreads Synopsis: At once merciless and compassionate, this is the story of a young woman who attempts to fill the dark and vacuous hole in her heart by embarking on an extended hibernation with the help, of course, of a truly terrible psychiatrist. Buy it here >
---
"Fruit of the Drunken Tree" by Ingrid Rojas Contreras
» Hardcover, $21.56 Goodreads
Goodreads Synopsis: A sheltered young girl and a teenage maid strike an unlikely friendship in this mesmerizing debut set against the backdrop of the devastating violence of 1990s Colombia and inspired by the author's own life. Buy it here >
---
"The Death of Mrs. Westaway" by Ruth Ware
» Hardcover, $16.19 Goodreads
Goodreads Synopsis: From the author of ""The Woman in Cabin 10" and "In a Dark, Dark Wood" comes a tale of spellbinding menace that sees a struggling tarot card reader lured into a web of intrigue, danger, and betrayal by the promise of a tantalizing fortune. Buy it here >
---
"The Speed of Sound" by Eric Bernt
» Hardcover, $10.55 Goodreads
Goodreads Synopsis: An ingenious young man creates an "echo box" to hear his late mother's voice, but the innocent project takes a nefarious turn when shadowy government agents come to seize the extraordinary machine — and silence its creator. Buy it here >
---
"The Perfect Couple" by Elin Hilderbrand
» Paperback, $12.36 Goodreads
Goodreads Synopsis: When the bride-to-be is discovered dead in Nantucket Harbor just hours before the ceremony, everyone in the wedding party is suddenly a suspect, from the best man and the maid of honor to the groom's famous mystery novelist mother. Buy it here >
---
"The Last Time I Lied" by Riley Sager
» Paperback, $28 Goodreads
Goodreads Synopsis: It's just a harmless game, right? The author of "Final Girls" puts a deadly twist on "two truths and a lie" as successful artist Emma revisits her dark past, the one night at summer camp that still haunts her memories and her paintings. Buy it here >
---
"A Reaper at the Gates" by Sabaa Tahir
» Hardcover, $20 Goodreads
Goodreads Synopsis: As warrior Helene, the Blood Shrike, searches for a way to hold back the tide of war, her sister's life and the lives of all those in the Empire hang in the balance in this epic installment in the "Ember Quartet." | Buy it here >
---
"From Twinkle, with Love" by Sandhya Menon
» Hardcover, $15.19 Goodreads
Goodreads Synopsis: Told through the letters wallflower Twinkle writes to her favorite female filmmakers, this charming tale from the author of "When Dimple Met Rishi" navigates big truths about friendship, family, and the unexpected places love can find you. Buy it here >
---
"Catwoman: Soulstealer" by Sarah J. Maas
» Paperback, $8.25 Goodreads
Goodreads Synopsis: After escaping Gotham City's slums, Selina Kyle reinvents herself as the mysterious Holly Vanderhees in this exhilarating take on DC Comics' Catwoman from the author of the "Throne of Glass" and "A Court of Thorns and Roses"series. Buy it here >
---
"Save the Date" by Morgan Matson
» Hardcover, $10.96 Goodreads
Goodreads Synopsis: Charlie is desperate for one last perfect weekend, but as all four of her older siblings return for a wedding, chaos reigns supreme in the form of a howling dog, a stubborn band, a missing tuxedo, and a distractingly cute boy. Buy it here >
---
"Smoke in the Sun" by Renee Ahdieh
» Paperback, $16.32 Goodreads
Goodreads Synopsis: In this dazzling follow-up to "Flame in the Mist," Mariko plays the part of the dutiful bride-to-be in order to infiltrate the emperor's ranks, rescue her beloved, and uncover the truth behind the betrayal that almost left her dead. Buy it here >
---
"Calypso" by David Sedaris
---
"So Close to Being the Sh*t, Y'all Don't Even Know" by Retta
» Paperback, $16.99 Goodreads
Goodreads Synopsis: With effervescent charm and wit, the "Parks and Recreation" star takes readers along on her not-so-meteoric rise from "roaches to riches" before reflecting on her life of fame (fending off trolls, flirting with Michael Fassbender, etc.). Buy it here >
---
"Spying on the Whales: The Past, Present, and Future of Earth's Most Awesome Creatures" by Nicholas Pyenson
» Hardcover, $27 Goodreads

Goodreads Synopsis: The Smithsonian's star paleontologist explores the cutting edge of whale research, from the fishing decks on Antarctic whaling stations to the desert of Chile where scientists race to document the largest fossil whalebone site on earth. Buy it here >
---
"The Summer Wives" by Beatriz Williams
» Paperback, $21.59 Goodreads

Goodreads Synopsis: The rarefied world of a resort island in the Long Island Sound comes to life in this enchanting novel of romance, class, power, and dark secrets set in the summer of 1951 and 1969 from the author of "A Hundred Summers." | Buy it here >
---
"Rust and Stardust" by T. Greenwood
» Hardcover, $25.53 Goodreads
Goodreads Synopsis: Based on the experiences of real-life kidnapping victim Sally Horner and her captor, whose story shocked the nation and inspired Vladimir Nabokov to write his controversial and iconic "Lolita," this heart-pounding story gives a voice to Sally herself. Buy it here >
---
"The Romanov Empress" by C.W. Gortner
» Hardcover, $22.40 Goodreads
Goodreads Synopsis: From the opulent palaces of St. Petersburg to the World War I battlefields, this riveting historical drama focuses on the anarchic fall of an empire and the complex, bold heart of the woman who tried to save it. Buy it here >
---
"The Kiss Quotient" by Helen Hoang
» Paperback, $9.15 Goodreads
Goodreads Synopsis: Brilliant math whiz Stella decides to practice dating by hiring an escort in this heartwarming and refreshing debut novel that proves one thing: There's not enough data in the world to predict what will make your heart tick. Buy it here >
---
"Dr. Strange Beard" by Penny Reid
» Paperback, $13.59 Goodreads
Goodreads Synopsis: The Winston brothers are at it again. From the author of "Truth or Beard" and "Grin and Beard It" comes the next installment in the ongoing saga of the burly brothers' quest for love in the idyllic town of Green Valley, Tennessee. Buy it here >
---
"The Other Miss Bridgerton" by Julia Quinn
» Paperback, $6.39 Goodreads
Goodreads Synopsis: Yesterday fiercely independent Poppy worried about the lack of decent suitors in London. Today she has other problems, namely the two men who have kidnapped her and deposited her at the feet of notorious pirate Captain Andrew James Rokesby. Buy it here >
---
"All Your Perfects" by Colleen Hoover
» Paperback, $12.80 Goodreads
Goodreads Synopsis: From the three-time winner of the Goodreads Choice Award for Best Romance comes a powerful story about a troubled marriage and the memories, secrets, and old forgotten promises that might be able to save it. Buy it here >
---
"Spinning Silver" by Naomi Novik
» Hardcover, $22.40 Goodreads
Goodreads Synopsis: Two years after enchanting readers with her "Beauty and the Beastretelling," Novik is back with a dark take on the Rumplestiltskin legend that follows Miryem, a clever young woman with a dangerous talent for turning silver into gold. Buy it here >
---
"Age of War" Michael J. Sullivan
» Hardcover, $18.30 Goodreads
Goodreads Synopsis: What does it mean if the gods can be killed? Persephone, the first woman to lead her tribe, enters the battle between humankind and the cruel godlike beings who once ruled in this next installment in "The Legends of the First Empire" series. Buy it here >
---
"Magic Triumphs" by Ilona Andrews
» Hardcover, $17.10 Goodreads
Goodreads Synopsis: Kate Daniels wants to put her paranormal problems behind her. But in this next installment in the popular urban fantasy series, her attempt at a normal life, playing house with former Beast Lord Curran and their child, is interrupted by an ancient enemy. Buy it here >
---
"Thrawn: Alliances" by Timothy Zahn
» Hardcover, $20.29 Goodreads
Goodreads Synopsis: From his first encounter with the man who will one day become Darth Vader to his rise to power, Grand Admiral Thrawn proves his reputation as one of the most cunning warriors in the history of the Galactic Empire in this thrilling "Star Wars tale." Buy it here >
---
"Record of a Spaceborn Few" by Becky Chambers
Hardcover, $13.60 Goodreads
Goodreads Synopsis: After a disaster rocks their community, a mother, an alien academic, and a caretaker for the dead struggle to build a new future in this story of finding hope and purpose among the stars from the author of "The Long Way to a Small, Angry Planet." | Buy it here >
—–
Source: INSIDER @ Sarah Schmalbruch